Found February 22, 2013 on MLB Injury News:
He might not be doing it in Florida with his teammates, but Alex Rodriguez says he is dedicating himself to getting back on the field.  The aging star, who has fallen even further out of grace thanks to his ties to the scandal-laden Biogenesis clinic, had hip surgery in January and has been rehabbing ever since.  However, his rehab has been a mystery until he spoke about it yesterday. Rodriguez actually didn't do the talking.  He released a statement through his spokesperson.  That was probably a good idea considering he would be bombarded with questions about PEDs and the Miami clinic, etc.  According to Andy McCullough of the New Jersey Star-Ledger, Rodriguez is rehabbing twice per day. Here's the statement: "Right now, I'm dedicating 100 percent of my energy and focus on my rehabilitation," Rodriguez said in a statement through his spokesman. "I am conducting two rehab sessions each and every day in an effort to get back on the field and rejoin my Yankees teammates. I think we have a great team and I want to be a part of it." Many have said that A-Rod would not return to the Yankees after the injury and his ties to the PED clinic in Miami.  However, those rumors have died down substantially as people have had more to talk about (you know, now that there is baseball to speak of).  Yet, things will get interesting once Rodriguez is well-enough to return to play.  That won't be for quite some time though. A-Rod struggled throughout last season and in the playoffs.  It was announced during the winter meetings that Rodriguez had suffered a torn labrum in his hip and would need surgery.  The announcement gave a clearer understanding of the 37-year old's struggles. Follow @mlbinjurynews !function(d,s,id){var js,fjs=d.getElementsByTagName(s)[0];if(!d.getElementById(id)){js=d.createElement(s);js.id=id;js.src="http://www.mlbinjurynews.com//platform.twitter.com/widgets.js";fjs.parentNode.insertBefore(js,fjs);}}(document,"script","twitter-wjs"); var _gaq = _gaq || []; _gaq.push(['_setAccount', 'UA-34100676-1']); _gaq.push(['_trackPageview']); (function() { var ga = document.createElement('script'); ga.type = 'text/javascript'; ga.async = true; ga.src = ('https:' == document.location.protocol ? 'https://ssl' : 'http://www') + '.google-analytics.com/ga.js'; var s = document.getElementsByTagName('script')[0]; s.parentNode.insertBefore(ga, s); })(); Looking for fantasy baseball advice?
Original Story:
http://www.mlbinjurynews.com/2013/02/...
THE BACKYARD
BEST OF MAXIM
RELATED ARTICLES
The term "Evil Empire" that started out as an insult to the New York Yankees — by Boston Red Sox president Larry Lucchino in 2002 — has now been ruled by judges to belong to the intended target. Trademark judges ruled an entrepreneur cannot register the phrase "Baseballs Evil Empire," used to describe the Bronx Bombers, after Major League Baseball objected...
Baseball is officially back, as Spring Training games kick-off this weekend. 16 games today. All 30 teams play. Baseball is officially back. #SpringTraining. — MLB Public Relations (@MLB_PR) February 23, 2013 Just like every other fan, I am relieved. The months between the end of the World Series and today start to feel permanent, like baseball is gone forever. Is this heaven...
TAMPA, Fla. — Yankees closer Mariano Rivera did more than throw on Friday. He also called balls and strikes. The 43-year old Rivera threw 25 pitches in his first batting practice session since knee surgery last year and said he was happy with the results. "It feels great to be on the mound," said Rivera, who expects to throw BP one or two more times. "Basically, just wanted...
Even judges believe that the Yankees are truly baseball's only evil empire, and they have the documents to prove it. According to the Wall Street Journal, a private entrepreneur, Evil Enterprises Inc., has been trying to trademark the phrase "Baseballs Evil Empire," since 2008, but a panel of trademark judges in Washington, D.C., denied the request earlier this month. Evil...
Yankees closer Mariano Rivera has thrown 18 pitches in his first simulated game since knee surgery last year. The 43-year old Rivera pitched one inning against Yankees' minor-league players on Thursday. He also fielded bunts and covered first base. Rivera pitched in nine games last year, his season ending when he tore the anterior cruciate ligament in his right knee while tracking...
The name "Evil Empire" may have started as a derogatory term for the New York Yankees, but it is now apparently one that they take pride in and enjoy profiting from. Legally speaking, the Yankees are now officially known as the Evil Empire. According to the NY Daily News, trademark judges blocked an entrepreneur from registering the phrase "Baseballs Evil Empire" earlier...
Source: Elsa/Getty Images North America I was doing a mock draft with a buddy last night, and he had the fourth overall pick. This is probably the most interesting pick in the entire draft assuming Trout, Braun, and Miggy go one-two-three in some order. The fourth pick can go any number of ways. There are several excellent outfielders who offer a power/speed combo like Andrew McCuthcen...
An Open Letter to Yankee owners Hal and Hank Steinbrenner:Dear Billionaires,Recently, in some Byzantine clown court, the New York Yankees secured the legal trademark rights to the marketing name "Evil Empire." Meanwhile, General Manager Brian Cashman was said to be trolling through the Yankee facilities, eying the hair on players' chins the way Lindsay Lohan scans for...
It's a good thing his new teammates have a good sense of humor. Kevin Youkilis, who recently told the media that he'll "always be a Red Sox," entered camp earlier this month with his new Yankee teammates. While there was some ribbing going on, Youk told the YES Network that he and his fellow Yanks were able to laugh off his comments and any other "non-stories" that came...
Alex Rodriguez and Lady Gaga don't seem to run in the same circles, but they do have a lot in common. Besides both of them claiming they were Born This Way, dealing with Paparazzi and — just like A-Rod's reported drug mule cousin Yuri Sucart — the blond songstress has been banned from the Yankees clubhouse. Now the injured pop star and the rehabbing New York Yankees...
The New York Yankees are so evil that they literally sued for the right to call themselves "The Evil Empire".
KISSIMMEE, Fla. (AP) -- While a bunch of aging stars try to get healthy, the New York Yankees have a chance to check out their younger players at spring training. Zoilo Almonte homered and threw out a runner from right field, Francisco Cervelli began his pitch to win the catching job, and David Phelps threw two scoreless innings as New York defeated the bumbling Atlanta Braves 8...
Yankees News

Delivered to your inbox

You'll also receive Yardbarker's daily Top 10, featuring the best sports stories from around the web. Customize your newsletter to get articles on your favorite sports and teams. And the best part? It's free!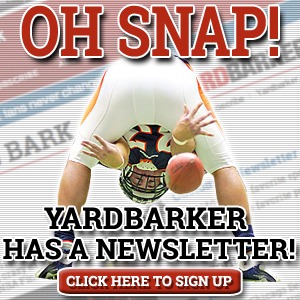 Latest Rumors
Best of Yardbarker

Today's Best Stuff

For Bloggers

Join the Yardbarker Network for more promotion, traffic, and money.

Company Info

Help

What is Yardbarker?

Yardbarker is the largest network of sports blogs and pro athlete blogs on the web. This site is the hub of the Yardbarker Network, where our editors and algorithms curate the best sports content from our network and beyond.