Gatorade shower by Alfonso Soriano and David Robertson for walk-off winner, Brett Gardner. (Photo by Jim McIsaac/Getty Images) Detroit Tigers 4 — New York Yankees 5   Brett Gardner made a big play in the field and made the biggest play with the bat in today's 5-4 win over the Detroit Tigers. Andy Pettitte started today's game and got into some first inning trouble again.With one out, Torii Hunter hit a single and Miguel Cabrera walked. Prince Fielder would come through with runners on the corners after Hunter stole third base. The Tigers got the early lead but tht would be all they get as Pettitte got the double play to end the inning. He has allowed a run in the first inning for eight consecutive starts. In the second inning, Alex Rodriguez started the inning and would pull a 1-0 fastball just deep enough for it to carry out for a home run. The first home run for A-Rod tied the game for the Yankees. Lyle Overbay and Curtis Granderson would get on base with a pair of singles. Overbay got to third on Granderson's single and Eduardo Nunez would get the productive out. A sacrifice fly to center field gave the Yankees a 2-1 lead. In the third inning, Robinson Cano would hit a ground-rule double into the left field corner with two outs. Alex Rodriguez would deceive himself. On a high fastball, Rodriguez would swing and thought he had hit the ball foul. He would soon realize that he actually hit the ball on a ground ball to right field. The deceptive single would bring home Robinson Cano and give the Yankees a 3-1 lead. Alfonso Soriano came into today's game with 1,999 hits and in the fourth inning, he would reach 2,000. On the first pitch to open the inning, the Yankees left fielder would put the Verlander slider into left field. He is the 19th player to get their 2,000th hit as a Yankee. Throughout the start for Pettitte, he allowed a base runner in every inning. The fifth inning was the worst. Miguel Cabrera led off the inning with a double to left field. Prince Fielder would strike out but Victor Martinez would single to put runners on the corners. Left fielder Matt Tuiasosopo would be the last batter he faced. Shawn Kelley would be called on to help Andy out of the jam. Kelley would strike out the first batter he faced and got a fly out to keep Pettitte's runners from scoring. In 4.1 innings, Andy Pettitte allowed just one run on eight hits while walking three and striking out three. The pitch count is what knocked him out of the game. It took him 101 pitches to go 4.1 innings. Shawn Kelley would strike out another in the sixth inning but would exit with two on after walking Miguel Cabrera. Boone Logan would come in to get Prince Fielder to fly out and get out of the jam. Boone Logan would pitch a scoreless seventh inning and David Robertson would come in for the eighth inning. Catcher Brayan Pena would get his third hit of the game, a solo home run, to open the eighth inning. Jose Iglesias would reach on an infield single but would be erased on a close play at second made by Alex Rodriguez. Then with Torii Hunter up, the veteran right fielder would hit a deep fly to center field. Brett Gardner would race back and make a leaping catch and would proceed to crash into the wall. After tumbling down, stunned, he would roll the ball to left fielder Alfonso Soriano. The runner, Austin Jackson, uncertain of the call made on the catch proceeded to second base. Soriano sent the ball to Eduardo Nunez who tossed the ball to Robinson Cano who put the tag on Jackson and completed the 8-7-6-4 double play. With a two-run lead, Mariano Rivera would attempt to get things going in the right direction after two consecutive blown saves. On a 2-2 cutter, Miguel Cabrera opened the ninth inning with his second home run off of Mariano Rivera this series. With the lead down to one, Prince Fielder would line out softly to Alex Rodriguez for the first out of the inning. Victor Martinez would stun everyone at the stadium with a deep, game-tying home run to right field. Mariano Rivera blew three consecutive saves for the first time in his career. This is the third time that he has given up two home runs in a game. This was the first time since 1996. That Brett Gardner guy would come up big once more. After having the wind knocked out of him in the eighth inning, Brett Gardner came up in the ninth inning with two outs. Against former Yankee Jose Veras, Brett Gardner would take a mighty swing and he knew he got all of it. He celebrated the walk-off home run, his career-high eighth of the season, and rounded the bases ready to be mobbed by his teammates.   Win – Mariano Rivera (3-2) Loss – Jose Veras (0-5)   Notables Tigers *Miguel Cabrera – 2 for 3, R, 2 BB, 2B, Solo Home Run (36) in the 9th, RBI (110) *Victor Martinez – 3 for 5, R, Solo Home Run (10) in the 9th, RBI (66) Yankees *Brett Gardner – 1 for 5, R, Walk-off Solo Home Run (8) in the 9th, RBI (38) *Alex Rodriguez – 2 for 4, R, Solo Home Run (1) in the 2nd, 2 RBI (2)   Current Yankees Record: 59-57   Get your Yankees Tickets from our friends at TiqIQ.
Original Story:
http://bronxpinstripes.com/game-day/y...
PLAYERS:
Alfonso Soriano
,
David Robertson
,
Brett Gardner
,
Andy Pettitte
,
Torii Hunter
,
Miguel Cabrera
,
Prince Fielder
,
Alex Rodriguez
,
Lyle Overbay
,
Curtis Granderson
,
Eduardo Nunez
,
Robinson Cano
,
Victor Martinez
,
Matt Tuiasosopo
,
Shawn Kelley
,
Boone Logan
,
Brayan Pena
,
Jose Iglesias
,
Austin Jackson
,
Mariano Rivera
,
Jose Veras
TEAMS:
New York Yankees
,
Detroit Tigers
MORE FROM YARDBARKER
MLB News

Delivered to your inbox

You'll also receive Yardbarker's daily Top 10, featuring the best sports stories from around the web. Customize your newsletter to get articles on your favorite sports and teams. And the best part? It's free!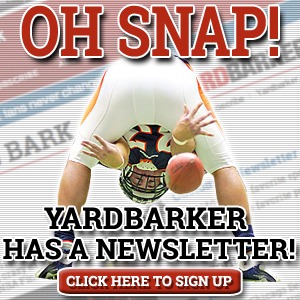 Latest Rumors
Best of Yardbarker

Today's Best Stuff

For Bloggers

Join the Yardbarker Network for more promotion, traffic, and money.

Company Info

Help

What is Yardbarker?

Yardbarker is the largest network of sports blogs and pro athlete blogs on the web. This site is the hub of the Yardbarker Network, where our editors and algorithms curate the best sports content from our network and beyond.