Found August 22, 2012 on Bronx Pinstripes:
New York Yankees 3 — Chicago White Sox 7
Former Red Sox third baseman Kevin Youkilis hit a 5th inning grand slam in tonight's 7-3 loss to the Chicago White Sox.
Ivan Nova struggled in his 6 innings of work. In his start tonight, 7 hits resulted in 6 runs on just 84 pitches. The big blow came in the 5th inning when Kevin Youkilis got to Nova for a go-ahead grand slam. Ivan Nova continues to be the victim of extra-base hits. In the 2nd inning, a leadoff triple would score on a sacrifice fly. In the 4th inning, Paul Konerko took Nova deep for a solo home run too, tying it at 2. Derek Lowe would follow Nova with 2 innings of work. Lowe would work in and out of two jams in his two innings of work. In the 7th, he got 2 outs with the bases loaded and didn't allow a run to score. Then in the 8th, a leadoff triple spelled trouble but he kept them off the scoreboard for 2 outs but couldn't get the last out before the run would score.
The Yankees offense got started off very hot. On the 1st pitch of the game, Derek Jeter took White Sox starter Francisco Liriano deep. The inning appeared to shape up into a very bad inning for Liriano as a single and two walks would load the bases loaded but the Yankees would just get one more run in the inning. Despite getting to Liriano and his pitch count early, the Yankees could not solve the left-hander beyond the first inning. Through 6 innings, he allowed just 2 runs on 6 hits with 7 strikeouts and 3 walks. Once he exited the game, Russell Martin took reliever Jesse Crain deep to leadoff the 7th inning. But the Yankees offense struggled behind Nova's poor outing again.
Win – Frarncisco Liriano (5-10)
Loss – Ivan Nova (11-7)
Notables
Yankees
*Derek Jeter – 1 for 5, R, Solo Home Run (12) in the 1st, RBI (42)
*Russell Martin – 2 for 4, R, Solo Home Run (14) in the 7th, RBI (34)
White Sox
*Kevin Youkilis – 1 for 4, R, BB, Grand Slam (15) in the 5th, 4 RBI (47)
*Paul Konerko – 2 for 4, R, Solo Home Run (21) in the 4th, RBI (58)
Current Yankees Record: 72-51
Original Story:
http://bronxpinstripes.com/game-day/y...
THE BACKYARD
BEST OF MAXIM
RELATED ARTICLES
From Marc Carig:The Yankees placed starting pitcher Ivan Nova on the disabled list today, the team announced, when an MRI exam discovered inflammation in his right rotator cuff. Nova will not play catch for at least five days. After visiting with team physician Christopher Ahmad in New York, Nova will be prescribed medicine and rest. Placing Nova on the DL also clears a roster...
From Mark Feinsand:Ivan Nova will likely miss his next start after feeling tightness near his right shoulder in the sixth inning of Tuesday night's loss to the White Sox. Nova is being sent back to New York Wednesday to be examined by Yankees team physician Dr. Chris Ahmad.Feinsand also mentioned that Joe Girardi did not rule out a trip to the DL for Nova. If that happens...
Longoria at Yankee Stadium For the second straight night the Yankees lost to the White Sox in the Windy City, 7-3. Starter Ivan Nova couldn't command his fastball, and since the All-Star break he is 1-4 with an ERA of 7.28, and opposing batters are hitting a .316 against him. I am a big fan of Nova but the Yankees need a lot more from him especially at this time of year, and also...
New York Yankees right-hander Ivan Nova has tightness in his right shoulder and will fly back to New York on Thursday for tests. Nova, the losing pitcher Tuesday night against the Chicago White Sox, said he felt something in his shoulder while making a sixth-inning pitch to Alexei Ramirez, the final batter he faced in the Yankees' 7-3 loss. Nova threw 84 pitches in his six innings...
Courtesy of AP   Yankees have placed Ivan Nova on the 15-day DL, retroactive to August 22, with right rotator cuff inflammation.  Let's hope a little R&R can get Nova back on track and looking more like the pitcher that was on the mound before the All Star break. Sabathia, Pettite, and now Nova on the DL.  The signing of Derek Lowe could come in play even more now with...
Yankees pitcher Ivan Nova was sent back to New York on Wednesday after experiencing tightness in his right shoulder during the sixth inning of his start Tuesday night in Chicago. Nova said he felt the tightness in the final at-bat of the sixth, after which he was removed despite throwing only 84 pitches. "It was after the last hitter of the sixth inning that I felt something...
Yankees right-hander Ivan Nova will miss at least one start with inflammation in his shoulder. Nova was sent back to New York for tests, manager Joe Girardi said before Wednesday's series finale with the White Sox. Nova felt a "grab" in his right shoulder in the sixth inning Tuesday, when he allowed six runs and suffered his seventh loss of the season. Nova is...
Leave it to the Little League World Series to take my mind off a Yankees team who dropped their second straight game to White Sox last night. The loss and Ivan Nova's continuing troubles have been easily relegated to the back burner of my mind, because history was made in Williamsport yesterday. As you probably know, the team from Uganda became the first African team to win a...
When the Chicago White Sox traded for Kevin Youkilis on June 24th, the team was just four games above .500, and was clinging to a half game lead in the AL Central over the Cleveland Indians. Since picking the veteran up from the Boston Red Sox, the ChiSox are 29-21, and their lead in the division is up to two games (over the Tigers as opposed to the Indians, who have collapsed...
  Congrats to Kevin Youkilis for stepping up. Youk plans on representing Israel in the World Baseball Classic. Hopefully others follow suit.  To read more click HERE.
Tonight RHP Freddy Garcia (7-5, 4.68 ERA) vs. RHP Gavin Floyd (9-9, 4.43 ERA) 8:10 p.m., YES Network Tuesday RHP Ivan Nova (11-6, 4.76 ERA) vs. LHP Francisco Liriano (4-10, 5.22 ERA) 8:10 p.m., MY9 and MLB Network Wednesday RHP Phil Hughes (12-10, 4.23 ERA) vs. LHP Chris Sale (14-4, 2.72 ERA) 8:10 p.m., YES Network and ESPN2 Follow me on twitter: @Colin_NYYU
If the Baltimore series was the wake for the 2012 Red Sox, the Yankees series was the funeral. Now, with Crawford having season-ending surgery, this is officially the final nail in the coffin. While there are several points in the season to speculate where this season's demise originated, the day when Kevin Youkilis was traded [...]
MLB News

Delivered to your inbox

You'll also receive Yardbarker's daily Top 10, featuring the best sports stories from around the web. Customize your newsletter to get articles on your favorite sports and teams. And the best part? It's free!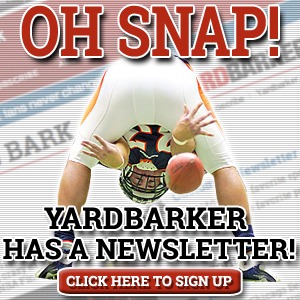 Latest Rumors
Best of Yardbarker

Today's Best Stuff

For Bloggers

Join the Yardbarker Network for more promotion, traffic, and money.

Company Info

Help

What is Yardbarker?

Yardbarker is the largest network of sports blogs and pro athlete blogs on the web. This site is the hub of the Yardbarker Network, where our editors and algorithms curate the best sports content from our network and beyond.