Found September 28, 2012 on Bronx Pinstripes:
PLAYERS:
Hiroki Kuroda
,
Brett Lawrie
,
Russell Martin
,
Kelly Johnson
,
Yuniel Escobar
,
Colby Rasmus
,
David Phelps
,
Adam Lind
,
David Robertson
,
Cody Eppley
,
Rafael Soriano
,
Chad Jenkins
,
Alex Rodriguez
,
Robinson Cano
,
Nick Swisher
,
Curtis Granderson
,
Jason Frasor
,
Ichiro Suzuki
,
Raul Ibanez
,
Eric Chavez
TEAMS:
New York Yankees
,
Toronto Blue Jays
New York Yankees 11 — Toronto Blue Jays 4   After being shutout last night, the Yankees put up 11 in tonight's 11-4 win over the Toronto Blue Jays.   Hiroki Kuroda danced in and out of danger in his 5.1 innings of work. Kuroda scattered 10 hits and gave up just 2 runs. Despite not having a 1-2-3 inning, Kuroda benefited from some help defensively. In the 1st inning, leadoff hitter Brett Lawrie opened with a double but was caught off of 2nd base on the following batter, a mental lapse on the basepaths. In the 2nd inning, Russell Martin would catch the strikeout of Kelly Johnson and would proceed to catch Yunel Escobar off 3rd base to take the pressure off of his pitcher. The first run that Kuroda gave up came on a Colby Rasmus home run to lead off the 5th inning. Two consecutive hits after getting the first out in the 6th inning would be the end of Kuroda's night. The 10 hits played a key role in Kuroda's short outing, due to his pitch count nearing 100. David Phelps would surrender 1 run of his inherited runners as he took over for Kuroda in the 6th inning. In the 7th inning, Phelps would give up a 2-run home run to Adam Lind as the lead got closer but he maintained the lead. David Robertson pitched a scoreless inning. Cody Eppley and Rafael Soriano would finish the 9th as the Yankees closer was just looking to get some work in.   In the 1st inning, after rookie Chad Jenkins got 2 outs, Alex Rodriguez and Robinson Cano would get 2 singles and Nick Swisher would cash-in and hit a double to bring in 2 runs. The last out was a unique play as Curtis Granderson hit a line drive at the pitcher that actually knocked the glove off of the rookie pitcher. The pitcher would catch his glove and record the out in an unusual way. A single and 2 walks started a big inning but a double play and a ground out would minimize the damage with just 1 run scoring. Entering the 6th inning, the score was just 3-1 and the Yankees looked to put more on the board in support of Kuroda. The inning started with a hit by pitch and a single but was followed by a pair of strikeouts. Reliever Jason Frasor would come in to pitch to Russell Martin and on a 3-2 slider, Martin would go deep for a 3-run home run to increase the lead to 6-1. Ichiro Suzuki would come through after a walk and a single to increase the lead to 7-1. Poor decision-making by the Blue Jays factored into a run scoring in the 7th inning. Raul Ibanez would get on base with runners on the corners when second baseman Kelly Johnson didn't make the correct play. Robinson Cano would bring in another run in the 7th and Eric Chavez would hit a 2-run home run in the 8th to secure the lead. The Yankees hit 5 for 15 with runners in scoring position and took advantage of a large number of lapses in judgment on the part of the Blue Jays.   Win – Hiroki Kuroda (15-11) Loss – Chad Jenkins (0-3)   Notables Yankees *Russell Martin – 2 for 4, R, BB, 3-Run Home Run (20) in the 6th, 3 RBI (52) *Nick Swisher – 2 for 4, 2 R, BB, 2B, 2 RBI (92) Blue Jays *Adam Lind – 2 for 4, R, BB, 2-Run Home Run (11) in the 7th, 2 RBI (42) *Colby Rasmus – 1 for 5, R, Solo Home Run (23) in the 5th, RBI (75)   Current Yankees Record: 91-66
Original Story:
http://bronxpinstripes.com/game-day/y...
THE BACKYARD
BEST OF MAXIM
RELATED ARTICLES
The Yankees will send Hiroki Kuroda to the mound tonight against the Blue Jays in game two of a four game set in Toronto. In his last start against the Athletics in the Bronx, Kuroda lasted 5.2 innings, giving up five runs on seven hits while walking three and striking out five in a losing effort. Coming into tonight, the Yanks are holding on to a one game lead atop the AL East after...
Hiroki Kuroda's struggles continued on Friday, though unlike teammate Ivan Nova the night before, the veteran right hander was able to grind his way to a victory. Kuroda allowed two runs over 5 1/3 innings, allowing 10 hits and two walks while striking out four batters. He gave up five hits -- including three doubles -- and issued a walk during the first two innings, but...
From Wallace Matthews:Last October, when the New York Yankees needed one more win to extend their season another round, they asked Ivan Nova to get it. This October, they may not even invite him along for the ride. Thursday night, facing yet another golden opportunity to create some separation between themselves and the Baltimore Orioles, the Yankees turned to Nova. And...
The New York Yankees finally have a timeframe set for first baseman Mark Teixeira's return.  Meanwhile, though outfielder Brett Gardner has been activated by the Yankees, it's not clear if he'll be able to contribute at the plate at all this season. We found out yesterday that Teixeira was able to test his injured calf during a simulated game in Tampa Thursday...
Staring down another division title, Andy Pettitte can take the Yankees one step closer to it today The pressure has been on the Yankees over the past few weeks as they've been neck and neck with the Baltimore Orioles battling for the top spot in the AL East. Winning 12 of their last 16 games, they've certainly responded to the pressure in a big way, but they don't have any...
New York Yankees first baseman Mark Teixeira tested his calf injury yesterday during a simulated game at the club's complex in Tampa, reports Meredith Marakovits of the YES Network: Mark Teixeira played in a simulated game in Tampa. 7ABs and played an inning in the field. Will play in another sim game tom or sat #Yankees — Meredith Marakovits (@M_Marakovits) September...
Last night Ivan Nova pitched himself out of the postseason rotation. That is, if there IS a postseason rotation.  The division lead is now down to just 1 game with 6 left to play.It was Nova's second bad start in a row after the good start he had when he returned from the disabled list. After the game Nova was asked what he thinks he needs to do to fix things. His response...
The Yankees have been in an absolute dogfight over the past month or so, as Baltimore has constantly been on their heels. Currently, New York holds a half game lead, and the Orioles are leading 4-3 against the feeble and useless Red Sox. As the Yankees fight to maintain their grip on the AL East, one thing has caught my eye recently: Joe Girardi's managerial decisions have sometimes...
OK, get out your slide-rules, because this is technical stuff, or as the Yankiverse likes to view it: thoughtful speculation.If the election were held today - that is, we face Baltimore next Thursday in a Division playoff - we could face Chris Tillman, coming off his legendary, one-hit masterpiece over Pawtucket. Hard to say, because Buck hasn't yet announced Sunday'...
TORONTO -- If the New York Yankees were feeling any pressure with a miniscule lead atop the AL East Division, they certainly weren't showing it. Yankees catcher Russell Martin led the way with his 20th homer of the season, a three-run shot in the sixth, and scored twice as New York (91-66) took care of the Toronto Blue Jays 11-4 before a crowd of 25,785 at Rogers Centre on...
Take my hope, please. That's a joke. I have no hope. Help me believe. Give me a reason. Class? Anyone?OK, lie. Speak gibberish. Speak cat language. Speak Girardi. Glababababababa. That's as good as anything. Wait... here's one: The Grandyman probably won't reach 200 strikeouts during the regular season! Cue the balloon drop. Grandy won't hit 200 whiffs! (If...
Blue Jays 6, Yankees 0. Stands for Hometown lead. With AP Photos. Brandon Morrow used variety, not velocity, to beat the New York Yankees. Morrow and two relievers combined on a five-hitter, pitching the Toronto Blue Jays to a 6-0 victory Thursday night that trimmed New York's lead in the tight AL East. Morrow (9-7) scattered four hits over seven innings, walked three and struck...
MLB News

Delivered to your inbox

You'll also receive Yardbarker's daily Top 10, featuring the best sports stories from around the web. Customize your newsletter to get articles on your favorite sports and teams. And the best part? It's free!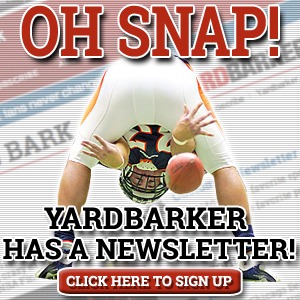 Latest Rumors
Best of Yardbarker

Today's Best Stuff

For Bloggers

Join the Yardbarker Network for more promotion, traffic, and money.

Company Info

Help

What is Yardbarker?

Yardbarker is the largest network of sports blogs and pro athlete blogs on the web. This site is the hub of the Yardbarker Network, where our editors and algorithms curate the best sports content from our network and beyond.