Posted June 17, 2013 on AP on Fox
PLAYERS:
Mark Teixeira
,
Brian Cashman
,
Derek Jeter
,
Alex Rodriguez
,
Kevin Youkilis
,
Eduardo Nunez
,
Curtis Granderson
,
Francisco Cervelli
,
Michael Pineda
,
Don Mattingly
,
Randy Ruiz
TEAMS:
New York Yankees
,
Los Angeles Dodgers
Slumping Yankees first baseman Mark Teixeira could be sidelined a while longer because of his ailing right wrist. "I haven't done anything, but I'm leaning toward the disabled list," New York general manager Brian Cashman said Monday on a conference call. Teixeira missed the first 53 games of the season because of a wrist injury. The All-Star slugger is hitting just .151 with three home runs and 12 RBIs in 53 at-bats. The 33-year-old Teixeira left the team during its recent West Coast trip, returned to New York and got a cortisone shot Sunday. Cashman said Teixeira probably wouldn't be able to play for at least a week. Teixeira and the Yankees talked before the season about surgery, but decided against it. Cashman said he had "no regrets" about trying to heal the injury without an operation. "Is it something that's going to force him to have surgery? I can't rule any of that out," Cashman said. Yankees hitting coach Kevin Long recently said the switch-hitting Teixeira seemed to be having more trouble swinging left-handed. Teixeira is just 3 for 35 (.086) as a lefty. Cashman said he wasn't mad at Long for that public comment. But Cashman sounded a bit miffed, saying Long hadn't reported that problem to the medical staff or front office. The Yankees already have a crowded disabled list that includes infielders Derek Jeter, Alex Rodriguez, Kevin Youkilis and Eduardo Nunez, outfielder Curtis Granderson, catcher Francisco Cervelli and pitcher Michael Pineda. Cashman said Youkilis is being examined by a back specialist. The former star is hitting .219 with two homers and eight RBIs in 105 at-bats. Cashman said he's hoping Youkilis' condition improves, but "back issues usually don't get better." Several of the rehabilitating Yankees worked out Monday at the team's spring training complex in Tampa, Fla. Rodriguez faced a minor league right-hander in his first live batting practice session. He saw 30 pitches, broken into two rounds, and put a half-dozen balls into play. Rodriguez also fielded grounders at third base and made throws to first and second, and ran sprints in the outfield. Jeter took batting practice for the first time in the indoor cage. Nunez and Cervelli played long toss. Granderson also long tossed and said he would be in New York on Thursday to have his broken knuckle examined. NOTES : The Yankees, who have lost five of six, were off Monday. They open a two-game series Tuesday night against the Los Angeles Dodgers in their first visit to the Bronx since clinching the 1981 World Series. Dodgers manager Don Mattingly, who starred for the Yankees and later was a coach, will be in uniform at Yankee Stadium for the first time since being passed over after the 2007 season to become the team's manager. Cashman reiterated he thought he made the right choice in selecting Joe Girardi over Mattingly and Tony Pena. Cashman said the fact that Mattingly hadn't been a major league manager at that point "was a big separator." Cashman said this series would be a chance for Yankees fans to salute Mattingly, adding Donnie Baseball "is and will always be a Yankee." Over the weekend, Mattingly said he was looking to seeing a lot of familiar faces in the Bronx and had no negative feelings about getting skipped over as manager. "Not one bit," Mattingly said. "Everything worked out for the best. I love being the manager of the Dodgers and am proud to work for another great organization." ... The Yankees are adding former big league DH-1B Randy Ruiz to their Triple-A roster. Ruiz, 35, was born in the Bronx and hit .272 with 12 home runs and 25 RBIs in 68 games with Minnesota and Toronto in 2008-10. The righty hitter has played in Japan, Mexico and the minors since then.
Original Story:
http://msn.foxsports.com/mlb/story/ne...
THE BACKYARD
BEST OF MAXIM
RELATED ARTICLES
Mark Teixeira is back on the 15-day disabled list with an aching right wrist, the latest injury setback for the depleted New York Yankees. The team made the move Tuesday before playing the Los Angeles Dodgers. Teixeira missed the first 53 games of the season because of an injury to his wrist. The switch-hitting first baseman got off to an encouraging start when he returned but...
Yankees first baseman Mark Teixeira has no new tears in the tendon sheath around his inflamed right wrist. Teixeira got a cortisone shot Sunday. New York manager Joe Girardi says he will be re-evaluated next week. Teixeira left the Yankees' 6-2 loss to the Los Angeles Angels on Saturday in the fourth inning. The Yankees sent him back to New York for evaluation on his problematic...
Kevin Youkilis needs back surgery and Mark Teixeira has returned to the 15-day disabled list with an aching right wrist, the latest injury setbacks for the depleted New York Yankees. The team made the announcements Tuesday before playing the Los Angeles Dodgers. Youkilis will miss at least 10-12 weeks after he has surgery in California on Thursday. He had gone back on the DL last...
Another one bites the dust. And, another one.After Mark Teixeira and Kevin Youkilis returned to the DL yesterday, I began to wonder if the end is near for the New York Yankees. Injury-wise, they have had setback after setback. It is as if they are climbing up a greased pole.  Could the grease finally be getting the best of them?Youkilis obviously has not worked out for the Yankees...
It seems as if every time the Yankees gain someone back from the disabled list, another player is moved onto it. Here are a few updates on the injured: Mark Teixeira: Although Joe Girardi said that Mark Teixeira will need at least a week to rest his wrist, GM Brian Cashman may want to give him a few weeks. According to Andy McCullough of the Newark Star Ledger, Cashman is leaning...
I had to laugh to keep from cringing when my Red Sox friend Johnny pointed out to me Brian Cashman's latest pontificating on the state of the Yankees. Specifically, my friend cited Cashman telling the media yesterday this shocking news about Kevin Youkilis: that "back issues usually don't get better." Gee, you think? Next thing you know, Cash will figure out that...
The New York Yankees had to get active on the trade and free agent markets earlier than expected this season, as spring training injuries caused the team to make multiple transactions before the regular season even began. General manager Brian Cashman told Bryan Hoch of MLB.com that he doesn't expect that level of busyness to change with the summer trade season approaching...
photo credit: Keith Allison via photopin cc It's Week 12 of fantasy baseball 3×3, where we're dropping a friendly reminder about Corey Kluber, staying patient with Josh Johnson, and putting Mark Teixeira out of his misery. 3 TO CUT Mark Teixeira | New York Yankees | 1B Wrist injuries to power hitters are nothing to be trifled with, especially for a player entering his mid-30s...
Happy Father's Day! The Yankees look to avoid yet another sweep this afternoon when they play the Angels. They will try and do so without Mark Teixeira, who was sent back to New York early to get his wrist examined. Teix re-aggrivated it yesterday and was removed from the game, obviously not good news for the team. Probably the best pitching matchup of the weekend, CC Sabathia...
McCann looks at a ball (Photo credit: rjcox) When plan A fails there is always plan B….right?  Correct. How does this relate to the current state of the New York Yankees? Well, I think it is about time for Yankees to look beyond their All-Star disabled list (DL). The hope that Jeter, A-Rod, Granderson, Youkilis, and Teixeira will ever be healthy enough to play at the level expected...
MLB News

Delivered to your inbox

You'll also receive Yardbarker's daily Top 10, featuring the best sports stories from around the web. Customize your newsletter to get articles on your favorite sports and teams. And the best part? It's free!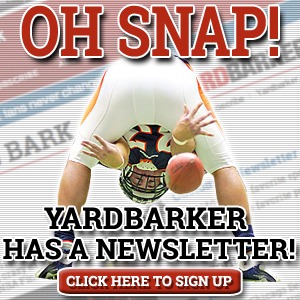 Latest Rumors
The Backyard

Today's Best Stuff

For Bloggers

Join the Yardbarker Network for more promotion, traffic, and money.

Company Info

Help

What is Yardbarker?

Yardbarker is the largest network of sports blogs and pro athlete blogs on the web. This site is the hub of the Yardbarker Network, where our editors and algorithms curate the best sports content from our network and beyond.