Found November 14, 2012 on Sliding Into Home:
If they do lose Martin, Napoli would be a pretty good replacement. After a great 2011 campaign, Napoli fell off a bit last season hitting .227/.343/.469 with 24 HR and 56 RBI in 108 games for the Rangers. Not great, but better than the numbers Martin put up the last two years.
Original Story:
http://feedproxy.google.com/~r/Slidin...
THE BACKYARD
BEST OF MAXIM
RELATED ARTICLES
Back in July of 2011 the Yankees tried to trade for him so this isn't the first time the Yankees have shown interest in Nolasco. If this is their plan to replace Kuroda than I really can't figure out what the hell they're thinking. Last season, the right-hander went 12-13 with a 4.48 ERA in 31 starts for the Marlins. In 191 innings he allowed 95 earned runs on 214...
Despite a nightmare postseason, Robinson Cano has reason to celebrate. Just four days after winning the Silver Slugger Award for his production at the plate, the Yankees second baseman officially became a U.S. Citizen on Tuesday morning and tweeted pictures as he was sworn in. "Very proud day for me," Cano tweeted. "I just became a US citizen, God bless America!" A native...
Last month, the CW - that's conventional wisdom for you outsiders - seemed to be that Hiroki Kuroda and Russell Martin loved bagels, cherished subway rides, enjoyed homeless people and totally grokked New York City, so all we had to do was send them the contract, and they would sign it. Now, well, maybe they're not so sure. The subways do sometimes have a pungent aroma, and...
While the New York Yankees saw free agent outfielder Torii Hunter, who signed with the Detroit Tigers yesterday, as a good fit, their focus at this point is on re-signing right-handers Hiroki Kuroda and Mariano Rivera, reports Erik Boland of Newsday. Yankees,while seeing Hunter as good fit, never made offer.Haven't offered any pos players on market as yet.Focus right now...
The top minor league affiliate of the New York Yankees is looking to northeastern Pennsylvania's history for its new identity. After spending all of last season as the Scranton/Wilkes-Barre Yankees, the club renamed itself the RailRiders on Wednesday in a nod to the region's railroading history. The new logo features a porcupine mascot in navy and gold with maroon lettering...
The new logo for the Scranton/Wilkes-Barre RailRiders (Photo: MiLB.com) One of the first changes made by new ownership of the of New York Yankees' Triple-A affiliate was to announce their intention to change their name from the Scranton/Wilkes-Barre Yankees and allow the fans to select the new name in an online poll. As a result, the Scranton/Wilkes-Barre Yankees are no more. At...
My entry:For starters, zombie Bowie Kuhn claws his way up from the grave - (He's dead, right?) - and steals Bud Selig's hairpiece, holding it for ransom unless Selig nullifies the deal. Peter Gammons throws himself off the street side of the Green Monster, bounces three times, and goes through Bill Buckner's legs, and at the funeral, the shamed Redsocks announce they...
When Gil Patterson left the Oakland A's organization for the New York Yankees, the A's didn't have far to look to find their newest minor league pitching coordinator. Scott Emerson, a longtime and well-respected pitching coach in the A's organization, takes over a program that has developed some of the best young pitchers in baseball over the past 20 years. We spoke...
TRENTON, NJ – Former Yankees pitching great and YES broadcaster David Cone hopes the Yankees don't have a power shortage in 2013. He feels the team's pitching will be fine, but realizes the team will have to come up with a replacement for outfielder Nick Swisher, who rejected the Yankees' $13.3 million qualifying offer and is seeking a multi-year deal in the $15 million per...
He can now play for the US in the WBC
He becomes an American citizen, and the first thing he does is declare FREEDOM OF FACIAL HAIR.Dammit, he's right. The Yankees must end the repressive, 1890s ban on facial furniture, lip thistle, chin hemp or scalp shrubbery. It is 2012. It will soon be 2013.NO MUSTACHE, NO PEACE. NO MUSTACHE, NO PEACE.WHAT DO WE WANT?END TO YANKEE FACIAL HAIR BAN.WHEN DO WE WANT IT?NOW.
When I first heard of the deal made by the Blues Jays, I became a bit unruly.  Needless to say, a bender followed from which I am now emerging.I realize now we should all be happy.The guys the Blue Jays got for nothing are much too young to be Yankees.  I mean, we didn't sign Torri Hunter because he was only going to be 37, right?In addition, and this is the real story; Miami...
Yankees News

Delivered to your inbox

You'll also receive Yardbarker's daily Top 10, featuring the best sports stories from around the web. Customize your newsletter to get articles on your favorite sports and teams. And the best part? It's free!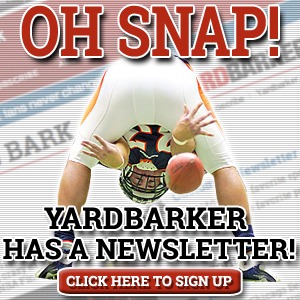 Latest Rumors
Best of Yardbarker

Today's Best Stuff

For Bloggers

Join the Yardbarker Network for more promotion, traffic, and money.

Company Info

Help

What is Yardbarker?

Yardbarker is the largest network of sports blogs and pro athlete blogs on the web. This site is the hub of the Yardbarker Network, where our editors and algorithms curate the best sports content from our network and beyond.