Found March 30, 2012 on The Victory Formation:
There was a divide with New York Yankees fans earlier in the year when it was announced that stud hitting prospect Jesus Montero was being traded to the Mariners for Michael Pineda. While Pineda was 5th in the Rookie of the Year voting in 2011, his end of the season was less than stellar, while the call up of Montero went swimmingly well. He showed Yankee fans his quick bat speed and power and had them excited about what he could do over an entire season. But some fans were encouraged by the idea that the Yankees were getting themselves a big and tall rigthy that could really bring the the heat, and Montero wouldn't have been anymore than a DH.
The concern has grown around Pineda all of Spring Training. His velocity, which often topped out at 97 MPH last season, has rarely seen 94. Yes, it may be early, and that is what Yankees fans were told about Phil Hughes last year, and Joba Chamberlain a couple years before that, when his overpowering fastball suddenly disappeared. Pineda hasn't been terrible, but this isn't what you trade your top prospect for. The Yanks kept Montero out of a lot of trades for dominating, front of the rotation pitchers before letting this trade happen. Pineda should be the solid #2 and now he might not even be on the Opening Day roster.
Yes, Pineda is likely to begin the year in the minors. Some will tell you that doesn't mean it is time to panic, and they are right, but only because the Yankees have a ton of starting pitching to get the season started. But if one was to look at one spot on the Yankees roster and nitpick a glaring weakness, where would it be? Remember, this is an AL team. Which is why when people try to devalue what Montero, it is silly. The DH matters in the AL, and his bat could have been a solid addition. He could hit righties and lefties, so there wouldn't have been a need for a platoon at the DH position. Stick him in the meat of the Yanks order and you also provide him with protection. Or, he ends up protecting someone else. Instead, you have a pitching prospect that is heading back to the minors? That looks terrible.
Pineda showed up to camp about 20lbs over what the Yankees expected. Right from the get-go, the kid put himself and his job on the line. He probably thought that he was the surefire #2 when the year began, but now he may need to get ready to ride the greyhound to Scranton instead. It is hard to tell what that might do to the confidence of a guy that many believed was the next dominating power pitcher in the game. You also don't trade one of, if not your best, prospect for a guy that you send back down to the minors.
The Yanks have tried to deflect the velocity issues by saying that he has more cut on this fastball and has developed a change-up, similar excuses they gave to Hughes a year ago. Pineda's change-up isn't going to make much of a difference if he isn't throwing gas like he is supposed to.
Even if the Yankees keep Pineda in the rotation to being the year, the spotlight and pressure on him won't stop. Remember, Montero was the piece that the Yankees continually refused to move, and Yankee fans have seen how easily he adapted to Major League pitching in his short stint last year. Pineda has to improve quickly, or the fans and the media are going to eat him alive in the Bronx.
This may even drive Frank Costanza even more crazy than the Jay Buhner for Ken Phelps trade.
Original Story:
http://www.thevictoryformation.com/20...
THE BACKYARD
BEST OF MAXIM
RELATED ARTICLES
Is the acquisition of Michael Pineda for the New York Yankees already headed towards Carl Pavano territory? The 2nd year pitcher, his first with the Yanks, will have an MRI on his right shoulder, after complaining of soreness following his inability to get through 3 innings against the Phillies in his final Spring Training start. Pineda was seemingly pitching for a spot in...
From Pete Caldera:Michael Pineda has tendinitis in the back of his right shoulder – a relief for manager Joe Girardi that it wasn't anything more serious. Still, the 23-year-old right-hander will start the season on the disabled list. An MRI taken this morning at Tampa confirmed the diagnosis. "(We're) very relieved, because the rest of the MRI came out good,''...
2012 New York Yankees rotation announced... New York Yankees skipper Joe Girardi and pitching coach Larry Rothschild's decision about the starting rotation got made for them last night. There were six pitchers for five spots, but with the now confirmed news that Michael Pineda does have shoulder tendentious, the heated competition will pause for a moment until Andy Pettitte decides...
So reports indicated that Michael Pineda is pitching for a rotation spot today. What I thought was a silly media meme to make it through the demands of spring training news content has become a reality. Apparently the velocity concerns of the media are also shared by the Yankees. Despite the wicked slider and changeup, the 89-93 mph fastball is concerning the brass. I always hate...
New York Yankees SP Michael Pineda is struggling this spring training season, battling to make the team's starting rotation this season, but he could now be dealing with a shoulder injury. After allowing six runs on 71 pitches in just 2 2/3 innings on Friday, Pineda told reporters that he is dealing with some shoulder soreness. The Yankees organization admitted that...
Philadelphia Phillies 9 — New York Yankees 13   The Yankees rallied to come back with 6 runs scored after the 6th inning in tonight's 13-9 win over the Philadelphia Phillies.   Michael Pineda started tonight's game and his shaky outing with possible injury concerns have probably had a tremendous impact on his chances of [...]
Yankees pitcher Michael Pineda will begin the season on the disabled list after tests showed inflammation in a shoulder tendon, but no structural damage.
As everyone knows by now, Michael Pineda will be starting the season on the DL due to right shoulder tendinitis. Though it's still way too early to come to any final conclusions, this does not bode well for Brian Cashman and his gamble/trade that sent highly rated prospect Jesus Montero to the Mariners. When the trade was first announced last winter, I decided to take a wait and...
Yankees News

Delivered to your inbox

You'll also receive Yardbarker's daily Top 10, featuring the best sports stories from around the web. Customize your newsletter to get articles on your favorite sports and teams. And the best part? It's free!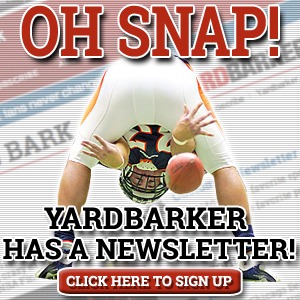 Latest Rumors
Best of Yardbarker

Today's Best Stuff

For Bloggers

Join the Yardbarker Network for more promotion, traffic, and money.

Company Info

Help

What is Yardbarker?

Yardbarker is the largest network of sports blogs and pro athlete blogs on the web. This site is the hub of the Yardbarker Network, where our editors and algorithms curate the best sports content from our network and beyond.