Found November 26, 2011 on Hall of Very Good:
So, did you hear the one about Albert Pujols not returning to the "Birds"
What...are you not one of the more than 75,000 that follows Miami Marlins outfielder Logan Morrison on Twitter?
If not...you missed this.
Breaking News: Talked to my boy Pujols, he said he wont be playing with the Birds anymore...
Begin social media *********. Within minutes, the RTs and messages to the self-proclaimed Twittaholic numbered in the hundreds. Iit only took 12 minutes for "LoMo" to remove the wool from in front of his followers' eyes.
Should've been more clear, my buddy Renee Pujols' landlord is making him get rid of his beloved pet cockatoos...
Fun was had. Fools were made. But, I'm not sure what's funnier. The fact that Morrison pulled one over on Twitter or that people bought into it. Hook. Line. Sinker. Then again, some of these people are probably the same ones that, the day Apple's Steve Jobs passed away, posted stuff like this. From their iPhones.
Original Story:
http://www.hallofverygood.com/2011/11...
THE BACKYARD
BEST OF MAXIM
RELATED ARTICLES
Did agent Dan Lozano compromise his client, Albert Pujols, with the first baseman's 2004 contract? The facts bring Deadspin's allegation into serious question.
ST. LOUIS As expected the Cardinals offered arbitration to both first baseman Albert Pujols and starting pitcher Edwin Jackson before Wednesday nights deadline. The Cardinals also announced that they decided not to offer arbitration to shortstop Rafael Furcal and left-handed reliever Arthur Rhodes. The moves to offer arbitration to Pujols and Jackson were mostly formalities that...
Shale Briskin, a featured columnist for bleacherreport.com, states five reasons as to how the Mets could sign Pujols and why it just might happen. - Reason 1: With Jose Reyes unlikely to re-sign with the New York Mets this offseason, Sandy Alderson and management might look to add another "franchise player". - Reason 2: It's possible Sandy Alderson may be trying to sign...
Deadspin.com blew Albert Pujols' agent out of the water early this week. If you haven't read the full article, (LINK HERE) please do so. Be warned, it's graphic and troubling. The big revelations?+ Why was Pujols' last contract so bad? And why didn't he test the free agent market last time? Lozano was reportedly close to bankrupt and needed that commission to...
St. Louis' negotiations with free agent Albert Pujols are moving slowly and don't appear close to resolution.
Logan Morrison, the precocious left fielder for the Florida Miami Marlins, seems like the type of guy who doesn't have a lot of spare time on his hands, but still likes to go all out on special occasions.  It's precisely this sort of problem that Morrison encounters when things such as decorating his house for Christmas comes up. Luckily for us, LoMo is also the type of guy...
Deadspin reports on Dan Lozano, Albert Pujols's agent, and his alleged dirty tactics in dealing with with clients, other agents and front offices. Albert Pujols was the best thing that ever happened to Dan Lozano, who by 2004 was nearly broke, colleagues say. A source familiar with the negotiations says the Cardinals knew of Lozano's money issues (as did many GMs around baseball...
Beginning next Monday in Dallas, the baseball industry will swarm about the Hilton Anatole in Dallas for four frenetic days. Every text message, phone call and footstep by the high-powered agents and executives will nudge the sport a little closer to spring training. The winter meetings are romantic that way, a convenient week between Thanksgiving and Christmas when fans neglect...
The Miami Marlins have been involved with a handful of free agents this offseason like Albert Pujols, Mark Buehrle, Jose Reyes, and Prince Fielder. Now the Marlins have added a player to their pool of negotiations, C.J. Wilson. Clark Spencer, a reporter for the Miami Herald, reported that the Miami Marlins will meet with C.J. Wilson following the Thanksgiving weekend. According...
Hello world of 85% Sports.  It has been a month since you have seen me, but I am glad to be back.  Allow me to explain my absence to you. As Eugene mentioned on October 22, I got married that night.  Yes, I got married during Game 3 of the 2011 World Series, the most exciting series in years.  So, I was going through my nuptials while Albert Pujols was hitting three home runs...
The Marlins will attempt to woo C.J. Wilson with a South Florida visit and stadium tour on Monday, writes Juan C. Rodriguez of the Sun Sentinel.  Jose Reyes, Mark Buehrle, and Albert Pujols have already visited Miami and each free agent received an offer from the club. Rodriguez writes that the Marlins are likely to put a bid in for Wilson considering that pitching is their top...
NEW YORK (AP) - Albert Pujols, Prince Fielder and Jose Reyes were offered salary arbitration Wednesday, guaranteeing their teams two extra draft picks next year if they sign with new clubs.Teams offered 26 players arbitration, of which six were Type A free agents. A new club signing one of those ...
MLB News

Delivered to your inbox

You'll also receive Yardbarker's daily Top 10, featuring the best sports stories from around the web. Customize your newsletter to get articles on your favorite sports and teams. And the best part? It's free!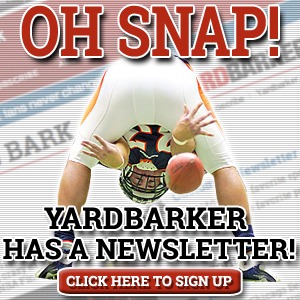 Latest Rumors
Best of Yardbarker

Today's Best Stuff

For Bloggers

Join the Yardbarker Network for more promotion, traffic, and money.

Company Info

Help

What is Yardbarker?

Yardbarker is the largest network of sports blogs and pro athlete blogs on the web. This site is the hub of the Yardbarker Network, where our editors and algorithms curate the best sports content from our network and beyond.