From SB Nation's "Talking Chop" Blog: "i would say at least the mets have their B lineup out there too but i can never really tell with them" "The Mets don't have an A lineup" "No Valdespin " So watch Wood throw a complete game 2 hitter here and then start the debate that we have 7 good starting pitchers to choose from" "The Mets don't deserve Matt Harvey" "Over/under on Harvey's K today 15″ "over" "15 sounds about right" "first time through the order might be a little ugly" "Harvey has a serious dip in" "Good lord that man is talented. Wood better be perfect…." "100 on the gun. Jesus" "Did he throw anything besides a fastball?" "Harvey may be talented, but that first inning was more poor hitting than great pitching" "Too bad Ike Davis is in AAA. Wood's strikeout totals would be bolstered with his presents in the lineup" "Even the Mets can score runs if you walk them" "I really don't want to acknowledge it, but I do have a mancrush on a Met. Harvey is a bad mofo." "He's a stud, no doubt." "It's okay. I have one on David Wright." "same" "Screw him" "WTF, was that a 92 mph slider?" "Has to be wrong" "Chris Johnson is HORRIBLE" "God, you suck so bad CJ." "holy ******* "FAIL FAIL FAIL FAIL FAIL JOHNSON FAIL" "Wish we could develop a SP who can throw 98+." "Oh god. Watching Simmons vs. Harvey. This should be fun!" ****************************************************!?" "Pretty tough to lay down one when Harvey is throwing 100 mph" "Rasmus sucks" "Well Buck" "Fredi is the dumbest manager alive" "Getting 2 runs off Harvey? good luck" "This is sad to watch" "Barves. Here they come." "Apparently *******!" = "strike" today" "Anyone see that Wheeler was temporarily demoted to AAA for this game?" "and again right after, until his next start. they are really getting nitpickly with his service time." "The Mets have to be nitpicky about any and all talent they have, unfortunately." "This is the same as having to face Kimbrel for 8-9 innings" "Murphy, you asshole." "You have a tough pitcher on the mound and the WORST BULLPEN IN BASEBALL behind him. Why are you making quick outs? Make him work, get him out of the game, and get into their bullpen." "Haryey has a no hitter going! No hitter in through 5! I hope he can make history!          All jinxes in action*" "Wait, wait. So he has no hits? The hit total is zero? Is that good?" "Wow, 10ks. Thanks Fredi?" "I'm not sure how much better it would be with the A lineup. He's dealing." "It's going to happen" "He's going to have to throw 125+ pitches to do… Collins is probably freaking out in the dugout having flashbacks of Santana" "I'm starting to think nobody is going to make contact again" "Kerry Wood??" "Just waiting on the app to send me the notification that Harvey is pitching a no hitter through six innings, that's when it will get broken up." "At least they're getting dominated by a good pitcher this time. I have way less patience when it happens against Wade Davis, Dan Haren, Wandy, Gee etc…" "A HIT!!!!" "Thank you" "HAHAHAHAHAHAHA" "What a disappointing ending there" "What the ******* "STFD David" "had Gattis been healthy he would have homered off Harvey and rattled him" "LOLmets" "Lolmets! Take advantage boys!" "ERMAHGERD a chance…" "Dumb by Collins to not make wait for the pinch hitter to be announced" "Mac has joined the ranks of the struggling" "That's just terrible McCann, LaTroy Hawkins blew right by you" "at least the Mets had to dip into their pen" "let the Struggling Parnell struggle, stop helping him" "Uggla for Zimmerman, straight up" "METS USED PARNELL IN THE EIGTH, NOVEL IDEA EH" "Shut the **** up Chip. Why did anyone give you a job consisting entirely of talking?" "Yasiel Beej up to the plate" ********** "welp" "Lets hope Wheeler isn't as nasty as Harvey" "Wheeler is nasty" From MLB's ATL Braves Forum: "The way Harvey is sweating, he will be lucky to make it past the fifth." "I wish the Braves had a pitcher like Matt Harvey. The guy is awesome- the real deal. He can reach back and throw 100 mph." "He'll blow his arm out." "Harvey is killing us thru 4." "As expected, Braves batters continue to swing at the first pitch — even in the 4th inning. As expected, Matt Harvey is mowing the Braves down — he has 7 K's, 56 pitches and it's only the 4th inning…..oh — and he's throwing 95-99 mph FB's……" "Killing us? I call it mur.der. LOL Can you imagine what's going to happen tonight with Zack Wheeler on the mound? Another 10+ K night….." "Matt Harvey isn't a very good pitcher. He would be awful if we would just work the count against him. There's no reason why we shouldn't have five runs on the board right now." "You're right. Matt Harvey is not a good pitcher. (rolls eyes)" "Sorry but Matt Harvey has a HOT girlfriend." "We are unfortunate enough to face the best pitcher in the MLB right who throws over 95. A bad combo for us." "Its looking like we will have 20+k's in one day. That must break some kind of record." "I have Wheeler throwing about 12-15 KO's against us….." "LOL…..Rutroh — I just saw Matt Harvey's girlfriend — AND I GOT LIFT OFF! HOOVER DAM!!!" "Trade everybody and sign Matt Harvey." "I'm getting tired of seeing Harvey's goofy face walk off the mound without any worry in the world" "Hope Teheran turns out to be like Harvey." "How in the world the Braves were favored in this game with Harvey pitching baffles me." "Well positively speaking, we get two tries at the Mets bullpen" "Parnell throws my favorite pitch of all time … the Knuckle Curve" "Not impressed with David Wright on defense today……"   The post You Mad, Bro? "Harvey the (nearly) Unhittable" Edition appeared first on The Daily Stache.
Original Story:
http://dailystache.net/you-mad-bro-ha...
MORE FROM YARDBARKER
MLB News

Delivered to your inbox

You'll also receive Yardbarker's daily Top 10, featuring the best sports stories from around the web. Customize your newsletter to get articles on your favorite sports and teams. And the best part? It's free!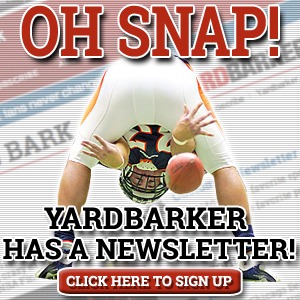 Latest Rumors
Best of Yardbarker

Today's Best Stuff

For Bloggers

Join the Yardbarker Network for more promotion, traffic, and money.

Company Info

Help

What is Yardbarker?

Yardbarker is the largest network of sports blogs and pro athlete blogs on the web. This site is the hub of the Yardbarker Network, where our editors and algorithms curate the best sports content from our network and beyond.