Found May 08, 2012 on Awful Announcing:
Last month, Miami Marlins manager Ozzie Guillen found himself at the center of an intense controversy in his new place of work when he told Time Magazine, "I love Fidel Castro."  A firestorm ensued and there was a time we wondered whether or not Ozzie would be able to keep his job.  There are still likely many fans of the team and residents of Miami that would like Guillen gone and weren't satisfied with the five game suspension he received.  After all, saying how much you respected the harsh Cuban dictator for being able to withstand such intense opposition is pretty outrageous no matter where you say it, let alone Miami. In the middle of the controversy, Ozzie Guillen held an emotional press conference to apologize for his comments and basically save his job.  He profusely promised to do anything to make up for the mistake he had made, saying this: "I'm here on my knees to apologize." "I'm very sorry about the problem, what happened. I will do everything in my power to make it better. ... When you make a mistake like this, you can't sleep." Less than a month after those seemingly heartfelt words, Ozzie Guillen was asked a question about the controversy dying down by Sportstalk 610's Paul Gallant in Houston with the Marilns visiting the Astros.  You can judge if Ozzie's response to that question is that of a man who has truly learned his lesson and is doing everything in his power to make the situation better. He tells Gallant to "f*cking grow up motherf*cker"...   For his part, Gallant wasn't fazed by Ozzie's profanity-laced rant at his question...  
I love Ozzie Guillen. Dude is fiery and passionate. I'm legit honored that he told me to f*ck off today when I asked him bt Castro comments — Paul Gallant (@PaulGallant610) May 7, 2012
  Gallant's question was completely natural and totally within the realm of reason.  Does Ozzie Guillen really expect everyone around baseball to develop short term memory loss and forget that he said he loved Fidel Castro??  Are we really supposed to forget him begging and pleading for people's forgiveness?  Are we really supposed to forget that he pledged to do everything in his power to make it right?  If Ozzie Guillen's behavior wasn't so blatantly offensive and shocking, his words advising Gallant to grow up would be laughable.   I just wonder whether Ozzie Guillen would tell anyone in Miami that was affected by his comments or suffered at the hands of Castro, the ones that he told he would do "everything in his power to make it better," to go f*ck off as well.  It's nice to know that Ozzie Guillen's press conference vow now sounds completely hollow and that he hasn't learned a thing or changed a bit.
Original Story:
http://www.awfulannouncing.com/2012-a...
THE BACKYARD
BEST OF MAXIM
RELATED ARTICLES
BLIZZARD OF OZZ
A follow-up question about the Fidel Castro incident set off the Marlins manager, causing him to do what he does best: curse up a storm.
THE DICTATOR
Some Astros fans went to a game against the White Sox and dressed in Fidel Castro clothing to tweak manager Ozzie Guillen.
Well, it didn't take long for Ozzie Guillen to return to the Ozzie Guillen of old. We hadn't heard much from Guillen, other than an apology, since being suspended for his Fidel Castro comments. So it actually could be argued that Guillen has finally gotten it. But just as you begin to think that we may be seeing a new and improved Ozzie Guillen, the same old Ozzie Guillen rears...
It's Ozzie Guillen, so you know it's NSFW because of language. Just Ozzie being Ozzie. For those of you who didn't know, or don't remember because of the human race's ever shrinking attention span, Miami Marlins manager Ozzie Guillen found himself in some hot water last month when he praised Cuban leader Fidel Castro in an interview with Time magazine.  Needless to say...
After the incredibly insensitive remarks he made about Fidel Castro about a month ago, many of us wondered if we would see a more reserved Ozzie Guillen going forward. The blogosphere hoped we would not. While we certainly do not condone what he said about Castro, we love the way Guillen always speaks his mind and has a tendency to fly off the handle. Is he still going to do that...
So it seems Ozzie Guillen is finished being quiet about the Fidel Castro fiasco and will take out his anger on Houston sports radio hosts. Up first, Paul Gallant. This bro had the balls to ask Ozzie if the firestorm back in Miami had settled down. Pretty straightforward question and seemed innocent enough. A simple, "Yeah, you know, I think things are much better. Now we just need...
Marlins PR Guy – "Okay, Mr. Guillen. Now if they ask you any questions about the Castro comments – just say, "No comment." Can you do that for me, Mr. Guillen?" Ozzie Guillen – "Oh **** You. Grow up, ************." Marlins PR Guy – "Well, as long as you don't say that we should be alright."
Syracuse graduate Paul Gallant, SportsRadio 610 to Marlins manager Ozzie Guillen: "Has the backlash to what you said last month cooled down in Miami?" Marlins manager Ozzie Guillen to Syracuse... Full story at Bob's Blitz ~ http://www.bobsblitz.com
The Monday Takeaway When the Marlins embarked on their nine-game road trip to San Francisco, San Diego, and Houston, manager Ozzie Guillen's team was a disappointing 7-15. Seven games in, Miami has improved to 14-15, going from an early afterthought to within 3 ½ games of the division-leading Nationals. Here are the Marlins' runs allowed totals during this road trip: 1, 2...
We hear from managers all the time about how they are "hired to be fired." Well, we're still early in the 2012 season but here are a half-dozen who already have earned a pink slip and a free pass out of town. Ozzie Guillen is a head-case.  He has been a one his entire career. Combine that with his pro-Castro rant coupled with his penchant for being a loose cannon and his team...
A week ago, the Miami Marlins were considered one of the biggest disappointments in baseball. Now, they're one of the hottest teams and on the brink of their longest single-season road winning streak in almost eight years. The Marlins look for a seventh straight win as they arrive for the last stop of their nine-game trip Monday night against Wandy Rodriguez and the Houston...
Tune into FOX Sports Florida at 7:30 p.m. to watch the Miami Marlins take on the Houston Astros. A week ago, the Miami Marlins were considered one of the biggest disappointments in baseball. Now, they're one of the hottest teams and on the brink of their longest single-season road winning streak in almost eight years. The Marlins look for a seventh straight win as they arrive...
MLB News

Delivered to your inbox

You'll also receive Yardbarker's daily Top 10, featuring the best sports stories from around the web. Customize your newsletter to get articles on your favorite sports and teams. And the best part? It's free!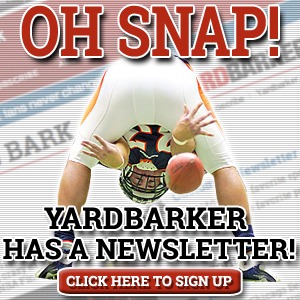 Latest Rumors
Best of Yardbarker

Today's Best Stuff

For Bloggers

Join the Yardbarker Network for more promotion, traffic, and money.

Company Info

Help

What is Yardbarker?

Yardbarker is the largest network of sports blogs and pro athlete blogs on the web. This site is the hub of the Yardbarker Network, where our editors and algorithms curate the best sports content from our network and beyond.