Found April 07, 2012 on Ted's Army:
Every morning, we compile the links of the day and dump them here... highlighting the big storyline. Because there's nothing quite as satisfying as a good morning dump.
Red Sox team president Larry Lucchino was on MLB Network Radio today with Jim Duquette and was asked about the idea of expanding the payroll to improve the pitching staff.
"We will end up being above the threshold this year. I don't think there's any question about that. We've been above the threshold the last couple of years," Lucchino said.
"Our goal is to field a team with more homegrown players, fewer free agents and to have a more manageable payroll down the road. But if you're asking about this year, we understand that each year has to be taken on its own and this year our payroll is going to be, I'd hate to make a guess, but it'll be well over the $178 million dollar threshold."
But the main goal would be the return of some revenue sharing money. Earlier this spring, Yankees owner Hal Steinbrenner said his goal was to be below $189 million in 2014. Lucchino expressed much the same sentiment today.
"It's important to us to get under the threshold when we can, depending on when the circumstances will allow us to do so," he said.
Globe - Lucchino: payroll could rise this season
Not very many people like Lucchino, for all the right reasons.  To be blunt: he's a scumbag.  So when he comes out and starts talking about payroll thresholds and slashing salaries, the initial reaction is to be outraged, because Larry clearly cares more about $$$ than W's.
But Lucchino is the CEO of the Red Sox.  And the Red Sox are a business.  Larry's main goal is to cut expenses and increase revenue.  That is the sole function of his job.  And, frankly, this has been the company line all offseason. This isn't exactly "news".
And, at its core principle, I'm onboard.  We've been trying to buy World Series trophies for a while now through free agency, with many more failures than successes.  Giving a John Lackey $80 million to be somewhere on the spectrum between awful-to-mediocre is a great way to hamstring your entire team.  You can catch lightning in a bottle through handing out huge contracts, but if we've learned anything from the 2011 season, it's that bank accounts and pure talent don't necessarily translate onto the field.
More often, like in 2004, it's chemistry and camaraderie that get you to the top.  And when you have a core group of guys that have come up through your system together, that chemistry is built in.  So if our plan is to build around homegrown players instead of mercenaries, I think that's a smart move.
The trouble with that, of course, is that you won't be fielding a team of All-Stars at every position.  There will be multiple seasons where the Sox are not World Series contenders, as the team develops and prospects flare out.  Young players trying to make their way in the league will suddenly have the pressure and expectations of the Boston media and fans thrust upon them.  You can do this in Tampa, where no one pays attention to your team.  But in Boston, we pull the panic alarm after losing Opening Day 3-2 against the reigning league MVP and Cy Young winner. 
Of course, there's a balance you can strike where you develop some young players while signing the right free agents.  But the Sox are always one or two pieces away from contending, and if we pass on Free Agent A to develop Player B, and Player B doesn't deliver, there will be hell to pay.  It's truly a lose-lose situation for the Red Sox brass. 
On Page 2, we're all ready to pounce on Beckett if he struggles.
Is he the stopper, ace and franchise cornerstone the Red Sox [team stats] believed worthy of a $68 million extension in no small part because his work ethic and approach so admirably inspired young pitchers throughout the organization?
Or is he the petulant prima donna who chugged beers while the season combusted last September, and then barely accepted responsibility because he was too busy seeking frontier justice on the "clubhouse leaks" who outed him?
Today we'll take our first step toward an answer when Beckett makes what might very well be the most scrutinized start of his Red Sox career.
Herald - Josh Beckett drama begins
I don't disagree with Tomase when he says this may be the most scrutinized start of Beckett's career.
And that makes me angry and sad.
The only thing Sox fans and media love more than a World Series victory is kicking someone when they're down.  Or, even better, kicking someone until they're down, and then kicking them some more.
CBH published his "Beckett has to prove himself" article this morning (link below form the Globe).  I'm sure his 'jettison Beckett' column is already written for Monday.
It's Game 2, people.  Get over yourselves. 
Rest of the links:
Herald - Andrew Bailey jinxed himself | These Red Sox all new to us | Globe - Bailey gives thumbs up for return | Beckett has plenty to prove | CSNNE - Sox face daunting opening hurdles | Merloni: It's just one game | WEEI - Leiter on D&C: Let Valentine 'do his thing' | Can the Red Sox find an old-school formula for bullpen success?
Original Story:
http://www.tedsarmy.com/blog/2012/04/...
THE BACKYARD
BEST OF MAXIM
RELATED ARTICLES
From ESPN Boston: DETROIT -- Other notes, quotes and gloats before the third game of the season:* One major-league scout watching Saturday's game said that was the worst he had ever seen Josh Beckett pitch. "He topped out at 92,'' the scout said. "And he must have thrown 15 center cuts -- you can't do that.'' Center cut is jargon for cut fastballs...
If you thought the Opening Day loss was tough to take, you were in for something worse today.  Josh Beckett and the Red Sox assured everyone that his thumb was OK and he would be ready to go today.  But Beckett struggled from the beginning and gave up a monster blast to Cabrera in the first inning and that was the sign of things to come.  He gave up a five home runs in the game...
DATELINE: HUMOR! Josh Beckett may be reaching for more excuses than you can find zeros in a multi-million dollar paycheck. In case your math is a little off because your own paycheck does not hit the comma button too often, that's a good half dozen reasons in the first week of the season. Already Beckett has provided the press with a couple of doozies. First, in spring training...
Bonus notes from our MLB on Fox broadcast of the Red Sox-Tigers game on Saturday... I'm not sure which is more disturbing, Red Sox right-hander Josh Beckett allowing five homers and saying he's healthy or Tigers righty Doug Fister lasting only 3 2/3 innings and going on the 15-day disabled list with a left costochondral strain. Neither is good, even though the season is...
Photo: AP  Every morning, we compile the links of the day and dump them here... highlighting the big storyline. Because there's nothing quite as satisfying as a good morning dump. But no. He's fine. That was made quite clear after yesterday's debacle, beginning with Bobby Valentine: "The good news is that he felt good," said the winless Red Sox manager. "And...
This is why the top of the Red Sox rotation is so important. It is vital that the Big Three of Jon Lester, Josh Beckett and Clay Buchholz pitch well this season. There's too much uncertainty surrounding the back end of the rotation. Felix Doubront and Daniel Bard have three major league starts on their combined resumes. Bard hasn't served as a starter since he was pitching...
DETROIT -- Prince Fielder stood in front of his locker, discussing his first two home runs as a Detroit Tiger. Then Miguel Cabrera -- who had just finished reviewing his own two-homer game -- walked past. "Pow!" Cabrera said playfully. "One, two, three, pow!" Detroit's potent slugging tandem is already finding its groove. Fielder and Cabrera hit two homers...
After falling on Opening Day on walkoff hit, the Boston Red Sox look to pick up their first win of the season in game two of a three-game set with the Detroit Tigers at Comerica Park. First pitch is scheduled for 4:05 p.m. and the game will be broadcast to 43% of the country on FOX. If you can't catch the television broadcast, you can always listen to it on the Red Sox radio...
Is this a case of here we go again for the Boston Red Sox and Josh Beckett? Last year the Red Sox started the season 0-6. So far in 2012, they are 0-2. Beckett struggled during the month of September. Beckett gave up five home runs in 4 2/3 innings in his first start of 2012. Given that Beckett gave up those five home runs yesterday, it made you wonder if the thumb injury he...
Justin Verlander throws pretty fast.But so does Josh Beckett.Doug Fister (pictured), who starts for Detroit tomorrow, also brings the heat.It's going to be 61 degrees in Detroit tomorrow. Not bad for April, but when the pitches are in the 90s and the air is in the 60s, you have to feel for the hitters.
1-0, First Place, 1 game up on 4 others. The Tigers get ready for game 2 after a thrilling opening day win on Thursday. Have I mentioned how much I despite the off day after opening day? Though a W makes it a bit easier. There has been a lot of talk about the Valverde insertion in the 9th. Though I would have loved to see JV get a complete game on opening day, Valverde in the 9th...
First Pitch: Thursday 1:05, Saturday 4:05, Sunday 1:05 Arms: Thursday: Jon Lester, LHP vs. Justin Verlander, RHP Saturday: Josh Beckett, RHP vs. Doug Fister, RHP Sunday: Clay Buchholz, RHP  vs. Max Scherzer, RHP Yard: Comerica Park   Watch it:  NESN (FOX - Sat.)  Hear it:  WEEI The Matchup       Record: 0-0 Record: 0-0 ...
MLB News

Delivered to your inbox

You'll also receive Yardbarker's daily Top 10, featuring the best sports stories from around the web. Customize your newsletter to get articles on your favorite sports and teams. And the best part? It's free!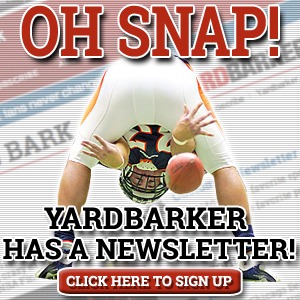 Latest Rumors
Best of Yardbarker

Today's Best Stuff

For Bloggers

Join the Yardbarker Network for more promotion, traffic, and money.

Company Info

Help

What is Yardbarker?

Yardbarker is the largest network of sports blogs and pro athlete blogs on the web. This site is the hub of the Yardbarker Network, where our editors and algorithms curate the best sports content from our network and beyond.