Found September 16, 2012 on Ted's Army:
Every morning, we compile the links of the day and dump them here... highlighting the big storyline. Because there's nothing quite as satisfying as a good morning dump.
If there's a down note, it's that he walked a season-high five. But he effectively worked around the free passes in a way that seemed impossible back in April, which he finished with an ERA of 8.69.

Since late May, however, Buchholz has been one of the best starters in the game. He owns 13 quality starts in his last 20 appearances and since May 27 is 7-4 with a 2.88 ERA. He has pitched at least seven innings in 10 of his last 11 starts.

"It's a shame it didn't happen at the beginning of the season, when I wanted it to or expected it to," Buchholz said. "This game's humbling. You can go out there and feel great and give up six runs. Then you can go out there and not have your best stuff and get through seven innings. I feel good about it. I wish the whole scenario were a little different for us as a team. We've got three weeks left. We've got to get through it and make ourselves better from it, learn from it, and go from there."
Herald: Clay Buchholz builds on quality run
The Red Sox are going to need Clay Buchholz to build on his late-season success more than ever because there will not be much out there to sign in the off-season. Clay will be a crucial building block for next season and beyond. That is, if he doesn't suck ass in the first 2 months of the season.
Also noted in that article is Clay Buchholz is one of only five players on the current roster that is signed for next season (Lackey, Pedroia, Lester, Iglesias), and Ellsbury will be in his second year of arbitration. With a weak free-agent market, the Red Sox recently freed up cash will not make a quick fix. Those 5 players will be crucial to the building of this team in the future, well, maybe not Lackey.
The Pawtucket Red Sox have molded some great talent and a lot of those guys are very close to ready for the next step. If some of them do make the next step up to Boston, it will take a while before we see any significant progression. There is a lot of good talent, but not "top prospect" talent, so it will take some time to mold the young guys.
I highly doubt the Red Sox will be a splash next season and a 3rd place finish may be the likely outcome. The Sox will at least have a fresh start with a lot of new faces to help change everything that went wrong in the last 2 seasons.
Related: ESPN Boston: Clay Buchholz a bright spot for Sox
The rest of the links:
CSNNE: Merloni: Valentine disrespected his players | Who should be the Red Sox manager next season? | Why wasn't Alfredo Aceves suspended? | McAdam: 'Very surprised' if Henry sells in near future | Ciriaco clutch hit help Sox edge Jays 3-2 | Bailey making up for lost time | Herald: Son shines on Pedroia | Andrew Bailey way better late | Globe: Pedroia rejoins team in Toronto, back in lineup | Ciriaco's hit send Red Sox to another win | No decision, but Buchholz was on his game | Sox coach Bogar on Astros' interview list
Original Story:
http://www.tedsarmy.com/blog/2012/09/...
THE BACKYARD
BEST OF MAXIM
RELATED ARTICLES
Pedro Ciriaco drove in the winning run in the 9th inning of a 3-2 win in Toronto.  Ciriaco doubled off something called Steve Delabar to drive in Jarrod Saltalamacchia. Pedro stole a base to get to third, but couldn't get home after Jacoby Ellsbury walked and Daniel Nava struck out. No matter: Andrew Bailey came on to get the save and the Sox escaped with a win. The...
The Blue Jays jumped out to a 3-0 lead on Friday, but then Ryan Lavarnway struck. The young catcher blasted a three-run shot, tying the game and giving the Red Sox hope, which they eventually turned into an 8-5 win at Rogers Centre. Lavarnway added another RBI later in the game, but his teammates were the subject of his praise following the victory. Lavarnway lauded the effort of...
Editor's note: NESN.com is going to tell the story of the 2012 Red Sox in Bobby Valentine's words. Each game day, we will select a Valentine quote that sums up the day for the Red Sox. It was another day, and another decision that Bobby Valentine would have to explain to everyone else after the Red Sox lost 5-0 to the Blue Jays on Sunday afternoon. During the top of the seventh...
Editor's note: The temperature gauge is a Bill James-created statistic that measures how hot or cold hitters are. We will spotlight Red Sox and opposing team temperatures on game days. Cody Ross has been one of the few bright spots for the Red Sox in 2012, and he'll look to continue that Sunday afternoon as Boston aims to complete a three-game sweep of the Blue Jays. Ross...
The Red Sox' major league club is in the midst of one of its more disappointing seasons in recent years, but things are looking up in the farm system. The Pawtucket Red Sox finished off the Charlotte Knights on Thursday to claim their first International League championship since 1984. The PawSox' Governors' Cup victory came via a clean sweep, which was capped off by...
The long time radio voice of the Red Sox got his due this week. On Wednesday, the Red Sox held a celebration prior to their game against the Yankees to honor Joe Castiglione for thirty years in the booth. Former broadcast partner Jerry Trupiano and NESN broadcaster Don Orsillo were among those present to honor Castiglione. The WEEI broadcaster was looking ahead during the ceremony...
We're still left with more questions than answers following Bobby Valentine's bizarre decision to pinch hit for Jose Iglesias in the middle of an at bat. Iglesias spoke to the media following the game and told them there were no plans in place prior to his plate appearance for him to be lifted. To see the full story on the at bat, check it out here. Watch Iglesias' full...
The Red Sox have seen their fair share of strange things in Toronto this season, and Friday night was no different. Daisuke Matsuzaka allowed three runs in one inning without giving up a hit, in the same city where fans have run onto the field with weird sayings on their chest. NESN Nation's Dan Duquette isn't sure there's a saying to apply for Friday night's game...
8 a.m. ET: The Red Sox have 15 games left to play in 2012. At 66-81 and 17 1/2 games back in the AL East, they have to win out to finish at .500. Don't bet the mortgage, kid's college fund or lunch money that Boston will run the table. In fact, betting anything more than a handshake is a bad idea. The Red Sox have not had a three-game winning streak since July 30 after failing...
The Red Sox have a bit of freedom as they begin their four-game series against the Tampa Bay Rays on Monday night. After all, they are finally, officially out of the playoff hunt. The Rays, on the other hand, are very much in the playoff hunt -- or could be, if they get some help down the stretch. Tampa Bay is actually in danger of falling too far behind in the chase for the postseason...
Kaki is an international cover model, die-hard Red Sox fan, and proof that having a bad season can actually look pretty good. You might recognize this blonde bombshell because she's previously... [[ Read More ]]
Red Sox News

Delivered to your inbox

You'll also receive Yardbarker's daily Top 10, featuring the best sports stories from around the web. Customize your newsletter to get articles on your favorite sports and teams. And the best part? It's free!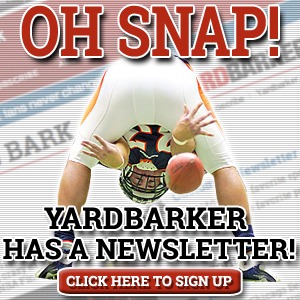 Latest Rumors
Best of Yardbarker

Today's Best Stuff

For Bloggers

Join the Yardbarker Network for more promotion, traffic, and money.

Company Info

Help

What is Yardbarker?

Yardbarker is the largest network of sports blogs and pro athlete blogs on the web. This site is the hub of the Yardbarker Network, where our editors and algorithms curate the best sports content from our network and beyond.