Found March 10, 2013 on Ted's Army:
PLAYERS:
Arnold Leon
,
Rene Tosoni
,
Larry Walker
,
Alfredo Aceves
,
Joel Hanrahan
,
Andrew Bailey
,
Craig Breslow
,
Franklin Morales
,
David Ortiz
,
John Farrell
,
Jackie Bradley
,
Wil Myers
,
Mike Napoli
TEAMS:
Boston Red Sox
,
Toronto Blue Jays
,
Tampa Bay Rays
Alfredo aceves poses for fans before WBC game vs. Canada Every morning, we compile the links of the day and dump them here... highlighting the big storyline. Because there's nothing quite as satisfying as a good morning dump. Mexico pitcher Arnold Leon drilled Canada's Rene Tosoni with a pitch. Tosoni reacted angrily, walking toward the mound, prompting the benches to empty.      Team Canada outfielder Tyson Gillies seemed to seek Aceves out and from behind, wrestled him to the ground before sprinting away. Aceves chased after him, seeking retribution, but was intercepted by several Team Canada members. Aceves got several punches into a scrum that took minutes for umpires and officials to clear. "I had a hold of him,'' said Team Canada coach Larry Walker of Aceves, "and I think I saw Satan in his eyes.'' Aceves was later one of several players ejected from the game. The WBC announced Sunday morning that no suspensions or punishments would be handed out as a result of the fight. CSNNE | Aceves had 'Satan in his eyes' in WBC brawl Hard to believe, isn't it? Alfredo Aceves in the middle of controversy. And because of his temper, no less. Actually the biggest surprise is he wasn't doing the one needlessly headhunting at the end of an (ultimately) meaningless game. I'm not someone who gets self-righteous about off-the-field behavior -- and since this isn't an MLB game, I'll consider it off the field. I was a Manny defender until the end. The key difference, of course, is that Manny should be a Hall of Famer (might not be if voters don't change their stance on PEDs), while Aceves hasn't really shown MLB talent beyond a half-season in New York. What I'm getting to is this: Trading Aceves should be one of the things Cherington has on a front burner during the beginning of the season. Maybe a starter goes down for a contender and they don't have enough organizational depth, so they want to stretch Aceves out. Or maybe somebody's closer goes down and they think Aceves' particular brand of lunacy is well suited to it (last year's results be damned). I'm not among the people who say to cut him (which they can do without paying his entire contract as long as they do it by a certain date in Spring Training). For whatever reason, he seems to be an asset, someone people around MLB believe in. And he could theoretically be an asset to the Red Sox, particularly with Joel Hanrahan struggling, Andrew Bailey made of tissue paper, and Craig Breslow and Franklin Morales have battled injuries. As always, you can never have enough pitching. But if we find ourselves at a time when we do, or if another team is pressed to overpay due to circumstance, Cherington should be ready to pounce on a deal. On page 2, David Ortiz undergoes precautionary MRIs. Yes, plural.     David Ortiz underwent MRIs on both heels Saturday morning, more as a precautionary measure, but also to determine why he is having so much soreness in the heels rather than in the Achilles' tendon strain he's been dealing with since last July. "Just to rule everything out," Red Sox manager John Farrell said. "I think the one thing that we still hold in all this is that, while the timing might not be what was maybe initially expected, the bigger picture is he's still making progress. "He's been able to run the bases, as we know, on the day that he has. He's been taking [batting practice] every single day. There's progress, yet maybe not as fast as he might have anticipated or hoped." Globe | Red Sox' David Ortiz undergoes MRIs on both heels I don't like the sound of them having to MRI both heels -- you start to wonder what this injury is causing through the rest of his body. Is he overcompensating elsewhere, leading to other issues. As noted in the Globe piece (and something we've talked about on TA), better to miss a week or Ortiz at the beginning than six weeks in the middle of the season because he didn't properly rehab. And another thing, Sox fans: Don't let the media bate you into wanting Jackie Bradley, Jr. to start the season with the big club. No need to start his service time yet. Due to the nonsensical rules of the baseball payscale, they could really do themselves harm by giving him big-league days now. Even the Rays, in my mind the division favorite and a team sorely needing a big bat in the middle of the lineup, are probably going to wait until May to call up Wil Myers so as not to start his clock too early. Hopefully we'll be as smart. CSNNE | Ortiz awaiting MRI results | Sox notes: Hanrahan sees better results | ESPNBoston | Farrell quick hits: Drew out again | David Ortiz has MRI to be safe | Takeaways: Aceves steals show from afar | Globe | Assistant general manager Mike Hazen driven to help get Red Sox on track | Herald | Unburdened by catching, injury, Mike Napoli looks powerfully good | Joel Hanrahan refuses to worry about stats in spring training | Alfredo Aceves bout catches eye | Jonny's tough to figure | MLB notes: 10 spring observations of Sox | Even Sox can appreciate Rivera | Image: Unreasonably Dangerous Onion Rings
Original Story:
http://www.tedsarmy.com/blog/2013/03/...
THE BACKYARD
BEST OF MAXIM
RELATED ARTICLES
INTERNATIONAL THROWDOWN
It wasn't quite an international incident, but a benches-clearing brawl broke out between After Canadian Chris Robinson bunted to lead off the ninth inning with Canada holding a 9-3 lead, Mexico pitcher Arnold Leon hitting Rene Tosoni. Red Sox pitcher Alfredo Aceves was heavily involved in the fray, seen wrestling with Tyson Gillies and appearing to suffer a blow to the head...
Leave it to Alfredo Aceves to be part of some controversy, and now on a global stage. During the World Baseball Classic's Mexico v. Canada game at Chase Field in Arizona a full two-team brawl broke out. When Canada's Rene Tosoni was hit by a pitch from Mexico's Arnold Leon, the batter made hit way towards to the mound then all hell broke loose. Red Sox pitcher Alfredo...
Alfredo Aceves has seemingly been on thin ice. That ice might have just cracked a little bit more. Baseball fans were given a strange surprise on Saturday when Canada and Mexico traded punches during their World Baseball Classic showdown. The brawl started after things got a little feisty in the ninth inning. Mexico pitcher Arnold Leon, upset that Canada catcher Chris Robinson dropped...
Alfredo Aceves comes off as a scary dude. Not only does Aceves throw gas when he's on the mound, but he also has a rather intimidating aura about him, which is enough for most guys to refrain from picking a fight with the Red Sox right-hander. Canadian outfielder Tyson Gillies apparently didn't get the memo, though. Or perhaps the Phillies minor leaguer has a death wish. Either...
Alfredo Aceves returned to Spring Training from the World Baseball Classic on Monday and sounded more like a Bruins enforcer than a Red Sox reliever. The right-hander admitted the tournament was "pretty cool," despite the team's shortcomings, according to MLB.com. But, as predicted, the media turned its focus on the dust-up between members of Aceves' Mexican team and Team...
Our very own Anthony Aidonidis reported earlier today that Red Sox relief pitcher Alfredo Aceves was involved in a brawl during the World Baseball Classic game between Mexico and Canada. As the dust settles around the diamond it's becoming clear that Aceves will be among a few players punished for their participation during this skirmish. The question remains: What will be the...
Team Mexico's run in the World Baseball Classic is over, but the aftereffects of Sunday's brawl could continue to linger. FOX Sports' Jon Morosi reports that any punishments doled out to those involved in the melee between Mexico and Canada would likely carry over to the regular season, as well, since the tournament is sanctioned by Major League Baseball and the players'...
No need to convince me to watch the World Baseball Classic anymore. Alfredo Aceves in WBC fight yesterday. I don't think anyone was expecting to witness a fight that could have rivaled the craziest Yankees-Red Sox throw down from back in the day. The brawl that ensued between Team Canada and Team Mexico got so out of hand that more police were called, as these players were just...
A fierce brawl that saw Alfredo Aceves and several players throw nasty punches erupted Saturday in the ninth inning of Canada's 10-3 romp over Mexico in the World Baseball Classic in a melee that also involved fans. The fights broke out after Canada's Rene Tosoni was hit by a pitch from Arnold Leon with Canada leading 9-3 at Chase Field, home of the Arizona Diamondbacks...
You know what they say, "What happens in the World Baseball Classic, stays in the World Baseball Classic." Or is it "The first rule of the World Baseball Classic is don't talk about Fight Club?" Seven players were ejected in Saturday's WBC brawl, but that's the only punishment they will face. The WBC announced "discipline will not be imposed beyond [Saturday's...
PHOENIX (AP) -- A little bunt single turned one WBC matchup into a World Boxing Classic. Alfredo Aceves and several other players threw nasty punches when a full-scale brawl broke out in the ninth inning Saturday of Canada's 10-3 rout of Mexico in the World Baseball Classic, a melee that also involved fans and set off skirmishes in the seats. "Whoever says that we're...
PHOENIX (AP) -- A fierce brawl that saw Alfredo Aceves and several players throw nasty punches erupted Saturday in the ninth inning of Canada's 10-3 romp over Mexico in the World Baseball Classic in a melee that also involved fans. The fights broke out after Canada's Rene Tosoni was hit by a pitch from Arnold Leon with Canada leading 9-3 at Chase Field, home of the Arizona...
MLB News

Delivered to your inbox

You'll also receive Yardbarker's daily Top 10, featuring the best sports stories from around the web. Customize your newsletter to get articles on your favorite sports and teams. And the best part? It's free!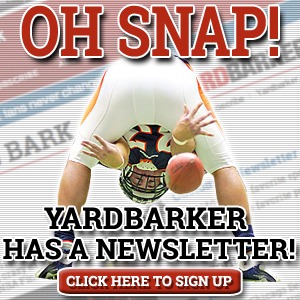 Latest Rumors
Best of Yardbarker

Today's Best Stuff

For Bloggers

Join the Yardbarker Network for more promotion, traffic, and money.

Company Info

Help

What is Yardbarker?

Yardbarker is the largest network of sports blogs and pro athlete blogs on the web. This site is the hub of the Yardbarker Network, where our editors and algorithms curate the best sports content from our network and beyond.