Found November 28, 2012 on Ted's Army:
Every morning, we compile the links of the day and dump them here... highlighting the big storyline. Because there's nothing quite as satisfying as a good morning dump. The Red Sox's positional plan is starting to emerge, and it includes the trio of catcher/first baseman Mike Napoli and outfielders Nick Swisher and Cody Ross. The Red Sox are in contact with all three players, and all are considered in play. The Red Sox seek a first baseman and two outfielders, and it appears this is their top triumvirate. Napoli is also talking to the Mariners and Rangers, but one rival exec said he sees the Red Sox as the favorite. Napoli has been a natural from the start, with his 1.107 career OPS at Fenway Park. CBSSports | Red Sox are targeting a trio: Napoli, Swisher, and Cody Ross I know, none of these names are exactly new to the Red Sox rumor mill. But to this point it has seemed like a choice: The Sox would sign Swisher or Ross for right field. Or the Sox would sign Swisher or Napoli for first base. Two of the three seemed plausible, although the David Ross and Jonny Gomes signings cut into potential platoons. But all three? In a poor free agent market, where players are likely to be more overpaid than usual in both years and dollars? When the team is not a contender?  It's perplexing. It would lead to, obviously, a stronger on-field product. Let's say for a minute the Sox do sign all three (though I would say that's very unlikely). The outfield would be Ellsbury surrounded by some combination of Swisher, Ross, and Gomes depending on the opposing pitcher. The infield would be Middlebrooks, Iglesias (until we hear otherwise), Pedroia, and Swisher or Napoli. The catcher would be Salty, Lavarnway, Ross, Napoli, Rich Gedman, Jason Varitek's wife, and whatever other catchers they have on the 40-man. It would give them flexibility, certainly. And the lineup would be pretty strong -- a lot of high on-base guys, a good combination of lefties and righties, and enough balance that no one hitter can be pitched around. The problems? Well, for one, all three are going to be overpaid. You're probably looking at three or four years of $13+ mil a year for Napoli, four or five years for at least that for Swisher, and three years and $10-12 mil annually for Ross. The team would be investing somewhere between $100-$150 million on three players who, on a good team, should all hit sixth or later in the lineup. And all three top out as average defenders.  And the kicker: This team would still probably finish 4th in the division. I'd rather us be selective -- pick the best of the bunch (in my opinion, Napoli), give Kalish a full-time gig, and save the money for a better opportunity, whether it's a trade for someone another team has tired of, or free agency in a more potent year. Herald | Trade Jon Lester now, Ben Cherington | Shopping Sox want Mike Napoli first | Globe | Mike Napoli's value peaks as he hits free agent market | ESPNBoston | Team source shoots down Lester rumor | Why Red Sox should target Mauer
Original Story:
http://www.tedsarmy.com/blog/2012/11/...
THE BACKYARD
BEST OF MAXIM
RELATED ARTICLES
Mike Napoli frightens me. Everything about him frightens me. When he comes up to bat against the Red Sox, I'm always frightened that he's going to hit a ball into the last row of the upper deck and then throw his wad of chewing tobacco at the pitcher. I'm frightened when he makes eye contact with the camera.  If I saw him in the streets, I'd turn and run the opposite way...
Mike Napoli is taking the free agent tour around the major leagues. A catcher for the Rangers since 2011, the seven-year veteran has been pursued by several teams this offseason. The Red Sox and Mariners are reportedly the two clubs most interested, with Napoli saying he's willing to make a move to first base if that's what his new team wants. Napoli was reportedly in Boston...
Now that the New York Yankees former starting catcher and reported offseason target Russell Martin has signed a contract with the Pittsburgh Pirates, it's not clear where the team will turn to find backstop help this winter. While things can certainly change, the Yankees are currently not in on free agent Mike Napoli, and veteran A.J. Pierzynski "is unlikely to be the...
Mike Napoli sits atop of Boston's wish list. According to the Boston Herald, Napoli is reportedly the Red Sox' first option in free agency. If the club manages to reach an agreement with Napoli, they'd likely pencil him in at first base as opposed to catcher. Napoli, who has already convened with the Red Sox and Mariners, is scheduled to sit down with the Rangers on Wednesday...
Anyone who thought that the Boston Red Sox would sit back and relax this offseason without making a splash following their blockbuster salary dump last season clearly has not been paying attention to how this team operates. Yes, the Red Sox dealt away Kevin Youkilis, Carl Crawford, Adrian Gonzalez and Josh Beckett last season to the Los Angeles Dodgers to clear payroll. But they...
It seems that every MLB team is pining after free agent first baseman/catcher Mike Napoli this offseason, so you have to wonder why the Texas Rangers don't seem to be rushing to re-sign their 2012 All Star. The Rangers didn't offer Napoli a qualifying offer this year after he rejected a three-year, $38 million extension last offseason. Napoli is meeting with the Rangers this...
Every morning, we compile the links of the day and dump them here... highlighting the big storyline. Because there's nothing quite as satisfying as a good morning dump. For those of you who cringed at the thought of Jonny Gomes being the Red Sox' biggest free-agent acquisition of the offseason, there may be hope.It may not be the splash you were hoping for, but according...
By SBRForum.com After losing a great deal of hitting power by trading Adrian Gonzalez this past year, the Boston Red Sox have surely been on the lookout for a great new person to add as a huge hitter for the team.  They have had their eyes on Mike Napoli for quite some time, and this could end up being a reality if the star agrees to start playing first base primarily and not play...
  The world keeps spinning. The Red Sox offseason is spinning as well. The speed of both varies greatly. The Red Sox have met with free agent first baseman and catcher Mike Napoli while also signing outfielder Jonny Gomes. They will continue looking at other outfield options at the moment hoping that they can find [...]
Catcher/first baseman Mike Napoli appears to be the Boston Red Sox "No. 1 target" over fellow free agents Nick Swisher and Adam LaRoche, reports Ken Rosenthal of FOX Sports. Napoli, at the moment, appears to be the team's No. 1 target over outfielder/first baseman Nick Swisher, a switch-hitter, first baseman Adam LaRoche, a left-handed hitter, and others. ...
It looks like the Red Sox are still weighing their options in the free agent market and three players that may make sense for the team are Mike Napoli, Nick Swisher and Adam LaRoche. Peter Gammons said that Boston has the most interest in Napoli, but he's hearing the team is hesitant to offer him a three-year contract because of concerns about his defensive prowess at first base...
As we wait for the right-field situation to resolve itself, I frequently find myself frustrated that there is no Babe DiMaggio ready to take over the position from Nick Swisher — or ready to take over any other position, for that matter. Now, I know that Babe DiMaggio types are hard to come by, but [...]
MLB News

Delivered to your inbox

You'll also receive Yardbarker's daily Top 10, featuring the best sports stories from around the web. Customize your newsletter to get articles on your favorite sports and teams. And the best part? It's free!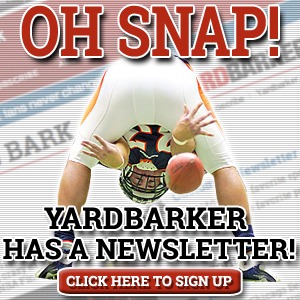 Latest Rumors
Best of Yardbarker

Today's Best Stuff

For Bloggers

Join the Yardbarker Network for more promotion, traffic, and money.

Company Info

Help

What is Yardbarker?

Yardbarker is the largest network of sports blogs and pro athlete blogs on the web. This site is the hub of the Yardbarker Network, where our editors and algorithms curate the best sports content from our network and beyond.