Found April 27, 2012 on Ted's Army:
Every morning, we compile the links of the day and dump them here... highlighting the big storyline. Because there's nothing quite as satisfying as a good morning dump.
We are talking about the active leader for "Worst Free Agent Signing in MLB History" after his worthless — 0.0 WAR — debut last season will be matched in the first half of this season. At an average of $20.3 million per year payable through 2017, Crawford's seven-year deal is entering historic territory. At $30 million for a season-and-a-half of nothing, Crawford is going to make the seven-year, $126 million Vernon Wells deal look pretty thrifty. The Cubs wanted to spend $136 million over eight years for Alfonso Soriano? Shrewd. Albert Pujols and the Angels, for $240 million over 10 years? That one needs at least a month of evidence before a verdict can be rendered. Most long-term contracts factor in a year — maybe two, depending on length — lost to injury, but usually teams expect the dropoff, due to age and/or injury, to occur in the waning years of the deal. The Red Sox are getting it at the very front end. Really, can it get any worse for the next 51⁄2 years? This year, it is Crawford's body that is breaking down. At the age of 30 (he'll turn 31 in August) and known for his speed in the outfield and on the basepaths, the one positive from this terrible 2012 is that it's his upper body — left wrist surgery, left elbow — letting him down. Of course, he has not had much of a chance to pull another hamstring like last year, but let's not get ahead of ourselves. And let's not dwell too long on last year's mental anguish, either. Crawford did play in 130 games, so it was not his body that was at fault.
Herald: Carl Crawford a costly loss No new news here. 9-out-of-10 topics between Red Sox fans have been about Crawford and the money invested in him. Theo threw money and Crawford and he accepted. I would. I don't want to discuss the money issue any further, because it is old news. The biggest concern is the loss of the glove in left, and the speed on the basepaths. Yeah, he only had 18 steals last season, but this year was supposed to be different. 2012 spelled redemption for Carl Crawford. A speedy recovery from wrist surgery, excellent results during bunting drills, then a setback. And this is where we stand. The additions of Ross and Sweeney have made the loss of Crawford that much easier. His performance last season has made the Ross and Sweeney additions make us feel that much warmer inside. I'll end the useless babbling and just say, Crawford is down for a few months, he has a ton of money for doing very little, and there is nothing anyone can do about it. So we have to deal with it and hope the pieces in the outfield keep up the production. The rest of the links: Globe: Salty heats up and Red Sox win 4 straight | Saltalamacchia, Red Sox catching fire | WEEI: Friday's Red Sox White Sox matchups: Daniel Bard vs. John Danks | Projo: Tazawa keeps mowing down hitters
Original Story:
http://www.tedsarmy.com/blog/2012/04/...
THE BACKYARD
BEST OF MAXIM
RELATED ARTICLES
Carl Crawford's visit to Dr. James Andrews has apparently revealed some bad news. Nick Cafardo of the Globe reports that Crawford could miss three months of action due to his elbow injury. Sean McAdam of CSNNE tweets that the injury is a UCL problem, but Crawford will not need surgery at this time. The Sox are expected to release a statement tonight. Three months would put...
Bad news for those of us looking for Carl Crawford to come back to the team and ease its outfield troubles. Crawford was in Boston on Monday for evaluation, but is now looking to get a second opinion. The Herald has the scoop: "We're still getting all the information," Valentine said. "His elbow is a situation that we really want to deal with sooner rather than later to...
Every morning we recap the previous night's games, news and notes so that you're up-to-date on everything baseball. As always you can follow us on Twitter (@BaseballProf) and like us on Facebook to get updated, fantasy-relevant news, tidbits and analysis. 1. We kick off today's Daily Dozen with some Carl Crawford injury news. Dr. James Andrews discovered a sprained UCL in...
Things don't sound very good for Carl Crawford. The Red Sox outfielder returned to Boston to get his ailing left elbow checked out by team doctors, and that might not be his only stop, either. CSNNE.com's Sean McAdam reports via Twitter that Crawford will also meet with Dr. James Andrews for a second opinion in the near future. The date of that meeting is unknown at this...
It doesn't looks like Carl Crawford will be back in the lineup any time soon. The Red Sox outfielder will miss three months as he continues to recover from his wrist injury, according to the Boston Globe's Peter Abraham. Abraham reported on Red Sox Gameday LIVE presented by UNO that Crawford's latest trip to the doctor resulted in bad news. Crawford has been out all season...
Boston Red Sox outfielder Carl Crawford is going to see Dr. James Andrews for a second opinion on the left elbow that has plagued him since he reported to spring training. Red Sox manager Bobby Valentine said on Wednesday that Crawford was in the process of scheduling a visit with Andrews, one of the best-known orthopedic surgeons in the business. Valentine called the visit '...
The Boston Red Sox got some more bad news on Thursday night in regards to Carl Crawford. Crawford, who is still rehabbing from wrist surgery in the offseason, will now miss the next three months with a UCL sprain in his left elbow. Here's the release from the Red Sox: "Carl Crawford was examined by the Red Sox medical staff. He was diagnosed as having a left elbow...
Boston Red Sox outfielder Carl Crawford will be out of action for three months while he recovers from an injury to his left elbow, ESPNBoston.com reported Thursday. Crawford has decided not to have surgery to repair the ulnar collateral ligament, and he will try to rehabilitate without an operation. Crawford had surgery on his left wrist in January, causing him to be placed on...
Carl Crawford was diagnosed with a unlar collateral ligament injury to his left elbow by Dr. Andrews today.  The injury does not require surgery at this time but Crawford will have to rest his elbow for as long as three months.   Even with the trade for Byrd the Red Sox still need some help in the outfield.  Lars Anderson who usually plays first base was in left field tonight...
Multiple sources are reporting injured Red Sox Left Fielder Carl Crawford will be traveling to see Dr. James Andrews in the coming days regarding continuing soreness in his elbow. Dr. Andrews is one of the best known Orthopedic Surgeons in the world, and has worked on countless professional athletes in the past. Crawford has been [...]
Carl Crawford was considered the likely solution for the Red Sox' outfield after Jacoby Ellsbury went down with an injury early in the season. But Crawford's own injury rehabilitation has hit some snags. Nick Cafardo explains what happened with Crawford's wrist -- and now his elbow -- and says when the Red Sox can expect Crawford back on Red Sox First Pitch.
Carl Crawford's injury was a minor concern for the Red Sox coming out of spring training, as the All-Star left fielder was expected to return to the team soon enough. After Thursday's update on Crawford's injury, indicating the outfielder could be out for up to three months, there's a considerable amount more pressure on the Red Sox outfield to perform. Rookie Lars...
MLB News

Delivered to your inbox

You'll also receive Yardbarker's daily Top 10, featuring the best sports stories from around the web. Customize your newsletter to get articles on your favorite sports and teams. And the best part? It's free!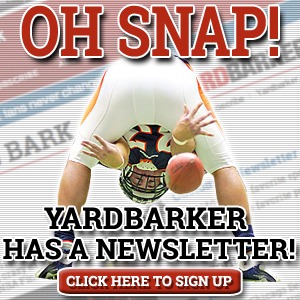 Latest Rumors
Best of Yardbarker

Today's Best Stuff

For Bloggers

Join the Yardbarker Network for more promotion, traffic, and money.

Company Info

Help

What is Yardbarker?

Yardbarker is the largest network of sports blogs and pro athlete blogs on the web. This site is the hub of the Yardbarker Network, where our editors and algorithms curate the best sports content from our network and beyond.