Found December 27, 2011 on Taking Bad Schotz:
PLAYERS:
CJ Wilson
,
Nolan Ryan
,
Alexi Ogando
,
Matt Harrison
,
Derek Holland
,
Neftali Feliz
,
Joe Nathan
,
Colby Lewis
,
Mark Teixeira
,
Darren Oliver
,
Mike Gonzalez
,
Brian Cashman
,
Mariano Rivera
,
Scott Feldman
,
Neil Ramirez
,
Martin Perez
TEAMS:
Los Angeles Angels
,
Texas Rangers
,
New York Yankees
Those who thought the Rangers would go through the offseason quietly after losing C.J. Wilson to the Angels were proved wrong early last week, after Texas won the rights to negotiate with Yu Darvish by spending $51.7 million on his posting fee. Assuming he does not get hurt or perform terribly during spring training, Darvish will open the season as a member of the Rangers' rotation. I am not qualified to talk about Darvish's particular skill set. I have never seen him pitch in person and the last time I saw him on television was during the 2009 WBC.  I don't really remember much about his stuff and would have to rely on the opinions of others to give a full scouting report. The general consensus is that he has ace potential and right now could settle in as a team's two or three starter. What is intriguing about Darvish potentially joining the Rangers is the amount of pitching depth they would have and the various routes they could take in filling out their staff.
While watching MLB Network the other night, I was surprised to hear the analysts mention that Texas could shift to a six-man rotation next season. Given that Rangers President Nolan Ryan has been outspoken about having his starters throw more innings, the idea seems like a long shot. However, it might not be as crazy as it sounds. A six-man rotation would allow the Rangers to keep their starters fresh, after a season where Alexi Ogando, Matt Harrison and Derek Holland set career highs in innings pitched. Neftali Feliz will be a starter for the first time and there is a possibility that he will tire at the end of the season due to a more extensive workload. Pitchers in Japan usually pitch once per week rather than every five days. A six-man rotation could help ease Darvish's transition to the MLB and also ensure that he would be rested down the stretch.
The reality is that Texas will use a five-man rotation. I'm not in love with the six-man idea, but it's certainly interesting to entertain. So now there is a question of who is going to lose their rotation spot. Feliz seems a pretty solid bet to be a starter given that the Rangers just signed Joe Nathan. Colby Lewis has pitched over 200 innings the past two seasons and is the de facto ace now that Wilson has left for Southern California. Holland will also probably be in the rotation, given his performance in the World Series and that he is rumored to being close to a multiyear deal with the Rangers. The two candidates who are probably on the chopping block are Harrison and Ogando.
Ogando converted to the rotation last season after a successful 2010 in the bullpen. He managed to post a 3.51 ERA in 169 innings despite the fact that he tired at the end of the season. Solid peripherals including a 2.29 BB/9 and .85 HR/9 could bode well for Ogando next year, despite the fact that he is essentially a two-pitch pitcher. Ogando threw his changeup only 4.3% of the time last season according to PITCHf/x, which would indicate that he would profile better as a reliever. While it is possible that the Rangers could send Ogando back to the bullpen, it seems rather illogical after his successful year in the rotation. However, since the league has already seen him as a starter his two-pitch mix will become more predictable and could lead to him getting hit harder. Rangers Manager Ron Washington didn't hesitate to put Ogando back in the bullpen during the playoffs after he wore down towards the end of the regular season. Therefore, if Ogando struggles out of the gate and continues to show a reluctance to use his changeup, it wouldn't be surprising to see him as a setup man for Nathan.
On the surface, Harrison seems like the logical person to spend 2012 in the bullpen because the Rangers' two lefty relievers from 2011 are currently free agents. However, Harrison isn't your typical lefty. Acquired from the Braves in the infamous Mark Teixeira deal, Harrison predominantly throws a two-seamer with sinking action, while his go to off-speed pitch is a changeup. Despite the great action he gets on his two-seamer, Harrison isn't particularly adept at getting groundballs – 47.5 GB%. Then there is the fact that Harrison had a reverse platoon split last year. Lefties hit .270/.318/.411 off him, while righties hit .245/.309/.358. Career wise there has been virtually no split, as lefties hit .265/.331./.422, with righties hitting .281/.340/.436. That is not what teams look for out of a lefty specialist. Therefore, the Rangers would probably be better off re-signing Darren Oliver, who is a proven entity. However, the issue with Oliver is that he turned 41 in October and is probably a bad month and a half stretch away from being designated for assignment. Mike Gonzalez is another option to be re-signed, but his injury problems and ineffectiveness over the past couple seasons make him somewhat of a liability.
There is also a remote possibility of Darvish being sent to the bullpen, assuming he signs. However, to quote Yankees GM Brian Cashman, if one were to "smoke the objective pipe", they would realize that the Rangers' investment in Darvish would make him exempt from relief duty. After the posting fee is paid, Texas will probably spend over $100 million on Darvish. Teams do not spend $100 million on relievers. Therefore, since there is only one reliever on this planet who is worth that kind of money (his name is Mariano Rivera), Darvish would have to perform terribly in Spring Training and piss a lot of people off in order for something like that to happen.
The Rangers are going into Spring Training with an incredibly deep team. They will have seven starting options in camp if you include Scott Feldman and a relief corps that is relatively intact from last season. Not to mention top prospects Neil Ramirez and Martin Perez, who are close to contributing at the big league level. Once they determine who their lefty specialist will be, the Rangers roster will be pretty much set. Since there are so many routes Texas can take to fill out their rotation, it's hard to make a prediction as to who the starting five will be come opening day. However, these things usually have a way of working themselves out through injuries and or trades. If none of that happens though, the Rangers will enter 2012 with seven solid starting pitchers and the deepest team in the American League West.
-Cohen
Original Story:
http://www.takingbadschotz.com/?p=3554
THE BACKYARD
BEST OF MAXIM
RELATED ARTICLES
Texas Rangers catcher Yorvit Torrealba, who struck an umpire during a game last Friday, has been suspended by the Venezuelan winter league for 66 games for his actions. The Venezuela native was playing for the Leones del Caracas team when the incident occurred. Torrealba hit home-plate umpire Dario Rivera Jr. in his mask after striking out. Rivera received medical attention between...
FATHERS AND SONS
SuZann Stone, the mother of the man who fell to his death trying to catch a ball thrown by the Rangers outfielder last season, wants Hamilton to continue the tradition, saying it bonds fathers and sons.
  Yorvit Torrealba simply doesn't give a damn what the umpire has to say after throwing him out in a Venezuelan baseball league game. The face shove resulted in a vacation before spring training, or what they call it, a 66 game suspension. The Rangers catcher did offer an apology after the incident.
Sorry I haven't posted anything in a couple of weeks. I have been out of town in Cincinnati and in Disney World.This week I will analyze the moves that the Rangers have made so far this offseason, along with giving them a grade, on an A through F scale, with A being the best, and giving them an importance grade, on an A through F scale, based on how important the move is for the...
Texas Rangers catcher Yorvit Torrealba was suspended Monday from Venezuela's professional baseball league for 66 games for striking an umpire.
Texas Rangers catcher Yorvit Torrealba has been suspended from Venezuela's professional baseball league for 66 games for striking an umpire.
HBT: Rangers catcher Yorvit Torrealba will miss the rest of this Venezuelan Winter League season and all next (66 games) for attacking an ump.
CARACAS, VENEZUELA (AP) - Texas Rangers catcher Yorvit Torrealba has been suspended from Venezuela's professional baseball league for 66 games for striking an umpire.Torrealba was arguing with the home-plate umpire Friday after striking out. He angrily put a hand on the umpire's mask and shoved him. He was then ejected.League ...
Rangers catcher Yorvit Torrealba was suspended 66 games by the Venezuelan League for hitting an ump.
The Texas Rangers continue to insist that they are not in on the Prince Fielder sweepstakes. We here at Red Fever just don't buy that. And the odds just increased that the Rangers might have a shot to land the burly slugger to be their first baseman and hit in the middle of their already-potent lineup. The Rangers insist they are set at first base with Mitch Moreland, and while...
MLB News

Delivered to your inbox

You'll also receive Yardbarker's daily Top 10, featuring the best sports stories from around the web. Customize your newsletter to get articles on your favorite sports and teams. And the best part? It's free!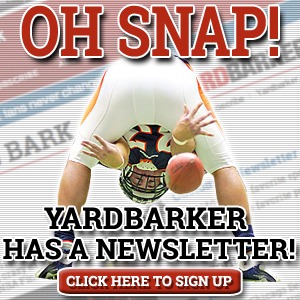 Latest Rumors
Best of Yardbarker

Today's Best Stuff

For Bloggers

Join the Yardbarker Network for more promotion, traffic, and money.

Company Info

Help

What is Yardbarker?

Yardbarker is the largest network of sports blogs and pro athlete blogs on the web. This site is the hub of the Yardbarker Network, where our editors and algorithms curate the best sports content from our network and beyond.