Found August 23, 2013 on NorthWest Sports Beat:
What does it mean? With little fanfare and next to no publicity the Seattle Mariners brass, Howard Lincoln and Chuck Armstrong have almost secretly given Mariners' GM Jack Zduriencik a 1-year contract extension this week. Big Jack's contract had been set to expire at the end of the 2013 season. We are not talking about giving a 38-year-old Ken Griffey Jr. a 1-year extension as the sunset of his career fades into the twilight.  This is a 1-year extension for a major league General Manager. The last thing I'd call it is a ringing endorsement of a job well done. This was a message of another type and it goes something like this:  "Jack, we see flickers of hope with your system and players.  You've got 1 more year, and only 1 more year, to make this thing competitive." I wrote near the trading deadline that the best thing for the Mariners would be for Zduriencik to pull the plug on this season and trade veterans and failing younger players including the likes of Dustin Ackley. Anything short of that I thought was just Jack trying to save his job. Apparently Big Jack thought that too, because as we all know Jack did not make any significant moves at the deadline, and as a result the Mariners will probably finish in sight of .500 at the best. Will Z and Wedge still be running things at the end of 2014? It looks to me now as if those few extra wins this year have bought Mr. Z an extra year. I'm not so sure that it will be an entire extra year though.  A 1-year contract for a GM says to me that Zduriencik is on a pretty short leash in 2014. Not coincidently, Mariners' skipper Eric Wedge also has a contract that expires at the end of 2013. Right now Wedge is still recovering the mild stroke he experienced mid-season.  Rumors suggest that Wedge might return from his stroke and to the dugout this Friday. But will Wedge return next season? The likely scenario will be yes.  It's most likely that Wedge's extension was simply held up due to his medical issues. I think Chuck Armstrong and Howard Lincoln will put down the same terms for Wedge as they did Zduriencik:  "You've got 1 more year to make it happen, Eric." Jack and Eric are going to have to win early in 2014 to guarantee themselves the whole year and win without the additional talent that might have come in had they done the smart thing and let players like Raul Ibanez, Kendrys Morales, Michael Morse, and Dustin Ackley hit the trading block. Of course had Jack made those players available, he might be gone now without those precious few, meaningless wins they bought him this year. There are serious holes to fill in 2014 as a result of not bringing in more young talent in exchange for those vets.  Aaron Harang is nightmare of a starter that will have to replaced.  "The Bartender" Tom Wilhelmsen, our lights out, flame throwing closer, has apparently had a few himself and wound up back in AAA, unable to throw a strike. The veterans I just mentioned, Ibanez, Morales, and Morse, are all free agents whom have to either re-sign or be replaced with other free agents. If the Mariners start sluggish out of the gate in 2014 and aren't competitive within their division as the All-Star break approaches it's going to be goodnight Big Jack, and your little skipper too. CLICK HERE TO CHECK OUT THE MARINERS BLOG IN OUR CLUBHOUSE TODAY AT NWSB!
Original Story:
http://www.nwsportsbeat.com/mariners/...
THE BACKYARD
BEST OF MAXIM
RELATED ARTICLES
What can the M's Learn? There were two 9th-inning losses, but the Mariners finished the 9-game road trip with a 5-4 record and two series wins over divisional opponents. In the dog days of summer, this is known as treading water, but for the M's, the well is pretty much dry — being 12 games back of the second wild card. So, it is time to assess what Seattle has moving forward...
Now who's top dog? Entering this season the Mariner's had one of the most hyped farm systems in baseball. But with names like Mike Zunino, Nick Franklin and Brad Miller finding themselves in the Big Leagues, there's a chance the talent is drying up. Luckily that's not the case. Seattle's top prospects may be moving up, but there's still plenty of other big names to be...
Japanese Superstar The Seattle Mariners have proven to be the most creative and adept organization in Major League Baseball when it comes to tapping the wellspring of Japanese talent. Ichiro Suzuki, of course, headlines that source, but the Mariners have also struck gold over the years with closer Kazuhiro Sasaki, middle reliever Shigetoshi Hasegawa, catcher Kenji Johjima and...
The Seattle Mariners, in the midst of a fourth consecutive losing season, are remaining mum on the future of general manager Jack Zduriencik. Zduriencik has one winning season in five years as the Seattle GM, and his job security was the subject of multiple news reports this week. Mariners club president Chuck Armstrong told Ryan Divish of the Tacoma News Tribune that Zduriencik...
Clean shaven, looking thinner and sounding energized, Seattle manager Eric Wedge was back behind his office desk Friday afternoon It was far better look than a month ago when Wedge was being helped off the field by team personnel in the midst of suffering a mild stroke. "I feel great. I feel better than I have in 10 or 15 years," Wedge said before the Mariners opened...
Chris Nelson hit a two-run homer off Felix Hernandez and the Los Angeles Angels ruined Eric Wedge's return to the dugout with a 2-0 victory over the Seattle Mariners on Friday night. Wedge managed the Mariners for the first time since he had a mild stroke a month ago. He acknowledged being anxious about getting back on the bench and called his ailment ''a heads up.&...
As the night wore on, Eric Wedge began to feel more comfortable standing back on the railing of the Seattle Mariners dugout and making baseball decisions for the first time in a month. There just weren't many highlights for the Mariners skipper. ''My energy was good and the focus was good. Just didn't have a whole hell of a lot of action tonight,'' Wedge...
Felix Hernandez has been steadily dominant for long enough now that most baseball fans have become accustomed to it. However, if you took a quick look at his win/loss record the last few seasons, you'd never know it.  In his brilliant Cy Young campaign in 2010, Felix put up an underwhelming 13-12 record. He followed this by posting a 14-14 record the next year and a 13-9 mark...
Mariners News

Delivered to your inbox

You'll also receive Yardbarker's daily Top 10, featuring the best sports stories from around the web. Customize your newsletter to get articles on your favorite sports and teams. And the best part? It's free!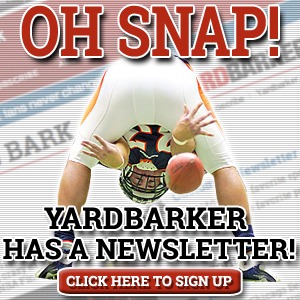 Latest Rumors
Best of Yardbarker

Today's Best Stuff

For Bloggers

Join the Yardbarker Network for more promotion, traffic, and money.

Company Info

Help

What is Yardbarker?

Yardbarker is the largest network of sports blogs and pro athlete blogs on the web. This site is the hub of the Yardbarker Network, where our editors and algorithms curate the best sports content from our network and beyond.