Found January 28, 2013 on World Series Dreaming:
Yes! The news is finally official! After the longest physical in the history of western civilization the Cubs have signed Carlos Villanueva! So who is this mysterious pitcher from another country (Canada)?   A Carlos Raúl Villanueva no le gustaban los obesos. — Alexander (@AlexMateran12) January 28, 2013 Huh. Actually I don't think that's the right guy. Chicago Cubs Monday Headlines: Carlos Villanueva In, Lendy Castillo Out j.mp/112DLwP#Cubs#MLB — Aerys Sports (@AerysSports) January 28, 2013 Ah there we go. Well, Villanueva is a guy that has never cracked 150 IP in professional baseball. He has good stuff, his K% is pretty good, holding at 20.4% for his career, his peripheral numbers aren't awful, ok K-BB ratio, decent xFIP. It looks like a low risk high reward signing for a guy who's been hurt, can maybe start, and is looking to maybe put together a decent year. The Cubs are giving him 5mm a year to prove himself. I like the deal. What say the internet? BRAH, HE'S GONNA GO TO THE MINORS! Son of *****. One may assume that Villanueva would make the starting rotation. That's not necessarily the case. Matt Garza, Jeff Samardzija and Edwin Jackson are all-but-guaranteed to start. That's three-fifths of the rotation. These pitchers will make the cut because they either have too much upside or money invested into them. So lemme get this straight, the Cubs "overpaying" Villanueva doesn't make sense because he isn't guaranteed a roster spot on account of other guys in the rotation having too much moneys invested in them? So what, Villanueva is gonna be a middle reliever right? I mean the headline can't possibly be right, you can't actually think that the Cubs will voodoo magic Villanueva's ass to Iowa, right? What does this mean? At least one of those free agents won't make the starting rotation. Manager Dale Sveum would probably use that pitcher as a spot starter or middle reliever. Ah ok cool. Phew, you had me worried for a second, because you know, the pitchers would decline the assignment on account that they don't have options left. It'd be silly to think tha- If Wood makes the rotation, then one of those free agents could start at Triple-A, much like John Lannan did with the Washington Nationals in 2012. If Wood makes the rotation, then one of those free agents could start at Triple-A,  then one of those free agents could start at Triple-A, could start at Triple-A, Triple-A, A … … … Dude, our guy Rice Cube spent 30 seconds googling the CBA and found this out: Article XIX, section 2 (a) states a player with 5 or more years of service time cannot be assigned to otherwise than to another major league club without the player's written consent SAUCE: CBA PDF File And Rice is Amish. This is the only known picture of Rice. He thinks that cameras steal your souls and he wires his posts in with a carrier pigeon, he's that Amish. So I mean, no, he won't likely be a minor league pitcher for the Cubs unless it's for a rehab assignment, which is sorta likely. Pitching depth was needed. Are the Cubs paying too much for it?   A need that they paid 5mm for? Nah. Since most of these contracts are no longer than one year, it shouldn't have much of a long-term effect. Agreed. It'll just look foolish when they're paying a middle reliever or Triple-A pitcher like a No. 3 MLB starter. Edwin Jackson is a #3 starter, he got paid like one. Garza is also a 3, he also got paid like one. Carlos Villanueva got half of that. Sooooooo… fin.    
Original Story:
http://worldseriesdreaming.com/2013/0...
THE BACKYARD
BEST OF MAXIM
RELATED ARTICLES
Chicago Cubs outfielder Alfonso Soriano remains on the trade block, according to Nick Cafardo of the Boston Globe, and right-hander Matt Garza could join him once he regains his health, reports Jim Bowden of ESPN. Focus on Garza is get him healthy and in our rotation.that could change because not signed past this year and we need to collect talent #SXM — JIM BOWDEN (@JimBowdenESPNxm...
So the Cubs are going to sign Scott Hairston, but since the deal isn't official we don't really have comments from TheJedi on his exact purpose. Chances are though, he'll platoon with DeJesus and Schierholtz and be the thunder off the bench late in games. And if they happen to trade Alfonso Soriano at some point, he might just be the starting left fielder. The 33-year...
Matt Garza missed most of the second half of the season with a stress reaction in his elbow.  He was shut down as a precaution which also shut down his trade possibilities.  It seems pretty clear that Garza will be traded at some point this season, but for now the Chicago Cubs are looking to make sure he is healthy and get him back on a mound. According to Jim Bowden of Sirius...
Chicago. The longest current run in the history of baseball without a World Series pay-dirt. Enter Theo Epstein as President of baseball operations, Jed Hoyer as GM and the VP of player development... [[ This is a content summary only. Visit my website for full links, other content, and more! ]]
Social media is great; it has definitely changed the world. It is a great tool to connect with others, promote your business or stay up to date with your favorite athletes, but it can also get you in trouble. That's what happened last night, on Twitter, with Cubs OF Dave Sappelt. In case you don't have a Twitter account, or were out in the icy mess that occurred in Chicago trying...
New Chicago Cubs outfielder Dave Sappelt, you are know Dave Chappelle. Your attempts at humor are about as effective as Alfonso Soriano's fielding. Your rendition/attempt at Sinbad's "women be shopping!" bit fell painfully flat. And you made remarks that would you an A+ at the Joe Cowley school of gender relations. You knew never took a class in women's studies in college...
Baseball Operations Position to Report to Assistant GM
The Chicago Cubs and right-handed pitcher Carlos Villanueva agreed to terms on a two-year $10 million contract. To make room for Villanueva, right-handed pitcher Lendy Castillo was designated for assignment. Villanueva, 29, joins the Cubs after pitching the last seven seasons with the Brewers (2006-10) and Blue Jays (2011-12). Villanueva has 56 starts and 245 relief appearances during...
MLB News

Delivered to your inbox

You'll also receive Yardbarker's daily Top 10, featuring the best sports stories from around the web. Customize your newsletter to get articles on your favorite sports and teams. And the best part? It's free!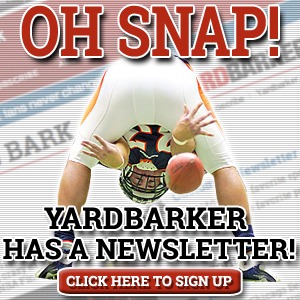 Latest Rumors
Best of Yardbarker

Today's Best Stuff

For Bloggers

Join the Yardbarker Network for more promotion, traffic, and money.

Company Info

Help

What is Yardbarker?

Yardbarker is the largest network of sports blogs and pro athlete blogs on the web. This site is the hub of the Yardbarker Network, where our editors and algorithms curate the best sports content from our network and beyond.