Bryce Harper may not want to talk about free agency, but he's embargoed questions on his future for the right reasons. "It's not fair to my teammates or myself to look forward," Harper told 106.7 The Fan's Grant Paulsen and Danny Rouhier. "Every single year, I've always tried to come in and win ballgames. That's the biggest goal for myself. That's the biggest goal for my team. "And...
It will be the narrative much of the 2018 season; Will Bryce Harper be a part of the Nats in 2019? While the Junkies believe there's a chance if the price is right, they also expect higher bidders.
The big Bryce Harper headline this week is that he will not be commenting on his contract situation this season, which the media and fans respected by opening the floodgates on speculation. That was to be expected, as the Lerners have known for years that Harper and super agent Scot Boras would test free agency. That's not really news. ALSO READ: Harper Has Beef With Don Mattingly...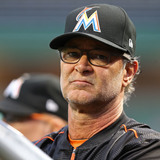 Miami Marlins manager Don Mattingly has taken issue with Bryce Harper's criticism of his team's offseason moves, telling the Washington Nationals superstar to "take care of your own dugout."The Marlins, under the leadership of new co-owner and CEO Derek Jeter, essentially orchestrated a complete teardown of the organization, jettisoning star players like Giancarlo Stanton, Christian...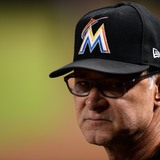 There's just about nothing left of the Miami Marlins. They know that. Manager Don Mattingly (presumably) knows that. But still, that didn't stop Nationals' outfielder Bryce Harper from being caught by surprise. After all, this is a team that would boast Giancarlo Stanton, Marcell Ozuna and Christian Yelich as their outfield just last season. But that's no more. And to Harper, that...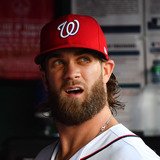 Bryce Harper made it abundantly clear with his opening remarks at spring training that reporters should not bother asking him about his impending free agency.Instead, the Washington Nationals superstar suggested the media should direct any such inquiries to his agent, Scott Boras. "Just want to let you guys know I will not be discussing anything relative to 2019, at all," Harper...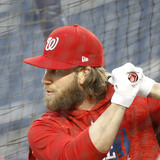 Don't talk to Bryce Harper about 2019 free agency. In fact, don't even think about it. But if you do, just know he's not going to talk to you."I will not be discussing anything relative to 2019 at all. I'm focused on this year. I'm focused on winning and playing hard like every single year. So if you guys have any questions after 2018, you can call Scott (Boras), and he can answer...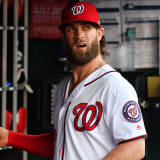 Bryce Harper is likely in line for the biggest contract in MLB history if and when he becomes a free agent next season, but he wants reporters to know they are going to be wasting their time if they ask him about it.Harper held his first media session of the year on Monday, and he said any questions about his contract status or impending free agency should be reserved for his agent...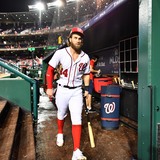 The San Francisco Giants have been one of baseball's more aggressive teams this offseason, but this may only serve as a prelude to an even bigger splash a year from now.A source told Jon Heyman of FanRag Sports that the Giants are expected to be a part of the Harper sweepstakes if and when he hits the open market next winter. The Dodgers, Yankees, Phillies, and his current team,...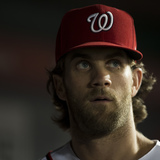 Nationals slugger Bryce Harper appears to be taking his offseason training regimen very seriously.Harper posted a photo on Wednesday to his Snapchat account, and it's generated quite a bit of reaction on social media. In it, Harper is seen laying face down, with his entire back covered in suction cups. It's not the first time Harper has undergone cupping therapy. He used cupping...
MORE STORIES >>
Nationals News

Delivered to your inbox

You'll also receive Yardbarker's daily Top 10, featuring the best sports stories from around the web. Customize your newsletter to get articles on your favorite sports and teams. And the best part? It's free!