O's first baseman Chris Davis discusses getting back into a routine, working with Scott Coolbaugh and more during O's first spring training game against Tampa Bay.
Orioles first baseman Chris Davis admitted Monday his problems at the plate last season were "completely mental," and the slugger heads into this spring committed to changing that.
SARASOTA, Fla. - Chris Davis walked into the Orioles' clubhouse this morning with a thick moustache and a clear head. He's determined to keep one of them. The facial hair can go, along with the Wyatt Earp jokes, but the former home run champ won't allow his confidence to waver ... Read More
Whenever there is discussion about the Orioles offense, it seems almost all roads lead back to first baseman Chris Davis and his struggles of the last two years. He is a focal point - that comes with the big contract he signed. Of course, there is a lot more to ... Read More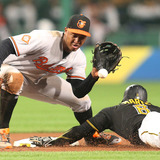 Jonathan Schoop had a breakout season in 2017, and the Baltimore Orioles apparently would like to keep him around for a while.MLB Network's Jon Morosi reported on Wednesday that the Orioles and Schoop have begun contract extension talks. He later amended his report with a less optimistic tone, saying another source said the talks are preliminary. Schoop, 26, is under team control...
Chris Davis made it pretty clear on Saturday that he's no fan of Jose Bautista.Bautista re-signed with the Toronto Blue Jays two weeks ago after going a few months on the free agent market. There was some speculation that the Baltimore Orioles would have interest in Bautista, but that didn't end up happening.Instead, Bautista will remain with Baltimore's AL East rival, and that seems...
Let's face it — there's no way not to feel uncomfortable about the Chris Davis sweepstakes. I'm not just referring to how the Orioles and Davis seem to be at something of an impasse. I'm not just referring to how Davis has to this point been unable to drum up much of a market. It's just, this is going to require a lot of money, and it's hard to know what Davis is going to be. He...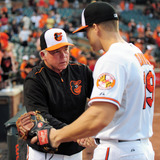 The Baltimore Orioles and Chris Davis have been embroiled in a lengthy and at times tense stalemate over a reported $150 million contract offer the team reportedly offered its superstar, free agent first baseman. Orioles skipper Buck Showalter bluntly addressed the impasse with some interesting comments about the kind of money that's in play in the negotiations between the team...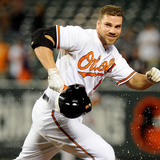 Chris Davis is a man of prodigious strength. His efforts, or sometimes lack thereof, have been chronicled by FanGraphs multiple times. Since Davis' first season with the Baltimore Orioles in 2012, he leads all of Major League Baseball with 159 home runs, and only Edwin Encarnacion is even within 20 home runs of him. Just 10 players are within 50 home runs of Davis over the last...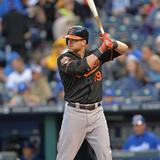 Baltimore Orioles slugger Chris Davis possesses some serious power and has crushed 41 home runs and produced 104 RBIs so far this season. So when he's preparing to take his anger out on something, it's best to back away and let him vent. Davis was upset after getting hit by a Franklin Morales pitch in the eighth inning of Friday night's game against the Kansas City Royals, with the...
MORE STORIES >>
Orioles News

Delivered to your inbox

You'll also receive Yardbarker's daily Top 10, featuring the best sports stories from around the web. Customize your newsletter to get articles on your favorite sports and teams. And the best part? It's free!