The World Series MVP the year you were born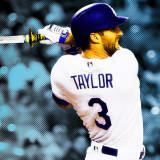 Following a 6-1 win over the defending champion Chicago Cubs in Game 3 of the NLCS, the Los Angeles Dodgers are now one victory away from their first NL pennant in nearly three decades, and Chris Taylor's 2017 breakout season is a big reason why.On a team featuring Clayton Kershaw, Justin Turner and Yasiel Puig amongst others, Taylor has become the unlikeliest of stars. Acquired...
On a lean Monday slate, we've dug in and found a pair of southpaws that are worth your time. Check 'em out! Aces in Isolation LHP Alex Wood (LAD) versus Pittsburgh RHP Gerrit Cole Wood has been excellent all season long. And after merely a good July (4.01 ERA), has been amazing in three August starts (1.89 ERA). It's worth monitoring that his strikeout numbers have been a bit down...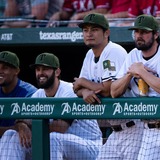 The Texas Rangers entered the All-Star break with a 43-45 record, and they happen to play in the division with the best team in baseball. Because of the incredible season the Houston Astros are having, the Rangers are a whopping 16.5 games out of first place.Could that inspire them to become sellers at the trade deadline?According to ESPN.com's Jerry Crasnick, the Rangers are considering...
Not so long ago, it was easy to say what makes a Hall of Fame pitcher. 300 wins? Check. 3,000 strikeouts? Check. Mix in a few Cy Young Award wins, a memorable season or two, and maybe some October success, and you're in there. But the win was the clinching stat; if a pitcher was viewed as a winner, he was considered a Hall of Famer.However, times are changing, and wins are becoming...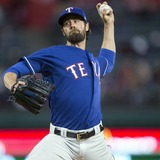 The news gets worse and worse for the struggling Texas Rangers.Ace left-hander Cole Hamels has been placed on the disabled list, with Evan Grant of the Dallas Morning News suggesting that the pitcher will be out for eight weeks. Texas could ill afford to lose their ace. They've stumbled out of the gates to an 11-16 record, and they current sit in a tie for last place in the American...
April didn't go very well for the Texas Rangers. Their closer imploded, their offense sputtered, Adrian Beltre couldn't get healthy, and the Astros started off red hot, opening a sizable early lead in the AL West race. Well, today, things got even worse, as Cole Hamels was found to have a strained oblique that is going to put him on the shelf until at least July. Before this news...
Only three pitchers in the majors so far this season have thrown more innings than Cole Hamels, and his 3.03 ERA is pretty nice, too. Good start to the season for him, then, right? Well, not so fast. There are a number of indicators that paint the picture that Hamels may be in for a world of trouble in 2017. I first was alerted to Hamels' precarious situation by this tweet from the...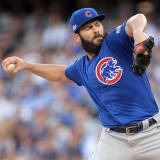 Without a doubt, pulling apart the ten best arms in the game at any point is a tough-to-nearly-impossible task. However, in today's game, with a firmly established group of top arms between the ages of 27-33, it is a specifically tough group to crack. It could be argued that even cracking the top 20 is a feat, as even last year's American League Cy Young winner is the third best...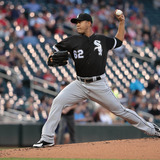 UPDATE 4:18 p.m. PT: Evan Grant of The Dallas Morning News reports the Texas Rangers are not making a 'renewed push' for Jose Quintana. +++According to USA Today Sports' Bob Nightengale, the Texas Rangers have "suddenly increased their pursuit" of  Chicago White Sox left-handed pitcher Jose Quintana.Before Rangers fans start designing personalized jerseys, Nightengale stresses that...
MORE STORIES >>
Rangers News

Delivered to your inbox

You'll also receive Yardbarker's daily Top 10, featuring the best sports stories from around the web. Customize your newsletter to get articles on your favorite sports and teams. And the best part? It's free!