For months, a healthier Hanley Ramirez has been saying he's ready and able to play a lot of first base this season. That is a good thing, because the Red Sox are now going to need him to.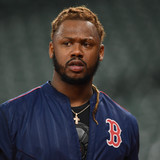 Hanley Ramírez is 34 years old, and his Boston Red Sox are the second-best team in the AL East. But Ramírez knows that last season, he left plenty to be desired. However, it's time to put that all in the past and leave it there. He's looking forward to the 2018 season. And he promises big things."Oh, yeah. No doubt," Ramírez would answer in response to the team's power woes last...
Red Sox slugger Hanley Ramirez no longer does any heavy lifting. Instead, he has put all his focus into strengthening his smaller muscles.
Red Sox designated hitter Hanley Ramirez says he's healthy and is confident he can post "100 RBIs and 30 homers" this season.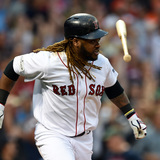 The Red Sox are reportedly interested in moving Hanley Ramirez, but finding a willing trade partner is proving to be difficult.On Monday, the Red Sox agreed to a two-year deal with veteran Mitch Moreland. They also reportedly have their sights set on free agent slugger J.D. Martinez. The addition of Martinez, likely on a lucrative contract, may create a need for Boston to alleviate...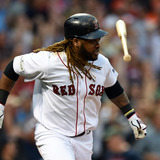 David Ortiz once hit behind Hanley Ramirez in the Boston Red Sox batting order, but now, as an analyst, he's on the other side of the fence, and is forced to watch his former teammate attempt to lead the team.Ramirez did just that on Sunday, coming through for the Red Sox in a big way when they needed it most. With Boston clinging to a 4-3 lead against Houston in Game 3 of the American...
The Boston Red Sox lost a key contributor in the first inning of their playoff series against the Houston Astros on Thursday.DH Eduardo Nunez grounded out as the second batter of Game 1 of the ALDS. He began hobbling almost immediately after he broke out of the box and was clearly feeling something wrong in his leg. Nunez wasn't even able to make it all the way to first and stopped...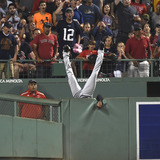 Austin Jackson on Tuesday pulled off what may be one of the best home run-robbing catches at Fenway Park we've ever seen.During the bottom of the fifth inning, the Cleveland Indians center fielder raced towards the Red Sox bullpen and leaped to rob Hanley Ramirez of a home run: Jackson went so high over the short fence that he flipped over into the bullpen.The fans at Fenway appreciated...
When it comes to celebrating, Hanley Ramirez never holds back. Ramirez is a vocal clubhouse leader, and he does things to rally his own team, as well as get under his opponents' skin. We have to assume the Royals weren't thrilled when he hit a single in the eighth inning of Monday's game, and did an epic bat flip as he milked it for all it was worth afterward. For what it's worth...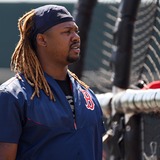 Hanley Ramirez certainly has embraced his role as a DH for the Boston Red Sox.After playing 133 games at first base for Boston last season, Ramirez has taken the role of DH from David Ortiz, and he is enjoying it. It's to the point that he has yet to play in the field this season.Red Sox manager John Farrell acknowledged on Friday that Ramirez prefers to DH, but he stopped short...
MORE STORIES >>
Red Sox News

Delivered to your inbox

You'll also receive Yardbarker's daily Top 10, featuring the best sports stories from around the web. Customize your newsletter to get articles on your favorite sports and teams. And the best part? It's free!