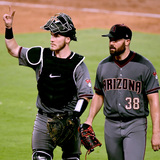 It is said that in baseball, it is not always about being the best for the entire season, but getting hot at the right time. And when it is all said and done in October, if the Arizona Diamondbacks defy the odds and return to their first World Series in over 15 years, it could be said that Labor Day marked the high-water point of them putting it all together for the winning run....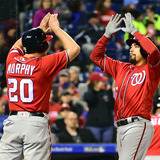 Daniel Murphy wants the National League All-Star voters to take that for data.Murphy was selected to the 2017 NL All-Star team, while teammate Anthony Rendon was not (he's on the fan vote for the final spot). Murphy dropped this funny quote on Monday about why Rendon should have gotten a nod: Indeed, the advanced metrics paint a strong picture for Rendon, who leads all NL third basemen...
In today's game, the hot corner may be the best collection of talent at one spot available. It has produced an MVP in each league over the past two seasons, as well as arguably the best infield defender in the game and a back-to-back homerun champion. And although the position loses an All-Star from a year ago in Matt Carpenter, who will move across the diamond to man first base...
Even if you didn't predict great things for the Diamondbacks this year, it's hard not to be disappointed by their 2016 season. You can set aside their various front-office nonsense and still come to that conclusion. Zack Greinke hasn't been great, A.J. Pollock missed significant time, and Shelby Miller's year has gone about as poorly as you could imagine. The club is set to lose...
It's important to note, considering the title of this post, that Jake Lamb is presently not a member of the National League All-Star team. It's certainly not for lack of production. Lamb's played enough to qualify for the batting title, and his 3.5 Wins Above Replacement rank 13th among all position players, right alongside All-Star third basemen Nolan Arenado and Matt Carpenter...
Jake Lamb is off to a solid start in the production department. The left-handed-hitting third baseman homered in Arizona's opener, and he doubled in game two. There's more where that came from. Lamb slugged just .386 in 109 games with the Diamondbacks last year, but he did so as a young player with a foot injury. In three-plus seasons on the farm, he slashed .321/.408/.552. Lamb...
PHOENIX, AZ – SEPTEMBER 26: Jake Lamb #19 of the Arizona Diamondbacks makes a diving attempt at a foul ball during the fifth inning against the St Louis Cardinals at Chase Field on September 26, 2014 in Phoenix, Arizona. (Photo by Norm Hall/Getty Images) Back in April third baseman Jake Lamb was placed on a 15-day disabled list after suffering a left foot stress reaction and Yasmany...
Jake Lamb is set to return from the disabled list as early as June 1st. Lamb's return will lead to an imbalance in the lineup that will require a decision from Chip Hale and Dave Stewart. Prior to the 2015 season, the Arizona Diamondbacks signed Cuban slugger Yasmany Tomás to a 68.5 million dollar contract, the largest contract in club history. Tomás was an outfielder when he played...
We've seen it plenty of times before. A hot-shot rookie gets called up, teammates wait for things to happen and bingo — nothing.Jake Lamb had worked his way through the minors before being called up to the Diamondbacks on Aug 7. and, after a slow start in the majors, the 23-year-old third baseman finally launched his first home run over the center field fence Saturday nightAfter...
One benefit to the Arizona Diamondbacks being so horrendous in 2014 is that young prospects get an early look at the major leagues. Most of the time elite prospects do not get called up in August on contending teams because they are contending for a reason and managers do not want to rock the boat by bringing up a young 20-year-old. Of course there are exceptions to this rule like...
MORE STORIES >>
Diamondbacks News

Delivered to your inbox

You'll also receive Yardbarker's daily Top 10, featuring the best sports stories from around the web. Customize your newsletter to get articles on your favorite sports and teams. And the best part? It's free!