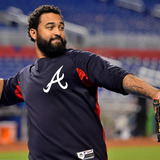 We all remember when Matt Kemp was the franchise player of the Dodgers, getting on base often and using his athleticism to cover a lot of ground in the outfield.Los Angeles is known for its fitness and emphasis on nutrition, so that must have been ingrained in Kemp's lifestyle when he was there.Well, now that he's been in Atlanta, which is known more for its food and beer, it's clear...
With the New York Mets in town, their injury-bug proved its contagion. Matt Kemp left Friday night's game in the 5th inning with left hamstring tightness. Kemp, the most reliable Brave this season, was denied a complete outing by his own body. What are the odds? Yoenis Cespedes, Michael Conforto, Steven Matz, Noah Syndergaard, and Zack Wheeler, the most reliable Mets were all forced...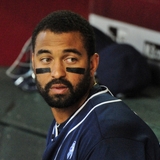 With Matt Kemp out, Jace Peterson gets another start for Braves. Kelsey Wingert checks in with utility man.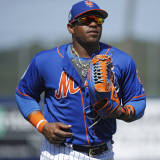 While not having the proven depth of many other positions, there are still a number of dangerous bats that lineup in left field. All but one player that checks in on this top 10 list hit at least 20 home runs, and five connected for 30. That is a potent collection of power, especially considering that this is far from a one-trick pony position. It is also an area that is home to...
Matt Kemp isn't the MVP-caliber ballplayer he used to be with the Los Angeles Dodgers earlier in his career. Despite that, the Atlanta Braves have high expectations for the right-handed hitting outfielder in 2017. Those expectations aren't coming without them getting a glimpse of what he could do for the offense, though. After the San Diego Padres shipped him to Atlanta at last summer...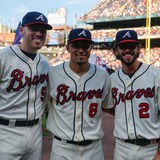 There is no down time around SunTrust Park. It's crunch time. The soon-to-be new home to the Atlanta Braves is less than 50 days away from opening its doors.Inside the park, signage is being added to the stadium sections. And the dirt below the infield and outfield grass is awaiting the laying of the natural turf. Despite holding less people than their former home, Turner Field,...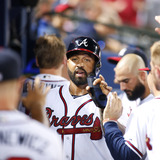 Matt Kemp's time with the Atlanta Braves really isn't off to a great start. In an interview with MLB Network Radio on Sunday, Braves general manager John Coppolella said that Kemp needs to get in better shape and that the team has talked to him about it. "We see Matt Kemp as a player with a big upside," Coppolella said, per Michael Cunningham of the Atlanta Journal-Constitution...
As the Atlanta Braves figure out what to do with their new addition in Matt Kemp, they know one thing: he needs to drop a few pounds. The Braves and Kemp both reportedly agree that the outfielder needs to lose some weight during the offseason, according to Jon Heyman of Today's Knuckleball. Atlanta believes that for Kemp to get close to his prime self again, he needs to get back...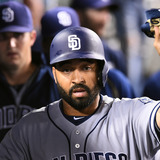 Prior to last season, the Padres dramatically re-shaped their roster, making numerous additions in an attempt to challenge for a division title. Two of the more prominent names, James Shields and Matt Kemp, are now gone. On Wednesday, Padres executive chairman Ron Fowler didn't hold back on expressing his feelings about the former members of the organization. Shields was traded...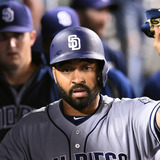 Matt Kemp was traded on Saturday from the San Diego Padres to the Atlanta Braves, marking the second time he's been traded in less than two years. Kemp getting to play for the Braves fulfills somewhat of a childhood fantasy as the Oklahoma native grew up watching the Braves on TBS and supporting them. Now that he's with a new team, Kemp is vowing to get off on the right foot with...
MORE STORIES >>
Braves News

Delivered to your inbox

You'll also receive Yardbarker's daily Top 10, featuring the best sports stories from around the web. Customize your newsletter to get articles on your favorite sports and teams. And the best part? It's free!