Bill James, Red Sox executive and one of the pioneers in baseball statistical analysis, sent out the tweet back in November. "I say Nomar Mazara is a top-5 MVP candidate for 2018," James tweeted. "Agree or disagree?"
Rangers manager Jeff Banister wants to anchor Nomar Mazara in right field this season and stop the shuttle between there and left field. That may mean more time at designated hitter for Shin-Soo Choo.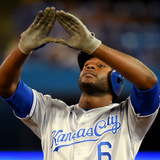 The Rangers have "ramped up" their pursuit of free-agent center fielder Lorenzo Cain, reports ESPN's Jerry Crasnick (via Twitter). The report from Crasnick comes not long after a morning report from The Athletic's Ken Rosenthal that tied Cain to the Brewers — the team that initially drafted him.Cain, 31, rejected a qualifying offer from the Royals following a characteristically excellent...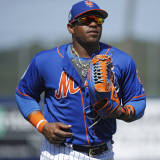 While not having the proven depth of many other positions, there are still a number of dangerous bats that lineup in left field. All but one player that checks in on this top 10 list hit at least 20 home runs, and five connected for 30. That is a potent collection of power, especially considering that this is far from a one-trick pony position. It is also an area that is home to...
Texas Rangers outfielder prospect Joey Gallo was affected more deeply by the killing of five Dallas police officers Thursday than most people. Five officers were killed in a shooting that took place during a Black Lives Matter protest in Dallas. One of the deceased officers is Patrick Zamarripa, who was a huge sports fan. He was such a big fan that he  actually recognized Gallo...
This is one of the reasons why I love baseball. Not because home runs are cool or anything like that, but because every year there are players that the average fan has never heard of that comes out of nowhere to become an absolute beast. With just 38 games under his belt, it looks like the Texas Rangers may have a beast in rookie outfielder Nomar Mazara.Here he is hitting his eighth...
You'd rather have the Rangers' problem than the Braves' problem. See, the Braves problem is that they just don't have enough competent players to field a competitive major-league baseball team. The Rangers problem seems to be that they're soon to have too many competent players. An embarrassment of riches isn't necessarily a problem, per se, but it's something of an inefficiency...
Well, that didn't take long. Less than a week into the season, we already have a big-name prospect coming to the big leagues. Better yet, he's already hit his first home run. With Shin-Soo Choo sidelined by a calf strain, the Rangers have called upon top prospect Nomar Mazara. The move slots Mazara into the Rangers lineup much sooner than anyone anticipated. Not only has he played...
The Texas Rangers called up highly-touted prospect Nomar Mazara to the big club this Sunday; however this decision came at the expense of Shin-Soo Choo. Before the first pitch was even thrown on Saturday night against the Angels, Choo suffered a calf strain while jogging in the outfield. The injury was serious enough to land Choo on the disabled list, placing him on the bench for...
Nomar Mazara is one of the Texas Rangers' most promising young players: at age 20, he hit his way from Double-A Frisco in 2015 to Triple-A Round Rock and could be destined for a shot with the big-league club this upcoming season.That's all according to Michael Young, former Ranger who was a guest recently on the Dallas Morning News' podcast. Hosts Evan Grant and Barry Horn asked...
MORE STORIES >>
Rangers News

Delivered to your inbox

You'll also receive Yardbarker's daily Top 10, featuring the best sports stories from around the web. Customize your newsletter to get articles on your favorite sports and teams. And the best part? It's free!