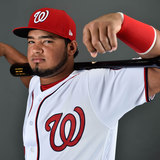 Major League Baseball announced Wednesday that Nationals catching prospect Raudy Read has been suspended 80 games after testing positive for Boldenone — a substance that is banned under the league's Joint Drug Prevention and Treatment Program. Read is on the Nationals' 40-man roster, so the suspension creates an unexpected vacancy for the Nats."This is a very serious matter — one...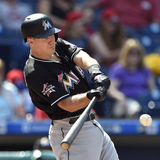 As the Marlins' offseason fire sale continues with the trade of Christian Yelich, it seems attention will now turn to catcher J.T. Realmuto. With three years of control remaining, he's even closer to free agency than was Yelich, so perhaps only a sufficient offer stands in the way of a deal.At this point, the Nationals are the organization that is "most heavily engaged" in pursuit...
The Nationals lost their starting catcher Wilson Ramos to a devastating ACL injury at the very end of the 2016 regular season. Ramos is recovering well and was signed by the Tampa Bay Rays to a two-year deal. The Nationals quickly re-signed their other veteran backstop in Jose Lobaton and ... Read More
Nationals 23-year-old catcher Pedro Severino started playing baseball in the infield until a coach recommended he become a catcher. That's where Severino realized how good he was at throwing runners out and how he enjoyed the moment so much. During the Marlins series to end the season, Severino threw a ... Read More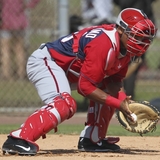 Pedro Severino caught Max Scherzer for the first time on Aug. 3rd in Arizona's Chase Field. Scherzer talked after the outing, an eight-inning start in which he allowed four hits and three earned runs, striking out 11, about getting to know the 23-year-old rookie and getting comfortable with Severino behind ... Read More
Pedro Severino, considered the Washington Nationals' top catching prospect, is headed to San Francisco to join the team, according to his Facebook page. Severino posted a picture of himself at the airport Friday morning. Severino, 23, who is known for his defense, came up to the big leagues last September, then again when Wilson Ramos's […]
According to a league source, Triple-A Syracuse catcher Pedro Severino is en route to San Francisco to potentially join the Nationals. He will reportedly be at AT&T Park today. It is unclear corresponding move the Nationals will make to add Severino to the 25-man roster. Severino has been considered a ... Read More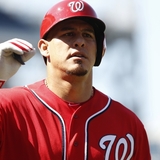 The Nationals placed Wilson Ramos on the bereavement list Tuesday so that he might be with family to mourn the death of his grandfather. The team recalled 22-year-old catcher Pedro Severino to fill Ramos's roster spot. Bereavement leave allows players a minimum of three days and a maximum of seven days away from the team. […]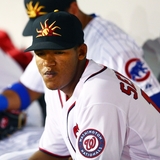 The Nationals optioned catcher Pedro Severino to Triple-A Syracuse on Friday, ending what was an impressive MLB spring training for the 22-year-old backstop.
KISSIMMEE, Fla. — If Gio Gonzalez had listened to Pedro Severino, he admitted, he probably would not have allowed the home run to Marwin Gonzalez that accounted for the only run he allowed Tuesday. "The balls I got hit with were balls I shook off from him," Gonzalez said. "He had the right mind frame." Severino, […]
MORE STORIES >>
Nationals News

Delivered to your inbox

You'll also receive Yardbarker's daily Top 10, featuring the best sports stories from around the web. Customize your newsletter to get articles on your favorite sports and teams. And the best part? It's free!