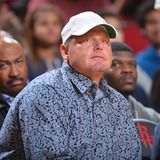 After he once again fell short of being elected to the Hall of Fame on Wednesday, Roger Clemens did something he hasn't typically done in the past when he fired back at a critic. Only this time, said critic was a former teammate and could be a future Hall of Famer himself. Earlier this week, Roy Halladay sent an enthusiastic tweet urging voters to keep Clemens and Barry Bonds...
By Jason Rowan Former MLB pitching great Roy Halladay clearly took the news that he was about to get a speeding ticket in stride, as evidenced by the selfie he snapped of himself grinning after he was pulled over by a police officer while out and about on Thursday. Halladay did lament in his Tweet, though, that the speeding ticket for going 58 mph in a 45-mph zone marred his otherwise...
In January of 2010, the Phillies-centric blog Zoo With Roy was created. The blogger, known as Zoo or ZWR, simply wanted to go to the zoo with his favorite new Phillies pitcher. Four and a half years later, it happened – ZWR went to the zoo with Roy Halladay. I'm at the zoo with Roy Halladay?! pic.twitter.com/5453vwPKvo — Zoo With Roy (@zoowithroy) August 8, 2014 Who could have...
Recently, earning the right to dominate conversations of Philadelphia Phillies fans for generations, two legends have toed the slab at Citizens Bank Park, but now Cole Hamels watches as only one can add numbers to his stat sheet. Will Cliff Lee or Roy Halladay finish with better statistics in Philly? This article was ready for editing before Lee was available for the second...
In addition to being one of the most dominant MLB pitchers of his generation, Roy Halladay is also one of the classiest. The former Toronto Blue Jays and Philadelphia Phillies ace always quietly went about his business during his career, but sometimes even the humble ones can't resist burning a troll on Twitter. Over the […]
Roy Halladay, ever the classy gent, took out a full page ad in today's Philadelphia Daily News thanking the fans, the city, and the Phillies following his retirement. Roy Halladay takes out full-page ad thanking @Phillies fans: http://t.co/MIrjmJx0qI pic.twitter.com/Angey5vYOw — MLB Fan Cave (@MLBFanCave) December 10, 2013  
For much of the decade of the 2000's, the question about who was the best pitcher in baseball started at number two. Mostly because the dominance of Roy Halladay made it so simple to decide on who was at the top of the list. Whether it was during his run of triumph in-spite of some less than desirable clubs in Toronto, or his turn of fortune (and perfection) in Philadelphia, Doc...
Was September 23 the last time we will see Halladay as a Phillie? If I had to pick one word to describe Roy Halladay's 2013 campaign with the Phillies, I'd choose heartbreaking. Every night, I held my breath, hoping that a proud man such as Halladay would find a small portion of the success that led him to over 200 wins, six top-five Cy Young finishes, and two Cy Young wins in...
After just 16 pitches, Rich Dubee ran to the mound to check on Roy Halladay. There was nothing to be said. Halladay's night, and possibly his career, was through. Ryne Sandberg joined Dubee and after a few words spoken between the men on the mound, Halladay walked to the dugout with his head down, his face red, dripping with sweat. The Phillies are calling it right arm fatigue...
Weird to think, but it could be true. We could have witnessed the final start by Roy Halladay in Philadelphia as a member of the Phillies. Over six innings, Halladay gave up just one run on four hits as the Phils beat the Marlins, 6-4 Jonathan Papelbon made it extremely interesting in the ninth, allowing one run on three hits. Halladay's fastball was around 85-88 most of the evening...
MORE STORIES >>
MLB News

Delivered to your inbox

You'll also receive Yardbarker's daily Top 10, featuring the best sports stories from around the web. Customize your newsletter to get articles on your favorite sports and teams. And the best part? It's free!