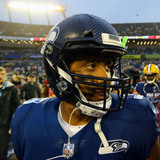 The New York Yankees recently made a trade to acquire Seattle Seahawks quarterback Russell Wilson, who will make his Yankees debut on Monday, Feb. 26.Wilson made the announcement on social media, and he's clearly pumped up for his chance to put on the pinstripes. Speaking to outfielders Aaron Judge and Giancarlo Stanton, Wilson said, "I can't wait to see you guys Feb. 26," Wilson...
So Russell Wilson has been traded to the New York Yankees (wink, wink). I mean, he's not played professional baseball in the past six years. He's not planning to play professional baseball for the next six years, either, but there it was as an official transaction: N.Y. Yankees acquire IF Russell Wilson from Rangers in exchange for future considerations. What will be the challenges...
(Getty Images) Even though Seattle QB Russell Wilson has a "Boy Scout" reputation, we've never really liked him. He seems a little full of himself—and has, in fact, had some run-ins with fellow Seahawk teammates. Now, we have further reason to write off the Super Bowl XLIX-losing signal-caller: The Bronx Embalmers just signed him. More precisely, The Evil Ones traded for the rights...
Before Seahawks quarterback Russell Wilson secured his second contract, he spent plenty of time flirting with baseball. After he received a deal that averages just under $22 million per year, baseball subsided. It's now back, and it may not be a coincidence. The sudden, bizarre news that the Texas Rangers traded Wilson, who has shown [more]
The star quarteback's baseball rights, previously owned by the Texas Rangers, were traded to the New York Yankees for future considerations
"While football is my passion and my livelihood, baseball remains a huge part of where I came from and who I am today." - Russell Wilson
The Texas Rangers trade NFL star Russell Wilson to the Yankees in the most bizarre baseball deal of the year.
MORE STORIES >>
Rangers News

Delivered to your inbox

You'll also receive Yardbarker's daily Top 10, featuring the best sports stories from around the web. Customize your newsletter to get articles on your favorite sports and teams. And the best part? It's free!