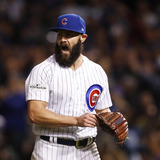 The Washington Nationals are a team that is ready to win now. With that being said, they seem to have trouble advancing past the National League Division Series each and every year. It is not a good look for the club, as they are mounting pressure on themselves and the city of Washington, D.C. to bring home a championship.Time is running out, however not all hope is lost. Free agency...
Right-hander Stephen Strasburg took a significant step forward in 2017. The Baseball Writers' Association of America agreed it was, and arguably could be, the best season of his career. On Monday night, Strasburg was named one of three finalists for the NL Cy Young Award, alongside Nationals teammate Max Scherzer ... Read More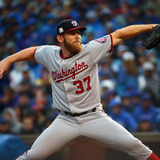 We are heading back to the Capital for Game 5 of the National League Division Series.After the Cubs took a 2-1 series lead, the Nationals kept their season alive on Wednesday after a wild 24 hours that revolved around weather and Stephen Strasburg.Let's start with the weather. Game 4, which was originally scheduled for Tuesday, would be postponed. The game was then moved to Wednesday...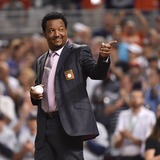 Stephen Strasburg got a shoutout from a Hall of Fame pitcher after his outstanding performance during Game 4 of the NLDS.Last night, it didn't seem likely Strasburg would take the mound for the Nationals in a must-win Game 4 against the Cubs in Chicago. It was reported the right-hander turned down the opportunity to start Wednesday's game as a result of feeling under the weather...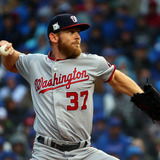 Nationals pitcher Stephen Strasburg has long had one of the best changeups the MLB world has ever witnessed. It's a big part of why he was so successful when he first entered the league, as combined with his-then 100 mph fastball, he was virtually unhittable when healthy.Some questioned if he'd be able to have the same filthy changeup pitching out of the stretch. The short answer...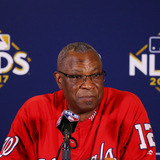 At least one Chicago Cubs fan is not buying the reason Washington Nationals manager Dusty Baker gave as a possible cause of Stephen Strasburg's illness.A day after Baker blamed mold season as a possible cause of the illness that nearly kept Strasburg from pitching Game 4, at least one Cubs fan came prepared for such a danger. Baker had this coming, as did the Nationals. The organization...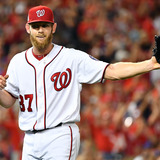 The Washington Nationals will have their ace on the mound for Wednesday's all-important Game 4 of the NLDS, after all.John Morosi of MLB Network is reporting that Stephen Strasburg is expected to start Game 4 against the Chicago Cubs after the team said Tuesday that they were sticking with Tanner Roark. You have to wonder if Strasburg is making the start due to pressure from the...
The Washington Nationals are just simply looking to win Game 4 of their NLDS series against the Chicago Cubs to force a Game 5 back in the nation's capital.But that has not stopped drama itself from unfolding in a big way after Tuesday's game at Wrigley Field was rained out.Immediately afterwards, Nationals manager Dusty Baker announced that Tanner Roark would start Game 4 over ace...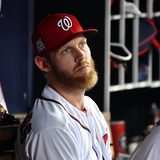 Stephen Strasburg is not expected to start Game 4 of the NLDS despite a rainout giving him an extra day of rest, and the team insists that has to do with the pitcher being ill.After Game 4 was postponed on Tuesday, Nationals manager Dusty Baker said Tanner Roark is still going to start the game on Wednesday with the team facing elimination. Baker said the decision was made because...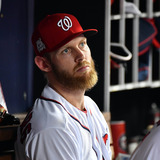 Game 4 of the NLDS between the Washington Nationals and Chicago Cubs getting rained out seemed to be a gift from above for Washington. Trailing 2-1 and facing elimination, the Nationals were in position to start Stephen Strasburg in Game 4 and, assuming they won, Gio Gonzalez in Game 5. Instead, Dusty Baker, like his Cubs counterpart, Joe Maddon, is sticking to the original plan...
MORE STORIES >>
Nationals News

Delivered to your inbox

You'll also receive Yardbarker's daily Top 10, featuring the best sports stories from around the web. Customize your newsletter to get articles on your favorite sports and teams. And the best part? It's free!