2017 was a rough year for the Cincinnati Reds on the field. Though the Reds had some triumphs along with their struggles. Here's a look at some of 2017's biggest Reds related stories. 1. Farewell Zack Cozart Earlier this month Zack Cozart was traded by the Reds to the Los Angeles. Where he will join an increasingly talented team. This comes after one of the best season of Cozart...
After being drafted by and playing seven years professionally with the Cincinnati Reds, shortstop Zack Cozart will wear a different shade of red next season. Cozart was signed to a three year deal with the Los Angeles Angels Thursday morning. With the now loaded infield the Angels have, Cozart will move to play third base for the first time in his MLB career. Cozart was expected...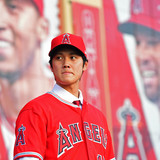 A new year and a different situation, but it's shaping up to be the same result for the Los Angeles Angels this winter.With limited resources — both financially and within their farm system for any potential trades — general manager Billy Eppler and his front office had a very productive offseason leading up to the 2017 campaign. They didn't make the playoffs and finished with a...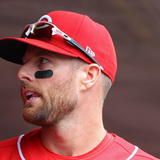 The Los Angeles Angels seem determined to field one of the best defensive teams in baseball next season, and signing Zack Cozart should help them accomplish that goal.On Friday, the Angels announced that they have signed Cozart to a three-year contract. Ken Rosental reports that the deal is worth a total of $38 million. Cozart played shortstop for the Cincinnati Reds last season...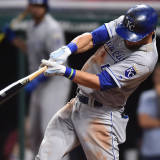 MLB hitters have been on pace to set a league-wide, single-season home run record all year. On Tuesday, Alex Gordon of the Kansas City Royals hit home run number 5,694, officially making the 2017 season the new record-holder, smashing the pace set back in 2000. It was inevitable that this was going to happen. Entering Tuesday's play, MLB players had hit 5,677 home runs, only 16 short...
Zack Cozart is about to become the owner of a donkey; at the expense of fellow Cincinnati Reds infielder Joey Votto. Both will be in Miami for this month's MLB All-Star Game. Cozart will be the National League's starting shortstop for this year's All-Star Game. He will be the lone starting player representing the Reds in Miami. This selection comes in the midst of the best season...
Many thought Reds veteran slugger Joey Votto wouldn't actually buy teammate Zack Cozart a donkey if he made the All-Star team. But they thought wrong. Votto, who is known for being a fan of donkeys, promised to Cozart that if he made the All-Star team, he'd buy him a donkey. And recently, the talk resurfaced, as Votto attempted to campaign for Cozart to make the team, which you can...
As usual, Mike Trout is at the top of our WAR leaderboard. That will only be true for a little while longer, however, as Trout's lead is down to just one tenth of one win, and he's unfortunately on the shelf for the next couple of months. Based on the current trajectory, at some point in the next week or so, Zack Cozart will usurp Trout at the top of that list. For all the great...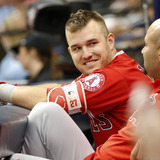 As the second month of the MLB season prepares to end, the All-Star Game becomes a closer and more significant part of the baseball calendar. And as ASG balloting ramps up, it is important to be an informed voter, because as is always the case, there will be plenty of big names that are not having the seasons that match. As such, it is time to pay closer attention to the best of...
Every year we go through the same routine. A previously unimpressive player has a couple great months and we wonder if we're observing something new and meaningful or if it's simply random variation and the regression monster is coming. I haven't done a thorough analysis, but I'd imagine a larger percentage of articles written on sites like this during the first months contain the...
MORE STORIES >>
Angels News

Delivered to your inbox

You'll also receive Yardbarker's daily Top 10, featuring the best sports stories from around the web. Customize your newsletter to get articles on your favorite sports and teams. And the best part? It's free!