Found August 07, 2013 on hov-mma:
Sometimes greatness is hard to recognize, even when it is right in front of our faces. It will sometimes happen because it is so subtle that it is hard to see it. In other cases, we get too used to it. We have seen it over and over again. When a fighter like Jose Aldo only has one or two spectacular moves in a fight, we think of it as being ordinary almost. Even one he dominated with a broken foot. What Aldo did on Saturday, defending his title at UFC 163 - it was amazing. This was the fighter that many people thought could beat Aldo. The Korean Zombie was described as being the one that had the perfect type of style to beat Aldo. He is durable, tough, and comes forward relentlessly, albeit a little recklessly. This style has earned him one of the coolest nicknames in MMA and the undying love of fight fans around the world. The sight of Zombie trying to push his dislocated shoulder back into place is the perfect image for his heart, toughness, fighting spirit and nickname. It was an unfortunate injury that ended this fight. The injury though did not stop The Korean Zombie from winning this fight. He was on his way to losing the fourth straight round of the fight. He was about to go down 4-0 to a guy who broke his foot in the first round, which at that point, Aldo stopped throwing leg kicks. This is like Calvin Johnson not being able to use his speed and still putting up 200 yards and 3 TDs. The leg kicks of Aldo are one of those things that make him special. They are on another level than everyone else's. They come with the speed of Demetrious Johnson and the power of Cro Crop, and without this he was still able to dominate the fight. Aldo put on one of the best displays of boxing in MMA this year. He showed his versatility by being able to adjust to not having the leg kicks at his disposal. He outboxed TKZ and he did it on a broken foot. The only clue that he might be injured was the fact that he was not throwing any leg kicks. There was a target for him as TKZ had his lead leg right there. A normally healthy Aldo would have pummeled that leg. Instead, he showed more of that crisp, stiff jab that we saw in the Frankie Edgar fight. He also utilized some nice head movement slipping a lot of punches. The numbers from the UFC's site support Aldo's dominance. He out struck TKZ 32 to 17, scored 5 takedowns to none, and passed twice. Do not forget he did almost all of this with a broken foot. Again, I think TKZ is an amazing fighter and I will look forward to his next fight but there are better match ups out there for Aldo at featherweight. There are three, maybe four fights left in the featherweight division and ultimately he will have cleared the division out. His move up to the lightweight class may be delayed as this reportedly was his easiest weight cut. The possibility of a super fight with the winner of Henderson versus Pettis 2 looms in the future. Aldo's current injury and these three contenders are why it makes sense for him to stay at featherweight for a little while longer. One name that gets mentioned a lot lately is Cub Swanson. He is currently on a five fight winning streak. He won four of those five fights impressively via KO/TKO. His most recent win was a third round TKO one over Dennis Siver at UFC 162. Swanson has all of the ingredients necessary to have a chance at beating Aldo. As a Team Jackson-Winklejohn MMA fighter he is well rounded and will have a great game plan in place for the fight. There are a couple of obstacles to Swanson fighting Aldo next. The reason he is on a five fight win streak and not a seven is Ricardo Lamas. It is hard to make an argument that Swanson deserves the shot before Lamas. Instead, the fight for him next should be Frankie Edgar. Both fighters want another shot at Aldo and the winner would be right in line for that shot. They both just fought at UFC 162 so they could easily be ready at the same time. This would be a great fight and would establish the winner as one of, if not the top contender. Edgar is a great fighter who looked good in his dominant win over Charles Oliveira but needs a win over a Cub Swanson if he wants to separate himself from the rest of the contenders and give the UFC a strong reason to book this rematch. If the next title shot is a rematch then it is hard to argue against it going to Chad Mendes. The only loss in his career is to Aldo and since that fight he has three straight first round KO/TKO wins. As a part of Team Alpha Male he has benefitted from Duane "Bang" Ludwig working with them. That team has been even better as Ludwig tweaks and improves their striking. This is exactly the area that Mendes needed improvement in if he wants to beat Aldo in a rematch. He has a fight coming up later this month with Clay Guida at UFC 164. An impressive win for him over Guida and he could move to the front of the line. The fighter that deserves the next shot is Lamas. He has been promised a shot twice and still has not fought for the belt. He was suppose to fight TKZ until Anthony Pettis got hurt and had to pull out of his fight with Aldo. Many people thought Lamas would get the shot, including TKZ. Instead, the UFC taps TKZ for the title shot and once again Lamas is passed over. He is the one fighter in this group who has not fought Aldo yet. He is the last guy to beat Swanson and is exactly the versatile kind of fighter that would have a legitimate chance at beating Aldo. The way things keep happening we may never see him fight Aldo for the title. This should be the next fight for Aldo after he recovers from his foot injury and it just might be the best fight out of them all. There is one wild card lurking that is about to explode in the UFC this August. That wild card is a fighter who just might be the future of the division, Conor McGregor. He made his UFC debut with an impressive first round TKO of Marcus Brimage at UFC on Fuel TV 9. He will be fighting Max Holloway August 17th on UFC Fox Sports 1 inaugural event. McGregor is a big featherweight with insanely good movement. He has smooth sneaky knockout power that goes well with his incredibly good aggressive ground game. He is looking for the finish all of the time. When you couple this with his personality, sense of humor, ability to sell a fight; with each win in the UFC fans will be clamoring for him and Aldo very soon. McGregor just might be the future of the featherweights. Before his time we are enjoying the reign of one of the greatest fighters to step inside of the octagon. Like many of the greats in combat sports we may not truly appreciate Aldo until he is gone. Do not make that mistake and do not miss his fights; every time he steps in the octagon he does something amazing. Sometimes we just cannot always see it clearly.
Original Story:
http://www.hov-mma.com/2013/08/aldo-a...
THE BACKYARD
BEST OF MAXIM
RELATED ARTICLES
That Jose Aldo (pictured) sure has some stones on him … literally. Not only did the reigning UFC featherweight king continue fighting with a broken right foot for roughly 17 minutes in successfully defending his throne Saturday against "The Korean Zombie" Chan Sung Jung, but it appears he also did it with kidney stones. Dr. Marcio Tannure, the UFC's physician in Brazil, told...
The Comissão Atlética Brasileira de MMA (CABMMA), the governing body who oversaw "UFC 163: Aldo vs. Korean Zombie," has medically suspended 22 athlete who competed in Saturday's event. After beating "The Korean Zombie" Chan Sung Jung in the show's featured attraction, reigning featherweight king Jose Aldo (pictured) claimed he likely broke his foot after unleashing...
Jose Aldo may have successfully defended his UFC Featherweight Title this past weekend against the Korean Zombie, Chan Sung Jung, via TKO, but he didn't leave that fight completely unscathed.  Aldo not only suffered a broken foot in the first round but according to MMA Fighting, he also was hospitalized with kidney stones while getting his foot examined on Tuesday. Aldo has already...
Swanson has been on a tear as of late winning five in a row against some serious competition.  His boxing trainer is doing something right because four of those five wins have come via KO or TKO by punches.  Hope Cub gets the title shot he deserves though its hard to argue that Lamas, and Mendes don't equally deserve the fight. Cub Swanson gets on the course See all of Cub's video blogs
The guys over at Team Alpha Male don't like to wear many clothes. Chad Mendes Is Fan Friendly Joe Jitsu goes fishing
The idea of the Camel Clutch Blog has never been about pro wrestling and MMA. I wanted to have a platform to write about whatever I (or others) enjoyed. Unfortunately if you are a UFC fan than you will probably see less MMA blogs from me and that is not by accident.
Although the main event failed to live up to the expected fireworks, it still provided a relatively entertaining scrap, there was also a Light Heavyweight robbery, a return to form from a Brazilian Middleweight as well as an exciting Flyweight scrap.
Both the featherweight champion and challenger are likely to face significant time resting and recovering from injuries after UFC 163. Divisional kingpin Jose Aldo isn't expect to return until 2014 after breaking his foot on his first kick of the fight. Aldo suffered immediate swelling during the bout but altered his usually kick-heavy style in favor of punches, takedown and...
This past Saturday UFC 163 took place in Rio De Janeiro, Brazil with Jose Aldo successfully defending his Featherweight strap against The Korean Zombie, Chan Sung Jung in a curious affair that I will talk more about later. Really, the big story of the card was Phil Davis's unanimous decision victory over Lyoto Machida in a bout that was scored for "The Dragon" by everyone besides...
MMA News

Delivered to your inbox

You'll also receive Yardbarker's daily Top 10, featuring the best sports stories from around the web. Customize your newsletter to get articles on your favorite sports and teams. And the best part? It's free!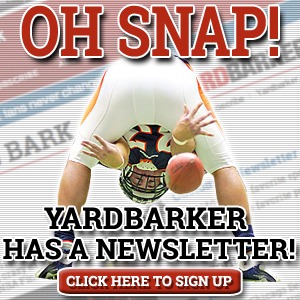 Latest Rumors
The Backyard

Today's Best Stuff

For Bloggers

Join the Yardbarker Network for more promotion, traffic, and money.

Company Info

Help

What is Yardbarker?

Yardbarker is the largest network of sports blogs and pro athlete blogs on the web. This site is the hub of the Yardbarker Network, where our editors and algorithms curate the best sports content from our network and beyond.