Found September 15, 2013 on hov-mma:
Bellator MMA 99 marked their return to their normal new Friday night time spot on Spike TV. The action went down in Temecula, CA from the Pechanga Resort and Casino. The televised card was made up of the opening round of the featherweight tournament and a featured fight between light heavyweights Vladimir Matyushenko and Houston Alexander. Which was won by Matyushenko in a semi-exciting opening round and then two rounds that made you wish they could have been assessed a yellow card for inactivity. The featherweights did not disappoint providing four action filled fights. The first televised fight was Joe Taimanglo (18-4-1) vs Andrew Fisher (12-4-1) to kick off the the tournament. Fisher was the tall and longer fighter but he could never find his range. He was never comfortable with Taimanglo inside of the cage. Jimmy Smith kept wondering when he was going to use his jab or some front kicks but he never really established either. He used a variety of step-in strikes. By mixing in uppercuts, hooks, overhands and kicks Taimanglo kept Fisher off-balance. The fight was fought at distance but it was Taimanglo who thrived from long range. Fisher was the one who eventually tried to take the fight to the ground but Taimanglo controlled the grappling and used it to keep the fight standing. Taimanglo was also the aggressor coming forward and Fisher spent most of the time going backwards or sideways. Even in the third round Fisher could get nothing going. Taimanglo picked Fisher apart in the standup and took the three round UD victory to move on to the semi-finals. His opponent in the next round will be Justin Wilcox (11-5-1) who defeated a tough and talented Akop Stepanyan (13-5). This was a great story of heart and will. Wilcox took the fight on seven days notice and then cut twenty two pounds to make weight. His opponent, Stepnyan, is a difficult fighter to face with a full camp because of the varied and unorthodox strikes he uses. He is known for his spinning back kicks to the body and the head. In this fight he started out using a simple low calf/ankle kick to the lead leg of Wilcox  It is no secret that Wilcox wanted to get the fight to ground and Stepanyan's attack was geared perfectly to stopping a wrestler. The kicks started to chop away at Wilcox's base and they were low enough that they could not be caught and used to take him down. The low kicks were also very powerful as they almost consistently took Wilcox off balance. In the first round the fight was going beautifully for Stepanyan, he was landing and easily getting away from trouble and controlling the fight with his movement and leg kicks. By the end of the round Wilcox's movement was severely hampered by the kicks from Stepanyan. When they came out for the second round Wilcox's leg was jacked up, and he had a huge hematoma on the front side of the his lead left leg. It was like he was growing some weird radiation caused muscle on the front of his calf. He could barely keep much pressure on it. It looked like about three or four more kicks to that spot and the fight would be over. Then BOOM! Stepanyan landed a spinning back kick that caught Wilcox on the side and back of his head and opened a huge cut. That kick would have ended most fights but Wilcox somehow ate it and then Stepanyan made his one mistake. He threw another low kick but it was right as Wilcox was shooting in for the takedown. Like more wrestlers when they get rocked, Wilcox went for the legs and got the fight to ground. At first Stepanyan did a good job of neutralizing Wilcox on the ground and it looked like he might be able to weather the storm. Then as Wilcox was trying to pass Stepanyan attempted to escape and in the scramble Wilcox quickly took his back. He immediately wrapped his legs around and locked in the hooks  From there he quickly secured the Rear Naked Choke and Stepanyan goes out cold as he refused to tap. It was a great display of heart and perseverance by Wilcox who just kept coming despite the obvious pain coming from his leg.  It was a tough loss for Stepanyan who was in control of the fight and just made one small mistake, but that is all you need in MMA to win or lose a fight. This sets up a great fight between Wilcox and Taimanglo in the semi-final round. The other matchup in the semi-finals will be Fabricio Guerreiro (17-2), who defeated Desmond Green (9-1), and Patricio Pitbull (18-2) who took out Diego Nunes (18-4) in the main event. In the Guerreiro versus Green matchup it was about Guerreiro who derailed the hype train that Green had been riding coming into this fight. He controlled the first two rounds and took a hard fought UD victory. Green just could not get anything going against Gerreiro until the third round but by that point he needed a finish and could not get it. He seemed content to just win the round and did not realize he was down on the scorecards. His corner had mistakenly told him between rounds that he had won round two and that doomed him in the third. The future is still bright for Green but right now it is a little brighter for Guerreiro. This was his twentieth fight of his pro career and he is only twenty three years old. He fought with the patience of a veteran and showed that he is a well rounded fighter comfortable on the ground and in the standup. His next fight will be one of his biggest challenges in his career as he takes on the dynamic Patricio Pitbull. Bellator MMA This defeat of Diego Nunes is the biggest name win of Pitbull's career. Nunes is a veteran of the UFC and holds wins over Bart Palaszewski and Manny Gamburyan but he ran into a focuses and fired up fighter in Pitbull. He had won this tournament already and he faced Pat Curran this past January to challenge for his title. It was a five round war that Pitbull lost via a SD. This loss has haunted and fueled him since and he is motivated to win this tournament again, and get his rematch against Curran. Pitbull is a finisher and equally dangerous with strikes and submissions. He came into this fight with seven wins by TKO/KO and seven via submission. His only two losses are to Curran the current champion and Joe Warren the former champion. In this fight he showed some patience something his not known for in his fights. He is usually like a rabid dog at the start of the fight charging forward but in this fight he was more patiently aggressive. They started out both just trying to get the timing down and respecting each other's power. Nunes attempted a spinning back kick and slipped and we saw the aggressive Pitbull as he quickly shuffled forward but he was not reckless. There was no opening as Nunes quickly recovered his balance. After they danced around just outside of each other's range Nunes started to bull rush forward.  He faked and feinted as Pitbull avoided him and then he did it again. This time he did not stop in time as Pitbull backed away, then planted as Nunes was coming in and landed a quick, short, check left-hook right on the jaw. It was a highly efficient performance for Pitbull who only threw a handful of punches in this short fight with an explosive finish. This was the first time that Nunes had ever been stopped in a fight and he has fought some of the best in the UFC. It was an impressive win and solidifies Pitbull's spot as the top seed in the semi-finals. It was another exciting night of fights from Bellator MMA and set up two interesting fights for the featherweight tournament semi-finals.  Right now Patricio Pitbull looks like a man driven to find himself across the cage, once more from Pat Curran. It will be interesting to see if one of the others can derail him. Fabricio Guerreiro gets the next chance. Bellator MMA
Original Story:
http://www.hov-mma.com/2013/09/bellat...
THE BACKYARD
BEST OF MAXIM
RELATED ARTICLES
"Bellator 99: Pitbull vs. Nunes" takes place Friday night inside Pechanga Resort & Casino in Temecula, California. All four quarterfinal featherweight tournament bouts will appear in Friday's event. Former UFC fighter Diego Nunes meets Patricio "Pitbull" Freire in tonight's featured attraction. Spike.com streams the tomorrow's prelims live beginning at 7PM ET/4PM...
Main Card (Spike TV) Weight Class Method Round Time Notes Featherweight Patricio Freire vs. Diego Nunes [a] Light Heavyweight Vladimir Matyushenko vs. Houston Alexander Featherweight Justin Wilcox vs. Akop Stepanyan [a] Featherweight Desmond Green vs. Fabricio Guerreiro [a] Featherweight Andrew Fisher vs. Joe Taimanglo [a] Preliminary Card (Spike.com) Light Heavyweight Savo Kosic...
Hey, did you even know we had Bellator, Legacy Fighting, Bamma, and Cage Warriors before The One this weekend? And during The ONe we saw WSOF 5. Ridiculous. It was almost too much combat sports. I even missed some stuff. Luckily, we have these highlights. The featherweight tournament featured at Bellator 99 was capped off by a great win by who many think is the true featherweight...
MMA News

Delivered to your inbox

You'll also receive Yardbarker's daily Top 10, featuring the best sports stories from around the web. Customize your newsletter to get articles on your favorite sports and teams. And the best part? It's free!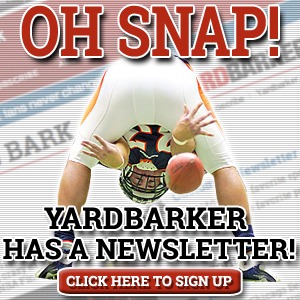 Latest Rumors
Best of Yardbarker

Today's Best Stuff

For Bloggers

Join the Yardbarker Network for more promotion, traffic, and money.

Company Info

Help

What is Yardbarker?

Yardbarker is the largest network of sports blogs and pro athlete blogs on the web. This site is the hub of the Yardbarker Network, where our editors and algorithms curate the best sports content from our network and beyond.