Found May 22, 2012 on BoneSnapper.com:
Bonesnapper's Bellator Breakdown Team:
Michael Flores (9-3); PSU J.H. (3-5)
Trig Berge (5-5); Mike Dutro (7-4)
Bonesnapper BBT (23-16)
Cole Konrad vs. Eric Prindle — Michael Flores
The heavyweight tournament has been an utter mess; truly an eye opening look into the possibilities of what can go totally wrong under the tournament format; very similar to the Strikeforce heavyweight Grand Prix, which, just came to its conclusion after its start some thirteen months ago. Eric Prindle in the end walked away with the one-hundred thousand dollar check, and a shot at Bellator heavyweight title holder, Cole Konrad.
As for the match-up, Prindle comes in to this fight with one advantage, and exactly one way to win this fight, his right hand. Cole Konrad is a smothering top heavy wrestler who knows his strengths and plays up to them very well. Konrad will not stray away from the game plan here, he will not irrationally strike with the heavy handed Prindle, Konrad will duck down and shoot the first chance he gets. Question is can Prindle remain upright after Konrad shoots in? Absolutely not! Prindle in his fight against Thiago Santos, well at least until the fight was called due to foul, was put on his back twice. Thiago Santos in comparison does not possess the wrestling skills that Konrad has, nor does he have the degree of top control that Konrad possesses. Konrad has the ability finish this fight, but will he? I think he will with a first or second round submission; probably a kimura, or key lock.
Rick Hawn vs. Brent Weedman — Michael Flores
In the conclusion of the Bellator season six lightweight tournament, Rick Hawn and Brent Weedman face-off. Brent Weedman in his journey to the final finished off JJ Ambrose with a Von Flue choke, and fought Thiago Michel to a close split decision. Weedman is a solid all-around fighter who was 'able' to stand and trade with kickboxing specialist, Michel, and able to equate himself quite well with Heiron, and Hornbuckle. Weedman, however is not world class in any one area, and does not possess true one punch knockout power in his hands. Weedman does make up for these deficiencies with a relentless forward approach, where is always engaging his opponent in attack.
Rick Hawn's trek to the lightweight finals started out violent, in the opening round of the tournament Hawn closed out Ricardo Tirloni in just the first round of the fight with a huge right hand, followed by some heavy-heavy GNP. In his second fight Rick Hawn dispatched of Lloyd Woodard inside of two rounds, once again ending the fight via right hand. Woodard came out aggressive at the request of his corner and walked directly into the fight ending strike. During much of the first Hawn was able to control Woodard along the cage in the clinch, peppering him the entire time with short strikes to the body and knees to the thighs. Rick Hawn in a short time has transfigured his overall game from world-class grappler to well rounded mixed marital artists in quick order, a capable and dangerous threat not only to Weedman, but also title holder, Michael Chandler.
When trying to envision how this fight plays out, I see Rick Hawn moving forward pushing the pace, backing Weedman around the cage. Weedman will be forced to deal with Hawn's growing boxing prowess and brick hands. Weedman will attempt to get the fight to the ground, but against an Olympic judoka, the caliber of Hawn, it is much easier said than done. Weedman will be tied up in the clinch after failing to get the fight to the ground, and soon after may find himself on his back via Hawn outside leg trip, unless Hawn does not wish to play the submission game with Weedman. Either way, Hawn will finish this with either standing strikes, or GNP from half guard in the first or second round.
Hiroshi Nakamura vs. Luis Nogueira — Mike Dutro
This is a fun match up for the bantamweight semi final which pits 2 decision masters. Nogueira has a solid stand up game where he likes to throw right and left hooks. He has pretty good kicks which he often doubles up on. His stand up is pretty explosive and from time to time he throws the flying knee and other crazy attacks. He doesn't throw his punches half assed, he is looking to put the lights out. One bad thing about his stand up though is that he keeps his chin up at times. He is very capable of taking the fight to the ground. He loves to clinch and work his trips that put him in very good position in side mount. He also has a very explosive double leg and for a small guy has some incredible slams in his arsenal. Biggest asset to his game is his excellent TDD. He put on display against Vila where he was able to stuff the Olympic medalists TDs'.
Hiroshi Nakamura is best known for his grinding style that has lead him to the nickname "Iron" and a record of 14-5 with 12 of his wins coming via Decision. Iron loves to get the fight to the ground where he can work his gnp and control his opponent. He may not look strong but his top game is some of the best in his division. He holds notable wins over Yoshiro Maeda, Masakazu Imanari, and Jong Man Kim. He also fought to a draw with UFC title contender Hatsu Hioki. Nakamura is going to have to find a way to drag this fight to the ground so he can stay on top and stay away from the stand up game.
This is going to be a good fight, I see Betao being able to keep the fight standing and punish Nakamura with some bombs. We can see a Betao KO or a dec.
Fantasy- High-Luis Nogueira-KO-3
Keith Schneider vs. Josh Shockley — Michael Flores
It was difficult finding enough video, or information on Keith Schneider, however, what was found did not look promising, especially when one considers who his opponent will be this Friday. Josh Shockley is coming off the biggest win of his career, ousting TUF alum Shamar Bailey easily through three rounds. Shockley was able to outwork and control Bailey on the mat very well. On occasion Shockley lifted and slammed Bailey down with authority, and threatened with submissions and continuous GNP when on the mat. From what little video I have been able to see, Keith will experience difficulty keeping this fight from hitting the mat. This will be the biggest step up in competition in his career, and it will be over shortly after he enters the cage, in what is largely a mis-match. Josh Shockley by whatever is available first.
Bellator 70 Picks:
Cole Konrad by Submission
Rick Hawn by Knockout
Luis Nogueira by Knockout
Josh Shockley by KO/SUB
==================================
Follow us all on Twitter by clicking the link:
Michael Flores on BS Forum as: mmapunx
PSU J.H. on BS Forum as: PSUWrestler99
Trig Berge on BS Forum as: Trig
Mike Dutro on BS Forum as: MetalMike00
Tim Stout on BS Forum as: Dock59
Register here for the Bonesnapper Forum
Original Story:
http://feedproxy.google.com/~r/Bonesn...
THE BACKYARD
BEST OF MAXIM
MMA News

Delivered to your inbox

You'll also receive Yardbarker's daily Top 10, featuring the best sports stories from around the web. Customize your newsletter to get articles on your favorite sports and teams. And the best part? It's free!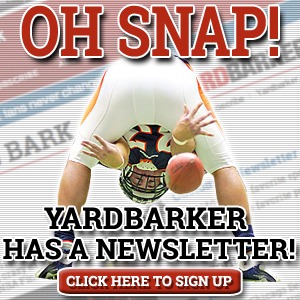 Latest Rumors
The Backyard

Today's Best Stuff

For Bloggers

Join the Yardbarker Network for more promotion, traffic, and money.

Company Info

Help

What is Yardbarker?

Yardbarker is the largest network of sports blogs and pro athlete blogs on the web. This site is the hub of the Yardbarker Network, where our editors and algorithms curate the best sports content from our network and beyond.