Found October 11, 2012 on Fox Sports:
This weekend in Rio de Janiero, the UFC will hold its third Brazilian event of the year. More than half the fighters on the UFC 153 card - 15, to be exact - are Brazilians, including UFC legend and national hero Anderson Silva. Along with the current middleweight champ Silva (who'll move up a division and fight Stephan Bonnar at light heavyweight), the night will include one Brazilian who used to hold the interim light heavyweight title (Antonio Rodrigo Nogueira), one Brazilian who fought Silva for the middleweight belt two years ago (Demian Maia), and one Brazilian who is considered a fast riser in the stacked light heavyweight division (Glover Teixeira). Three of the current champions in the eight UFC weight divisions are Brazilian - Silva, heavyweight Junior dos Santos and featherweight Jose Aldo - plus a fourth, Renan Barao, holds the interim belt in the bantamweight division. It's the same number of current UFC titleholders as the United States. Up here in the northern hemisphere, Americans like to think we're the capital of everything. We're the world's mightiest economic power, recession be damned. We're the world's mightiest military power, even if Iraq and Afghanistan have made us question our invincibility. And we're surely the world mightiest sports power; we did just destroy the second-place Chinese in gold medals and total medals at the London Olympics, didn't we? So it's a refreshing change of pace to see a country other than the United States - a country with a booming economy that's currently the sixth-largest in the world, not to mention the country that will host the next Summer Olympics - become the undisputed capital of America's fastest growing sport. Brazil is to mixed martial arts as the United States is to basketball: It's the place where the sport was born, where the sport matured, and now, as the sport grows worldwide, where the sport's most polished practitioners train and compete. The roots of the UFC can be traced not to the wizardly business dealings of UFC president Dana White and the Fertitta brothers a decade ago but instead way back to the early 20th century in Brazil. It was the 1920s when a combat sport known as Vale Tudo, or "everything allowed," became popular at Brazilian circuses. The Gracie family perfected the art of Brazilian jiu-jitsu and brought it to the United States in the 1970s, then the Gracie family helped form the UFC in the early 1990s. And it was the Brazilian Royce Gracie who used his family's fighting lineage to win three of the first four UFC tournaments. Sure, America can claim light heavyweight champ Jon Jones - the newest version of UFC fighter, who combines a mastery of a variety of martial arts disciplines with a long, athletic body to take mixed martial arts to a new level - but we still can't claim to be the capital of this sport. "You've got a lot of great fighters from there, and the Gracies were the ones who brought it up here, so it's a strong, strong tradition," UFC Hall of Famer Chuck Liddell told FOXSports.com. "Brazilian jiu-jitsu is a big part of our sport. It's a great history down there. Brazil has been really important to the sport." The UFC is trying to monetize that deep history in the second most-populated country in the western hemisphere. Sao Paulo is among the top cities in the world for the UFC's Facebook traffic, according to the company's internal numbers, and UFC was the top trending phrase on Twitter in Brazil in 2011. "There are more regular fans of the UFC in Brazil than all other countries combined," said Marshall Zelaznik, president of the UFC's UK division and the promotion's managing director of international development. "If you have Anderson Silva or any big fight happening in Brazil - and we're on free TV in Brazil - we might have 40 million people, 50 million people watching the fight live in Brazil." Compare that to the biggest UFC fights selling a million pay-per-views buys in the United States. At an estimated 10 people watching it for every buy, that's 10 million viewers for a big fight in the United States, not including fights shown at commercial establishments. This UFC fanaticism in Brazil can be attributed in part to the way of life there. They're simply a passionate people, and when they care about something, they care deeply. But just as much of that fanaticism should be attributed to crossover athletes like Royce Gracie at the beginning of the UFC and Silva today. "Who are these crossover athletes, the people who crossed over in American culture like these guys?" Zelaznik asked. "Brock Lesnar played an important role. With the WWE, he crossed over into the culture. Jon Jones has a real potential to be a crossover athlete. What makes the US audience unique is nationalism is very important to America, and we're very patriotic, but America ultimately wants the best. So Anderson Silva and GSP connect to Americans..." "But in Brazil it's more tribal in a way," he continued. "The way these people get behind their fighter and cheer on their fighter. The first Brazil event I was at, I thought, 'This thing is going to erupt. We're not going to be able to hold these people in this arena.' " So don't be surprised if, tuning into UFC 153 on Saturday night, there's a different vibe in the arena. Something more exciting. Something more alive. It's not even a title fight for Silva, but that won't matter. The Brazilians know how important their country is in the history of this booming sport. You'll feel that pride in the air. Someday, the rest of the world will pay its proper respects too. "It's really important for everyone to realize the value of Brazil and all our athletes in MMA today," Anderson Silva told reporters on a recent conference call. "We have some best athletes in the world fighting in MMA today. I'm not putting down other countries - the Americans, the Japanese, the Canadians, the British. Everyone's got great fighters. But Brazil seems to have a very strong position in MMA." Follow Reid Forgrave on Twitter @ReidForgrave or email him at ReidForgrave@gmail.com
Original Story:
http://msn.foxsports.com/ufc/story/fo...
THE BACKYARD
BEST OF MAXIM
RELATED ARTICLES
Former UFC light heavyweight champion Forrest Griffin sat down with Stephan Bonnar to give the challenger some advice on facing Anderson Silva at UFC 153 on Saturday in Brazil. Griffin was knocked out by Silva at UFC 101 in 2009, so he knew what to tell Bonnar. Ready for this hilarious list:- Don't stand with him- Don't try to punch him- Don't kick him- Don't try to submit...
Anderson Silva and Stephan Bonnar both successfully made weight today in advance of their main event clash at UFC 153 on October 13th. Silva, the UFC middleweight champion, weighed in at 202-lbs while Bonnar tipped the scales at 205-lbs. Check out the highlights from the weigh-ins in the video below. UFC 153: Silva vs. Bonnar Weigh-in Highlight. UFC 153 Silva vs. Bonnar Weigh...
It's once again fight week, so it is only fitting a video promo is released to help hype "UFC 153: Silva vs. Bonnar."While the card's lineup does feature some big names, there isn't much buzz surrounding Saturday's pay-per-view broadcast – outside of the fact Anderson Silva (Pictured) will headline the festivities.However, most fans are having a tough time justifying...
Are things too good to be true? If you sit back and tell yourself "this meat lovers pizza and peanut butter m&ms is the dinner of my dreams" could be an oasis of pleasure as you finish the DVR'd season of Hell on Wheels but later realize the red bag was the signet ring of [...]
Today's pre-fight presser for UFC 153 took place inside of the Windsor Barra Hotel in Rio. The dais consisted of main event stars Anderson Silva and Stephan Bonnar along with heavyweight co-main eventers Antonio Rodrigo Nogeuira and Dave Herman. Light Heavyweights Glove Teixeira and Fabio Maldonado were also in fielding questions. You can check out the full video after the break.
Main Card PPV (10 PM ET) • Light Heavyweight Bout: Anderson Silva (202) vs. Stephan Bonnar (205)• Heavyweight Bout: Antonio Rodrigo Nogueira (243) vs. Dave Herman (244) • Light Heavyweight Bout: Glover Teixeira (204) vs. Fabio Maldonado (203) • Welterweight Bout: Jon Fitch (170) vs. Erick Silva (169) • Light Heavyweight Bout: Phil Davis (206) vs. Wagner Prado (204)...
All the major players participating in Saturday's "UFC 153: Silva vs. Bonnar" extravaganza will be hitting the podium today at Windsor Barra Hotel in Rio de Janeiro, Brazil. Stream Thursday's pre-fight press conference live right here on 5thRound.com starting at 1PM ET/10AM PT. UFC executive Marshall Zelaznik will join Anderson Silva (Pictured), Stephan Bonnar, Dave Herman...
Anderson Silva posted this on his Instagram a few days ago and couldn't resist taking a poke a Chael Sonnen.  Babaca means stupid or idiot in Portuguese.  Advantage-Spider.Blast From The Past: Steven SeagalMy Dad Can Whip Your Dad
MMA News

Delivered to your inbox

You'll also receive Yardbarker's daily Top 10, featuring the best sports stories from around the web. Customize your newsletter to get articles on your favorite sports and teams. And the best part? It's free!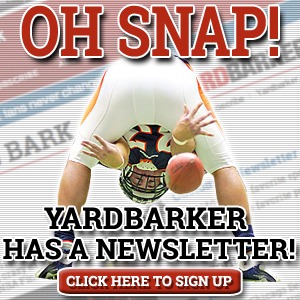 Latest Rumors
The Backyard

Today's Best Stuff

For Bloggers

Join the Yardbarker Network for more promotion, traffic, and money.

Company Info

Help

What is Yardbarker?

Yardbarker is the largest network of sports blogs and pro athlete blogs on the web. This site is the hub of the Yardbarker Network, where our editors and algorithms curate the best sports content from our network and beyond.