Found January 26, 2012 on Fox Sports West:
Phil Davis has a kinesiology degree from Penn State. He's a former NCAA wrestling champion. When he's not training, he likes to spend his free time at the beach near his home in San Diego or return to Harrisburg, Pa., where he was born and raised, to visit family and friends. But at the mere mention of these things or anything other than Saturday night -- Davis comes across as distracted, disinterested and disengaged. He has a one-track mind. Just nine fights and three years into his MMA career, Davis is facing the fight of his life. Saturday, he meets Rashad Evans on the main event of UFC on FOX 2 at the United Center in Chicago. It's a bout that will either push him to the upper level of the UFC's light heavyweight division or knock him down a couple of rungs. "It's really important for me," Davis said. "You have these important fights that people are going to remember you by, and this is one of them." Davis, 27, has been focusing on Evans for some time. The two were scheduled to meet last August until a severe knee strain Davis suffered in training forced him out. Now he has a chance to make his mark on national TV. It won't be without some difficulty. Davis is less experienced than Evans, who has 23 fights and victories over UFC notables Chuck Liddell, Forrest Griffin and Quinton (Rampage) Jackson. Evans also has the promise of a title fight with light-heavyweight champion Jon Jones if he gets past Davis. Davis has no such guarantee. "I don't need promises," he said. "I will get the next fight that comes to me. I'm not concerned about what's next. I'm concerned about right now." Even so, Davis acknowledges that Evans' future is already being mapped out. Even UFC president Dana White has said Evans will be Jones' next opponent if he doesn't get hurt Saturday. "If Rashad Evans wins, and if he doesn't get injured, he will fight Jon Jones," White said recently. "He's the guy who gets the shot. He's been waiting a long time, and he's the one who deserves it. Should Rashad get hurt, then Dan Henderson will fight (Jones) next." Davis? At the moment, he seems to be little more than a stepping stone for Evans. He insists he isn't irritated by that notion, but you can hear otherwise in his voice. "I don't care what people talk about," he said. "I've got a fight to win. Whatever people talk about doesn't really concern me. I try not to read the headlines and read the stories because I don't want to get caught up in that." Perhaps not, but it's possible Evans is getting under his skin. In the requisite trash talking media sessions, Evans has enjoyed the upper hand, dismissing Davis' skills and saying that his opponent's transitions from punches to takedowns are "trash." He also said Davis is not comfortable standing up, that he prefers fighting on the ground. Davis' response: "Bless his heart, that's how I respond to that," he said. In a conference call last week to hype their fight, Davis told reporters that he believes he'll be in line to face the winner of a Henderson-Jones title match. "They won't have anything else other than to fight for the title," he said. "That works perfectly into my plans. I take a little rest, Hendo fights for the title. Whatever happens after that, cool I'm up next." Evans responded by saying, "You ain't beatin' me, dog. It can't get here fast enough, because I'm smashin' you. He ain't ready. He knows he ain't ready. You're just a boy. We're going to see what happens when those lights hit you and you walk out and the crowd is roaring. We're going to see what kind of man you are and what kind of fighter you are." He's got one thing right. Davis (9-0) hasn't been under this kind of pressure yet. It's the main event of a nationally televised UFC card. The stakes are enormously high. If Davis wins, his stock in the sport rises significantly. But let's face it. In some ways, Davis is still a relative newbie. He's not afraid to admit it. "Truthfully, I've only been fighting for about three years," he said about his ability as a stand-up fighter. "I would say (my experience is) young. It's about three years worth of work in. But I get the job done. I've gone against experienced strikers and I don't get out-struck." At Penn State, Davis was the 2008 NCAA wrestling champion at 197 pounds. Evans' background is also in wrestling, so it figures that this match will be won or lost on the ground. But both fighters know they must be prepared to strike and to absorb strikes. Evans, in fact, doesn't hold Davis' striking in high regard. "When I hit you in the mouth, you're going to feel it," he told Davis on their conference call. "I don't know exactly where this fight is going to take place," Davis said. "It may take place on the ground because we're both wrestlers, which is cool with me. But it may not. Sometimes when you get two guys, when you get a good style clash, the outcome is pretty unpredictable." But is he confident in his ability as a stand-up fighter? "Of course," he answered. "I'm confident in my entire game." If nothing else, Davis may be able to rely on his degree at some point. He had planned to become a physical therapist but took naturally to mixed martial arts, although not for any particular reason. "It was just one of those things," he said. "I thought I was going to do it and I did." His kinesiology degree, he said, helps his preparation in terms of eating properly and making sure he doesn't over-train. "A lot of what I've pulled from my degree," he said, "is knowing how to prepare for a fight, both mentally and physically, how to give myself proper nutrition and rest, how not to over-train and just stretching, the stuff you supposed to do that a lot of people know but don't do." Will it help Saturday night? He can only hope. He's done little else the past several weeks but prepare for Evans, all in the hope of upsetting everyone's plans for the light heavyweight division. But he knows it won't be easy. Evans is more experienced, a better striker and has a title fight waiting for him. Davis is a guy whose star will keep rising, but only if he wins. Nothing else matters. "He will probably be the toughest opponent I've fought," he said of Evans. "I respect him as a fighter and as a person. I don't have a reason to hate the guy. Hating the guy takes too much work. That's just an emotion I don't have."
Original Story:
http://www.foxsportswest.com/01/26/12...
THE BACKYARD
BEST OF MAXIM
RELATED ARTICLES
From the serious to the sublime: The Evans-Davis staredown is reminiscent of a Batman-Joker confrontation. Tonight it goes down as UFC on Fox features the much anticipated PHIL DAVIS-RASHAD EVANS match-up. But before the fists and leg kicks start flying around in the Octagon Saturday night, there's always the eerily animated pre-fight weigh-in and presser… Davis is kind of...
The UFC's sophomore event on FOX takes place Saturday in Chicago as Rashad Evans and Phil Davis clash in a compelling light heavyweight battle, while Chael Sonnen and Michael Bisping vie for a shot at the UFC middleweight championship. The three-fight main card will also feature a middleweight meeting between Demian Maia and late replacement Chris Weidman. The preliminary action...
Every fanboy already knows "UFC on FOX: Evans vs. Davis" is jumping off this Saturday inside United Center in Chicago, Illinois. However, not everyone lives in the good ole US of A and has access to FOX. Thankfully, the UFC has released an international television guide to ensure nobody misses a second of this weekend's action. Light heavyweight Phil Davis (Pictured) puts...
Rashad Evans Video Blog 2 For Phil Davis At UFC on FOX 2 Chicago
"UFC on FOX: Evans vs. Davis" will be jumping off Saturday inside United Center in Chicago, Illinois. FUEL TV will kick off tonight's festivities by broadcasting six live preliminary bouts at 5PM ET/2PM PT. FOX will then make their second foray into the mixed martial arts world by airing the main card at 8PM ET/5PM PT. Rashad Evans looks to hand Phil Davis his first professional...
Weights from Chicago: Phil Davis (205) vs. Rashad Evans (205) Michael Bisping (185) vs. Chael Sonnen (185) Demian Maia (186) vs. Chris Weidman (185) Evan Dunham (155) vs. Nik Lentz (155) John-Olav Einemo (253) vs. Mike Russow (251) George Roop (145) vs. Cub Swanson (145) Charles Oliveira (144) vs. Eric Wisely (145) Michael Johnson (156) [...]
Rashad Evans goes back to his "Sweet Home" Chicago. The former UFC light heavyweight champion shows a different angle as he starts promoting his upcoming fight on FOX. "I kind of like being bOOed a little bit now … Boo me that means you love me baby" Rashad Evans faces Phil Davis at UFC on [...]
MMA News

Delivered to your inbox

You'll also receive Yardbarker's daily Top 10, featuring the best sports stories from around the web. Customize your newsletter to get articles on your favorite sports and teams. And the best part? It's free!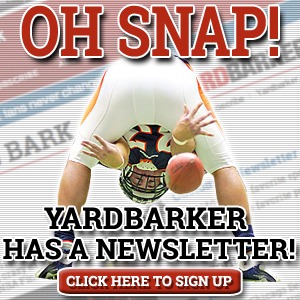 Latest Rumors
The Backyard

Today's Best Stuff

For Bloggers

Join the Yardbarker Network for more promotion, traffic, and money.

Company Info

Help

What is Yardbarker?

Yardbarker is the largest network of sports blogs and pro athlete blogs on the web. This site is the hub of the Yardbarker Network, where our editors and algorithms curate the best sports content from our network and beyond.