Social media has become a significant part of the sporting landscape. But few, if any, professional sports match the level of interaction and personal access provided by MMA. In an individual competition in which nearly every athlete is chasing the same goal of financial success and championship glory, it's important for fighters to provide insight into their lives in order to connect...
The headliners from this past Saturday's UFC 221 face a long layoff unless they can get cleared by doctors. Both Yoel Romero (13-2 MMA, 9-1 UFC) and Luke Rockhold (16-4 MMA, 6-3 UFC) received six-month medical suspensions issued by the Western Australia Combat Sports Commission, which were recently posted by mixedmartialarts.com. Romero took home a knockout victory in the pay-per...
After defeating Luke Rockhold in this past weekend's UFC 221 headliner, Yoel Romero had some words – and a kiss – for his opponent. In the UFC 221 installment of "Thrill and Agony," we see Romero (13-2 MMA, 9-1 UFC) embrace Rockhold (16-4 MMA, 6-3 UFC) after his third-round knockout win. After the pay-per-view headliner at Perth Arena in Australia, Romero who missed weight for...
Middleweight contender Yoel Romero nearly didn't fight Luke Rockhold at UFC 221, according to his manager. Romero's participation was in question up until three hours prior to his stunning win this past Saturday at Perth Arena in Perth, Australia, Malki Kawa today told MMAjunkie Radio. "He almost pulled out of the fight," Kawa said. "The man rehydrated, went to sleep the next morning...
UFC 221 recap and a look at the Bellator World Grand Prix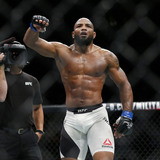 As it turns out, it appears that missing weight over the weekend won't come back to haunt Yoel Romero. That's because UFC president Dana White says there's going to be a middleweight title bout, and that Romero will face off against Robert Whittaker for it sometime in the future."Asked Dana White if plan is to have Yoel Romero fight Robert Whittaker next, despite the fact he didn...
It's hard not to feel bad for Luke Rockhold after seeing what Yoel Romero did to him at UFC 221. The two squared off in the main event, which was what the fans that showed up to Perth Arena (Australia) wanted to see, and they were not disappointed. Rockhold utilized the jab throughout the fight, and he continued to do so in the third round. However, Romero eventually tried a sick...
Now only Luke Rockhold has a chance to win the interim title in Perth on Saturday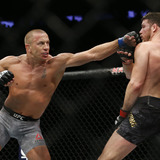 Georges St-Pierre's victory during UFC 217 came with an injury that resulted in a trip to a local hospital afterward.St-Pierre and Michael Bisping went to battle in the main event of last weekend's event at Madison Square Garden. St-Pierre claimed the win via a rear-naked choke in the third round.After the bout, St-Pierre was noticeably absent from the post-fight press conference...
We're exactly three days shy of one month since the U.S. Anti-Doping Agency announced UFC middleweight Yoel Romero (pictured) "potentially" flunked an out-of-competition drug test, and the 38-year-old is still without a resolution as he awaits a likely two-year suspension. The USADA did, however, provide some clarity as to Romero's positive result by stating a "prohibitive substance...
MORE STORIES >>
MMA News

Delivered to your inbox

You'll also receive Yardbarker's daily Top 10, featuring the best sports stories from around the web. Customize your newsletter to get articles on your favorite sports and teams. And the best part? It's free!