Found February 16, 2012 on Fox Sports:
In the age of the overproduction of sports and of stage-managed "moments," rarely does a connection between an athlete and his fans feel authentic. Sure, fans "know" their favorite athletes: what their mansions look like, which starlets they date, what they say on Twitter. But these sort of athlete-fan interactions seem tested before focus groups, directed by teams of public-relations consultants rather than inspired by authenticity. That was not the case Wednesday night at the main event of UFC on FUEL TV 1, when local boy Jake Ellenberger came out from the bowels of the aging Omaha Civic Auditorium. As his walkout song played -- "Coming Home," of course, by Diddy-Dirty Money -- the adoring Cornhuskers who packed this venue erupted. This was the city where Ellenberger grew up, the place he returned to in 2005 as a US Marine Corps veteran, and the place where he now was an assistant wrestling coach for University of Nebraska-Omaha, which had won three straight Division II national titles before the program was dropped. And on Wednesday, it was the place that launched him onto an even bigger stage, as his unanimous decision victory over Diego Sanchez in a bloody, hard-fought battle ought to vault Ellenberger to the upper echelon of the suddenly up-in-the-air UFC welterweight division. "It was electric out there," a bloodied and bruised Ellenberger said after the fight. "It was a little overwhelming walking out. I just tried to stay focused for this fight. Man, Diego is a warrior." Yes, Sanchez was a warrior, with that same never-say-die attitude he always brings to the Octagon. But Ellenberger was the better warrior, which this Nebraska crowd of 6,238 -- small for UFC standards, but producing noise as if it were 20,000 -- much appreciated. "Jake, the hometown guy, fighting in his hometown for the first time, this place was going crazy," UFC president Dana White said. "It was loud as any fight I've ever been at. I love that kind of energy." Throughout the fight, the hometown crowd kept erupting at every success, big or small, from its hometown boy. A scowling Sanchez, the middleweight winner of the first "The Ultimate Fighter" reality show, had inexplicably (though hilariously) walked up to the Octagon brandishing a silver cross. It was as if he were trying to ward off a vampire. If that was a technique to ply the crowd to his side, it didn't work. Each man came out furiously, their fists flying in a pace that rarely let up throughout the three-round fight. Every punch Ellenberger landed, the crowd went nuts: "Jake! Jake! Jake!" With 45 seconds left in the first round, Ellenberger floored Sanchez with a nasty left hook to the head, but a tough-chinned Sanchez made it through the round. In the second, the fists kept flying. After a series of Ellenberger elbows, blood was rolling down Sanchez's face. But Sanchez didn't give up, mounting an admirable comeback in the third round despite being out-struck by more than 2-1 in the fight. He took Ellenberger down against the cage with a minute remaining, pinning him, pounding his head again and again as the Omaha crowd shouted encouragement to Ellenberger. Just before the final bell, Ellenberger, a cut opened up on the bridge of his nose, broke the hold and landed a couple more punches as time expired. The crowd could feel it: the hometown boy had won. And he had. Afterward, White said he wished he had made this fight five rounds so these warriors could've kept at it. But then he sang Ellenberger's praises, making UFC fans wonder if a high-profile fight -- say, against the winner of the recently announced Josh Koscheck-Johny Hendricks fight at UFC on FOX 3 in May -- could be in his future. "There's a lot of pressure of fighting in your hometown," White said. "You get so hyped. You burn so much energy just being excited fighting in your hometown. I think he fought good tonight against a tough, durable guy who is a psycho and does not stop. (Sanchez) just keeps coming forward. Fighting Diego Sanchez is like fighting a zombie." It's a confusing division now. The man at the top, UFC legend Georges St. Pierre, is out with a knee injury until perhaps November. A rematch of the tightly contested UFC 143 fight between Carlos Condit and Nick Diaz appeared close to being made, but then Diaz failed his post-fight drug test. That could result in a one year suspension for Diaz and no natural next opponent for Condit to defend his interim welterweight belt as he waits for St. Pierre. The winner of Hendricks-Koscheck could feasibly get a shot at Condit, but White indicated Condit should wait for a St. Pierre fight. Which could mean Ellenberger gets the winner of that UFC on FOX 3 bout. One thing was clear on Wednesday night: The hometown boy had taken his star turn. No matter who he fights next, he gave his hometown crowd a fight to remember. "I'm always ready," Ellenberger said of his next fight. "There's plenty of room at the top. There's just nowhere to sit down." You can follow Reid Forgrave on Twitter @reidforgrave, become a fan on Facebook or email him at reidforgrave@gmail.com.
Original Story:
http://msn.foxsports.com/ufc/story/UF...
THE BACKYARD
BEST OF MAXIM
RELATED ARTICLES
For fight fans that scoured the Internet for a live feed of the "UFC on FUEL TV: Sanchez vs. Ellenberger" post-fight press conference, there wasn't one. While the footage we located wasn't the entire Q&A session, the UFC did release highlights of the comments made by the show's two featured fighters. Jake Ellenberger (Pictured) discusses what it was like to fight...
Believe it or not, the Octagon is hosting a major show tomorrow night in Omaha. Because "UFC on FUEL TV: Sanchez vs. Ellenberger" hasn't garnered much hoopla, the organization has released a preview video hoping to generate some last-minute buzz. The event takes place inside CenturyLink Center in Nebraska. A pivotal welterweight contest between Jake Ellenberger (Pictured...
OMAHA, Neb. – If you were left begging for two more rounds after Jake Ellenberger's thrilling three-round victory over Diego Sanchez, you weren't alone. Following Wednesday's UFC on FUEL TV 1 event in Omaha, Neb., UFC president Dana White admitted he "blew it," and all future main events will feature five rounds. "Already thought and done," White told MMAjunkie.com...
If you happened to miss "UFC on FUEL TV: Sanchez vs. Ellenberger" on Wednesday, no worries because the good folks over at FOX have released video highlights from last night's action. A welterweight scrap between Jake Ellenberger and Diego Sanchez (Pictured) headlined the festivities. Their thrilling 15-minute affair earned each athlete an extra $50,000 for 'Fight of the...
  I knew when I started this blog that it was going to have something to do with the welterweight title. Once the most "stagnant" and firmly held of the UFC belts (GSP modern day hasn't had a "Silva vs. Sonnen" style close call) today it is the most tumultuous – and talked about – belt in the game. Full disclosure: I was going to write about Carlos Condit, and the...
"UFC on FUEL TV: Sanchez vs. Ellenberger" will be jumping off Tuesday inside CenturyLink Center in Omaha, Nebraska. The UFC's Facebook page will kick off tonight's festivities by streaming five preliminary bouts at 6:20PM ET/3:20PM PT. Fanboys simply have to "Like" the UFC's Facebook page in order to watch the scraps live. FUEL TV will then host their first major...
UFC on Fuel TV featured several amazing fights, but only a selected few were able to earn fight of the night honors.  The following fighters earned an additional $50,000 for their performances tonight.  There was no suprise as to who won fight of the night; both main event participants,a  victorious Jake Ellenberger and Diego Sanchez put on [...]
Credit: MMAJunkie If you were left begging for two more rounds after Jake Ellenberger's thrilling three-round victory over Diego Sanchez, you weren't alone. Following Wednesday's UFC on FUEL TV 1 event in Omaha, Neb., UFC president Dana White admitted he "blew it," and all future main events will feature five rounds. "Already thought and done," White told MMAjunkie...
MMA News

Delivered to your inbox

You'll also receive Yardbarker's daily Top 10, featuring the best sports stories from around the web. Customize your newsletter to get articles on your favorite sports and teams. And the best part? It's free!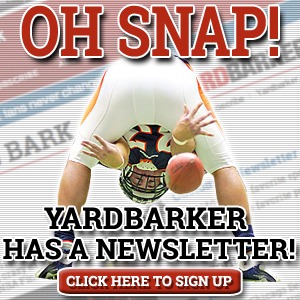 Latest Rumors
The Backyard

Today's Best Stuff

For Bloggers

Join the Yardbarker Network for more promotion, traffic, and money.

Company Info

Help

What is Yardbarker?

Yardbarker is the largest network of sports blogs and pro athlete blogs on the web. This site is the hub of the Yardbarker Network, where our editors and algorithms curate the best sports content from our network and beyond.