Found December 04, 2012 on Fox Sports:
When one of the UFC's most recognizable, controversial and fiery fighters, Nate Diaz, steps into the Octagon Saturday night to fight Benson Henderson for Henderson's lightweight belt on UFC on FOX, he'll conjure plenty of images in fans' minds. First is his thick-as-thieves relationship with his older brother, Nick, a UFC welterweight contender who'll soon come off a yearlong suspension for testing positive for marijuana metabolites. Then there's the Stockton, Calif., brothers' thuggish reputation that follows them wherever they go, fairly or not. Then there's Diaz's penchant to throw double middle fingers at the camera after -- or even during -- his fights. The surface image that Nate Diaz conjures is neither a positive nor a wholesome one. But what the casual UFC fans may not know about Diaz and his brother may be the one thing that defines them most outside the Octagon: Their manic attention to fitness and nutrition. Where most UFC fighters train with an obsessive focus on their next fight, Diaz ran two 10-kilometer races in the weeks leading up to this main event fight on national television. ("Coulda done a little better," Diaz said after the first 10K. "Nick beat me by a couple minutes.") Running for distance and competing in triathlons gives him an edge in the Octagon, he believes, because his cardio is among the best in the UFC. He runs or bikes twice a day on top of wrestling, boxing and martial arts training. "Racing fits in good with fighting," Diaz told FOXSports.com. "Mentally they got a lot of similarities. But stuff can change cardio-wise real quick if you get hit in the face really hard. That's when everything changes." One thing that never changes for either Diaz brother is their strict adherence to a diet that avoids both "land meat" and dairy. When Nate Diaz was a teenager and first getting into competitive mixed martial arts, he saw his older brother give up meat and dairy. "If Nick is not doing it, I'm not doing it," Nate said. "And he'd still beat people up real good." It seems a diet more fit for a fashion-model waif trying to keep her girly figure than for a combat artist competing for the title of baddest man on the planet. But Diaz has simple reasons for eating almost exclusively raw fruits and vegetables, organic and whole foods as opposed to manufactured foods, and only occasionally throwing in fish and eggs: It makes him feel better. It makes him train harder. He has fewer injuries than other fighters. And he never gets sick because of his strong immune system. "I'm not involved in that garbage," Diaz said of eating meat. "(Meat and cheese) grosses me out nowadays. I stopped for a while. I was missing it at age 17: 'I can't wait to have some cheese!' I gave it up for a fight, then had it after not having it for a month, and it messed me up and made me sick." Being a professional UFC fighter is often seen as a barbaric way to make a living. Step into the cage and you're engaging in the ultimate test of who is the stronger man, who is the better fighter. Arena shows are filled with bloodlust and alcohol. They aren't places where fans clap politely and eat strawberries and cream. But there's no shortage of fighters like Nate Diaz whose views on food seem more at home at an effete New York City organic restaurant, or at a granola-y West Coast farmer's market, than at a cage fight. "The food system, people don't realize what they're eating," Diaz said. "You look at food and think, 'What's in that?' 'It's just chocolate!' 'It's just Gatorade!' But on the list of ingredients, there's a long list of garbage they put in your food. Not all that crap for me. It's just the way I live, man. I'm 27, and I've been that way for nine years." In the month leading up to his UFC on FOX fight, Diaz went to an all-raw diet, meaning he's only eaten uncooked, unprocessed, organic foods. He can eat more than if he were on a typical American meat-and-potatoes diet, he says, and it helps the 155-pounder keep weight off. A couple of days before Thanksgiving, I asked Diaz what he'd eaten for dinner the night before. He'd had raw pasta noodles made out of kelp -- that's seaweed, folks -- and topped with pesto. The recipe seems to work. After springing onto the UFC map by winning season five of The Ultimate Fighter by dislocating Manny Gamburyan's shoulder in the final, Diaz has climbed to the top of the lightweight division after briefly flirting with becoming a welterweight. He suffered a setback in 2010 when he lost a controversial decision to Gray Maynard, but he has compiled a three-fight win streak over Takanori Gomi, Donald Cerrone and Jim Miller. On Saturday the 27-year-old Brazilian jiu-jitsu black belt, one of the UFC's toughest and most unrelenting fighters, will fight for the second time in a row in front of a nationally televised FOX audience, this time for the title. So say what you will about the reputation of vegetarianism as a diet for wimps. Proclaim the merits of the red-meat-heavy Atkins Diet. Scoff when someone asks for the veggie burger. Nate Diaz may even listen to you for a moment. Then he'll get into the cage and whoop your flesh-eating butt. Follow Reid Forgrave on Twitter @ReidForgrave or email him at ReidForgrave@gmail.com .
Original Story:
http://msn.foxsports.com/ufc/story/uf...
THE BACKYARD
BEST OF MAXIM
RELATED ARTICLES
Nate Diaz Vitals 6'0" 155 lbs (Lightweight) 76" reach, Southpaw April 16, 1985 Record 16-7 (UFC: 11-5) Current Streak 3 straight wins Training Black belt in Brazilian Jiu-Jitsu Championships Held The Ultimate Fighter 5 Lightweight Champion: 2007 Read more ...
Benson Henderson and Nate Diaz (Pictured) have each taken different and distinctive paths towards Saturday's championship showdown. Henderson had to prove his mettle in the WEC and bounce back from a devastating "Showtime Kick" via Anthony Pettis before he finally captured the UFC belt. Bendo is now looking to notch his second consecutive UFC title defense. Diaz, meanwhile...
It's been a long and winding road, but Nate Diaz (Pictured) is just days away from finally entering a UFC championship fight. Unfortunately for Mr. 209, he'll step inside the Octagon Saturday as a slight underdog against reigning lightweight king Benson Henderson. Diaz has been pegged as a +130 dark horse against "Smooth." Henderson, meanwhile, checks in as a -160 odds-on...
If you were confused about what time "UFC on FOX: Henderson vs. Diaz Road to the Octagon" aired in your local market on Sunday, you probably weren't the only one. No worries, because we've located to hour-long documentary to get you up to speed. The show focused on Saturday's three featured fights. First, take a look at up-and-comer Rory MacDonald as he prepares to battle...
The bad news: Michael Chiesa (Pictured) has been forced out of Saturday's scrap against Marcus LeVesseur due to illness. The good news: the lightweight affair wasn't one of  "UFC on FOX: Henderson vs. Diaz's" four featured fights. The contest was to mark Chiesa's first since taking "The Ultimate Fighter 15″ tournament back in June. No word on what exactly caused...
Would you like a sneak peek at the video intro for the baddest freebie fight card in UFC history? Good, because we've obtained the footage for your viewing pleasure. "UFC on FOX: Henderson vs. Diaz" takes place Saturday inside Key Arena in Seattle. A light heavyweight affair between former champ Mauricio "Shogun" Rua (Pictured) and Alexander Gustafsson co-headlines the...
After watching the injury bug wipe away a pair of preliminary fights at the last minute, the bout order for Saturday's star-studded "UFC on FOX: Henderson vs. Diaz" event has once again been finalized. With Lavar Johnson vs. Brendan Schaub and Michael Chiesa vs. Marcus LeVesseur receiving late scratches from the FX broadcast, the Facebook scraps between Tim Means vs. Abel...
It's fight week, so you know what that means – it's blog week for UFC president Dana White (Pictured). In anticipation of Saturday's "UFC on FOX: Henderson vs. Diaz" extravaganza, White takes fans behind-the-scenes at the Octagon's last card, shows what Ronda Rousey has been up to (literally) and gets predictions on this weekend's scraps from "The Ultimate Fighter...
  "When they talk about the greatest fighters of all time, I don't ever hear my name coming up any more, and I'm just sick of it. I wanna get back to the glory days." - The Prodigy" B.J. Penn"As a young kid, I looked up to BJ. As a man I don't anymore. He's just another fighter on his way to losing....to me." - Rory "Ares"...
Did you catch the UFC's "Road to the Octagon" after football on Sunday? If not, no worries as we've got the entire episode here for you to check out. The episode follows BJ Penn, Rory MacDonald, Shogun Rua, Alexander Gustafsson, Benson Henderson and Nate Diaz as they prepare for this Saturday's fight-night. Highlights include MacDonald [...]
MMA News

Delivered to your inbox

You'll also receive Yardbarker's daily Top 10, featuring the best sports stories from around the web. Customize your newsletter to get articles on your favorite sports and teams. And the best part? It's free!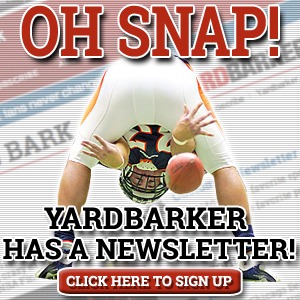 Latest Rumors
The Backyard

Today's Best Stuff

For Bloggers

Join the Yardbarker Network for more promotion, traffic, and money.

Company Info

Help

What is Yardbarker?

Yardbarker is the largest network of sports blogs and pro athlete blogs on the web. This site is the hub of the Yardbarker Network, where our editors and algorithms curate the best sports content from our network and beyond.