Found December 31, 2011 on Fox Sports:
For a while now the perception has been that the UFC's strongest division is lightweight. A lot of that has to do with the insanely deep talent pool at its disposal, and the strange unpredictability it brings. On Saturday night at UFC 141 Johny Hendricks did his part to muddy the waters even more as he took eternal No. 2 contender Jon Fitch out in just 12 seconds, thanks to perfectly-aimed punch to the temple. It was a great win for his resume, but where does that leave the division now that one of the greats has fallen? The general idea was that since Georges St. Pierre would be out of action, most likely until 2013, a new interim champ would be crowned Super Bowl weekend and that Fitch would finally have a chance to elbow his way back into the title picture. That obviously isn't going to happen and Hendricks was quick to turn to shameless self promotion during the post-fight press conference in an attempt to shine the spotlight on himself. Sure he has a 12-1 record, but he is much more interested in pointing out that while GSP had five rounds to finish Fitch, he couldn't do it, whereas Hendricks effortlessly polished him off in under a quarter minute. Never mind the fact that GSP is kind of the anti-finisher of UFC champs and is constantly being badgered for his inability to put guys away. Hendricks also launched a preemptive strike against any in the nay-saying media who might dump on his assessment of himself by claiming that nobody gave him a chance against Fitch, and since they were dead wrong about that how could they possibly be right about anything? Fair enough point, and I think we would all be fairly high on ourselves if we had just had the night that he did, but let's not get ahead of ourselves. Certainly Jake Ellenberger is ranked higher, right? What about Josh Koscheck or Brian Ebersole or Rory MacDonald? Even fellow UFC 141 competitor Dong Hyun Kim only has one loss on his record and more wins to possibly tip the balance in his favor. With that much competition surrounding him, can you hardly fault the guy for turning to gab to help him lurch a little further up the ladder? We do know that an even bigger winner than Hendricks Saturday night was UFC president and founding member of the "I Hate Jon Fitch Club," Dana White, who has always been openly critical of Fitch and his, shall we say, methodical approach to MMA. Now he doesn't have to think up some strange spin to explain away the reason Fitch isn't getting another chance to claim gold. Hendricks really needs at least one more win before he can feel secure in being the No. 1 contender, so why not book him against Ellenberger with the winner taking on the winner of the interim title bout between Nick Diaz and Carlos Condit? It is at this point that we should reflect on the past two years in the lightweight division and remember that nothing can be counted on at all. What if B.J. Penn returns from retirement or GSP returns to action a shell of his former self? Fights will be made, alterations will happen and the welterweight division will be a crazy ride for many years to come. If you thought Saturday night's KO provided you with a shock, I can safely predict that we ain't seen nothing yet.
Original Story:
http://msn.foxsports.com/ufc/story/UF...
THE BACKYARD
BEST OF MAXIM
RELATED ARTICLES
It's likely that no one will get their hands on Georges St-Pierre's UFC welterweight title belt before the end of 2012, but the race for the interim strap could be epic. The contenders lining up behind Nick Diaz and Carlos Condit should make the 170-pound division the most entertaining in the sport in 2012. With his devastating victory over Jon Fitch, Johny Hendricks made...
Jon Fitch (23-3-1) vs. Johny Hendricks (11-1) Sitting on the shelf since a razor-thin draw against B.J. Penn this past February, the consensus top-three welterweight Fitch finally returns to action against Hendricks, an emerging contender with similar tools. The 33-year-old Fitch has struggled to get the attention he rightfully deserves based on a string of nine fights that have...
Actually, it was more like one second, as it was a single punch from Johny Hendricks that took Jon Fitch out of their welterweight match at UFC 141. More »
Johny Hendricks Excited To Upset Jon Fitch
LAS VEGAS - Jon Fitch played it smart for years and it paid off with a sterling 12-1-1 career mark in the UFC. But when you fight to decisions that often, you're eventually going to get nailed. The veteran welterweight got drilled by the first punch Johny Hendricks winged his way and the lights went out. Hendricks scored a big upset in just 12 seconds at UFC 141 at the MGM Grand...
UFC 141 Video Preview: Jon Fitch Vs. Johny Hendricks
Welterweight upsetter Johny Hendricks and co-main eventers Nate Diaz and Donald Cerrone walked away from UFC 141 with $75,000 post-fight bonuses on Saturday night.
– The following fighters took home $75,000 bonuses from the UFC 141 event… KO OF THE NIGHT: Johny Hendricks FIGHT OF THE NIGHT: Nate Diaz and Donald Cerrone – UFC president Dana White announced during the post-event press conference that UFC 141 had an announced attendance of 12,158 and a live gate of $3.1 million. An official tally will be released by the Nevada State Athletic...
MMA News

Delivered to your inbox

You'll also receive Yardbarker's daily Top 10, featuring the best sports stories from around the web. Customize your newsletter to get articles on your favorite sports and teams. And the best part? It's free!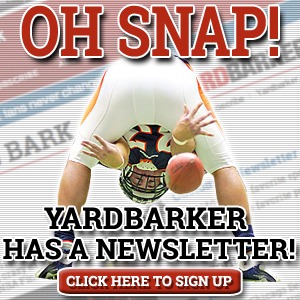 Latest Rumors
The Backyard

Today's Best Stuff

For Bloggers

Join the Yardbarker Network for more promotion, traffic, and money.

Company Info

Help

What is Yardbarker?

Yardbarker is the largest network of sports blogs and pro athlete blogs on the web. This site is the hub of the Yardbarker Network, where our editors and algorithms curate the best sports content from our network and beyond.