Found March 07, 2013 on Fox Sports:
Georges St-Pierre is seen as one of the more stoic figures in UFC, a stone-like facade he shed minutes into a conference call with reporters to promote next weekend's UFC 158. "Let me tell you something, you uneducated fool," St-Pierre scolded his fiery opponent, Nick Diaz, during Thursday's call. There's been plenty of speculation as to whether Diaz could get into the head of St-Pierre, who will attempt to defend his welterweight belt for the ninth consecutive time at Montreal's Bell Center on Saturday, March 16. At least for a good portion of the call, it appeared Diaz did. Diaz, in often rambling responses, zinged St-Pierre several times during the 40-minute call. Among the best -- and usually offensive -- lines offered by Diaz: - "I don't know what he's going through with this whole dark side or where he comes from or whatever. I know where the (expletive) I come from. I don't have to dredge up some (expletive) to get everybody excited." - "My life is a mess. I work hard regardless. I don't have people toweling me off and handing me water bottles left and right and getting my training ready for me. I have to do that (stuff) on my own. I don't have people sending tweets out for me or people taking care of my money. I'm too busy fighting all your fights." - "If I had that much money I'd have myself pampered the (expletive) up. I'd have people pampering my (expletive) left and (expletive) right every hour on the hour. With those types of remarks from Diaz, it's understandable why St-Pierre couldn't help himself to react. "I don't think you are smart enough to understand what you need to do to reach that point," St-Pierre said. St-Pierre, a native francophone, also said he speaks better English than Diaz at one point in the call. "Do you seriously believe I'm afraid of you?" St-Pierre asked Diaz. Carlos Condit -- who has been in the Octagon against both fighters -- told FOXSports.com that come March 16, Diaz could "possibly" get into St-Pierre's head enough to topple the longtime champ. "Georges has a huge beef with Diaz because he's talked a lot of trash about him," said Condit, who faces Johny Hendricks in the co-main event of UFC 158. "That's what Diaz does. He tries to get into your head. He tries to ruffle your feathers. He wants to get in your face to force you into a punching competition with him." Diaz ridiculed St-Pierre's style, which emphasizes winning by wrestling and grappling more than knockouts. "If anything I'm the superhero coming in with the anti-bull (expletive)," Diaz said. "This is MMA. This is something boring (expletive) we're watching lately." It's obvious where Diaz was getting his motivation, outside the typical "underdog" tact. Diaz said he didn't like the way he's been portrayed in promotional TV spots for UFC 158. In the commercial, UFC president Dana White said St-Pierre told him Diaz was "the most disrespectful person he had ever met and I'm going to put the worst beating you have ever seen on him in the UFC." "You believe that I deserve to be beat down for whatever I've done in my life?" Diaz said. "Now I believe you deserve (it)," St-Pierre quipped. St-Pierre said previously he'd go to "a dark place" in his mind to overcome any challenge Diaz would pose in the Octagon. St-Pierre didn't specify what that was, but those on Twitter began to speculate what that dark place was for a fighter who has the reputation of being a nice, if not boring, individual. One of the more humorous tweets came from a fellow fighter. "Getting a free water cup and filling it up with Sprite," UFC flyweight Joseph Benavidez wrote on Twitter. St-Pierre said he didn't know about the minor Twitter phenomenon regarding his dark place. Furthermore, he said he doesn't handle his Twitter account that has more than 626,000 followers. That gave Diaz another opening to basically call St-Pierre a phony. "He's got somebody making Twitter (messages) for him," Diaz said. "He has people living for him (in public)." Of course, it will be St-Pierre, not one of his reps in the cage next weekend. It should be clear fairly quickly whether it will be the same calculated GSP -- or one who took the bait laid out by Diaz.
Original Story:
http://msn.foxsports.com/ufc/story/uf...
THE BACKYARD
BEST OF MAXIM
RELATED ARTICLES
No more Mr. Nice Guy. Typically overly polite UFC welterweight champ Georges St-Pierre (pictured) has been forced to go to a "dark place," and it's all because of Nick Diaz. Plenty was said during Thursday's epic conference call – mostly by Diaz, so some of his tangents made sense, while other part of his rants were contradictory. After re-sifting through 45 minutes of...
One of the most anticipated welterweight title fights in recent memory takes place next Saturday as welterweight kingpin Georges St-Pierre takes on former Strikeforce 170lb champ Nick Diaz in what can only be considered a grudge match. The bad blood between these two world-class fighters is no secret and they would like nothing better than to prove to the world that they could...
I hope Nick Diaz has good health insurance because the way Georges St. Pierre is talking, he might need it. During a media conference call involving both fighters for their bout at UFC 158 on march 16th, Diaz who is a master agitator, once again got St. Pierre to divert from his usual humble persona and engage in trash talk, according to Yahoo Sports Maggie Hendricks. Diaz, began...
Here is a throwback picture of Georges St-Pierre and Nick Diaz as young kids. I feel like this fight isn't getting the hype it deserves. Nick Diaz Dominates UFC 158 Call Nick Diaz To Save MMA
Here are some "highlights" from the conference call featuring Georges St-Pierre and Nick Diaz. St-Pierre: [On if he's seen the #GSPDarkPlace tweets] I have not seen it. I never tweet once in my life. I have people doing it for me. I'm not into social media at all. Diaz: I don't know what he's going [...]
The UFC has released the extended preview for next week's UFC 158 card in Montreal, Quebec. The card is headlined by a highly anticipated welterweight showdown between champ Georges St-Pierre and former Stirkeforce 170lb champ Nick Diaz and will feature a string of other entertaining welterweight match-ups including Carlos Condit vs.Johny Hendricks and Jake Ellenberger vs. Nate...
GETTING INTENSE
Georges St-Pierre and Nick Diaz had an intense media call leading up to their UFC 158 fight. Read about what was said on the call.
image via ufc Nick Diaz may talk in circles sometimes, well a lot of time, but he has to be the most interesting, and honest interview in the world. During today's conference call he gets about as candid as one can possibly get. Diaz reveals to us, and his opponent that he's sick of being labeled as the bad guy. He also calls out St. Pierre for saying that he (Diaz) deserves...
Yeah, as if anything the UFC's video department releases could top Thursday's epic conference call. Nonetheless, they have launched an extended video preview for "UFC 158: St-Pierre vs. Diaz" to help generate additional hoopla for next Saturday's show. Nick Diaz (pictured) may not like participating in "beauty pageants," but Mr. 209 did a masterful job of single-handedly...
Nick Diaz vs. Georges St. Pierre – the fight we've been clamoring for since BJ Penn was coming off of a win (God, that was so long ago). Originally slated to go down at UFC 137 at the Mandalay Bay in Las Vegas over Halloween weekend of 2011, one of the strangest switcheroos in recent memory was pulled and we were left with a sidelined and injured GSP out of the fight and a media...
The bad news, the injury bug has taken a bite out of next Saturday's "UFC 158: St-Pierre vs. Diaz" lineup. The good news, none of the card's significant scraps are affected. On Wednesday morning, the UFC announced an undisclosed injury has forced Yves Jabouin out of his bantamweight brawl with Johnny Eduardo. The preliminary bout was slotted to stream live on Facebook. No...
MMA News

Delivered to your inbox

You'll also receive Yardbarker's daily Top 10, featuring the best sports stories from around the web. Customize your newsletter to get articles on your favorite sports and teams. And the best part? It's free!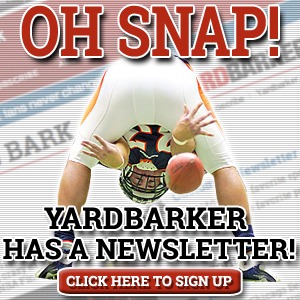 Latest Rumors
The Backyard

Today's Best Stuff

For Bloggers

Join the Yardbarker Network for more promotion, traffic, and money.

Company Info

Help

What is Yardbarker?

Yardbarker is the largest network of sports blogs and pro athlete blogs on the web. This site is the hub of the Yardbarker Network, where our editors and algorithms curate the best sports content from our network and beyond.