Found May 04, 2012 on Fox Sports:
Let's lose all our pretensions and get this out of the way straight off: Josh Koscheck is a punk. A no-good, foul-mouthed punk whom nobody should want to win this weekend against the likable, down-home Johny Hendricks. Maybe it's the heel reputation Koscheck has cultivated since he burst onto the scene in the first season of "The Ultimate Fighter," filling that staple reality-show role of "the arrogant jerk." Maybe it's the fact he likes to brag about his big house and his black Ferrari. Maybe it's the fact that, at a media event earlier this week to promote his welterweight fight in Saturday's UFC on FOX: Diaz vs. Miller event, he referred to the mixed-martial arts media as "(bleeping) retards." Or maybe it's just that god-awful bleached-blond hairdo. There's no two ways about it: As any UFC fan can tell you, this is no man you'd want to bring back home to your mother. But there's a funny thing about Koscheck leading the lists of the most-hated fighters in the UFC, a man who draws catcalls and boos at every stop, no matter how well he fights. All that hate? It's good for him. And it's even better for the UFC. Imagine if every UFC fighter were like the polite, soft-spoken Georges St. Pierre. Or the refined, religious Jon Jones. Or the salt-of-the-earth, countrified Matt Hughes. If every fighter were as likable and inoffensive as those three, the sport would be stale. There wouldn't be fights in which the fans were backing the good guy over the villain. It'd be like a tennis match, two people swinging back and forth with polite applause now and then. Fact is, the UFC -- in this sport based on two men entering a cage to try to obliterate the other -- needs fighters like Koscheck. As much as the sport needs its golden boys, it also needs the loudmouthed Chael Sonnen. It needs the divisive Diaz brothers. It needs a through-and-through jerk like Michael Bisping, who has been known to spit in his opponent's corner. Because in order to have people you root for, you need people to root against. It might seem a tough burden to shoulder, but it's good business. I posed that question to Koscheck at Thursday's news conference in Manhattan, before Koscheck's fight against Hendricks on the main card of the nationally televised FOX fight: Do all those boos ever get to him? "Nope," he said simply. The crowd laughed, and then Koscheck went a bit further. "Why would I let a bunch of couch-potato Internet warriors get to me?" he said. "I don't let that bother me. . . . I'd rather have them booing the hell out of me every time I walk out there than be like, 'Chirp, chirp, chirp.' I'm probably not going to have a job if that's the case. So keep booing me. Please." In response, the crowd merrily booed the 34-year-old fighter. No, the guy's not exactly likable. But he's smart. He knows that playing the heel, playing the villain, is as crucial to his success as winning fights -- which he's also done, winning his past two fights after his title loss to St. Pierre in 2010. Fans love to have someone to hate. You better believe more people will watch a card stacked with divisive fighters such as Koscheck than if it were filled with kind, polite, milquetoast fighters. It's not as if the boos that surely will rain down on Koscheck on Saturday night at the Izod Center in East Rutherford, NJ, will stem from a dislike of the guy's fighting style. He's one of the most well-rounded fighters in the UFC. He was an NCAA wrestling champion in 2001 and has added powerful striking power to his wrestling base to bring him to the top of his weight class in the UFC. After knocking out UFC legend Matt Hughes in September at UFC 135, Koscheck seemed flummoxed when his resounding victory was met with resounding boos. He'd just beaten a legend and won knockout of the night, and he did it with class; didn't he deserve the crowd's praise? Yet he's grown to embrace the role of villain. The professional wrestling industry has made a killing off typecasting its warriors as heels and faces. And that world-against-me mentality that comes with being hated also helps when Koscheck steps into the Octagon. So perhaps that's why, when he met with the media earlier this week, Koscheck said this: "You guys are crazy, and I can't wait to prove all you guys wrong, every one of you. . . . I laugh at you idiots." Remember that Saturday, when you're rooting lustily against this Koscheck punk: It'll probably be the punk who gets the last laugh. You can follow Reid Forgrave on Twitter @reidforgrave, become a fan on Facebook or email him at reidforgrave@gmail.com.
Original Story:
http://msn.foxsports.com/ufc/story/jo...
THE BACKYARD
BEST OF MAXIM
RELATED ARTICLES
DON'T HOLD BACK
UFC fighter Josh Koscheck took exception to the media questioning his age earlier this week, so he ripped into them and called them all "retards" and "idiots."
Welterweight Josh Koscheck (Pictured) has long been one of the most disliked athletes on the UFC's roster, so fans' disdain for the controversial 34-year-old is likely to hit a fever pitch after seeing the house and toys he owns. As all the cool kids are saying these days, "Haters gonna hate." In this week's edition of FUEL TV's "UFC Ultimate Insider," Koscheck...
Apparently, being the villain pays well.  Josh Koscheck isn't the most popular of people, among fans and fighters alike, but that doesn't mean he's not living large, pushing luxury cars.  Check out this video tour of Mr. Koscheck's crib.[youtube]Xv_BRPIlyN0#![/youtube] 
UFC Ultimate Insider takes a trip to Fresno, California to check out welterweight Josh Koscheck's eight-room, waterfront mansion and all of his awesome rides. Find out why his favorite "ride" is by air, not by land.
Josh Koscheck is not sure if he respects Johny Hendricks….he plans to figure that out on Saturday night when they clash in the co-main event of UFC on FOX 3. Despite being considered an underdog by many, Koscheck believes that the surging Hendricks is the one who still has a lot to learn. Koscheck does not shy away from the role as the villain as he is out to prove his doubters...
Josh Koscheck (17-5) vs. Johny Hendricks (12-1) An intriguing welterweight booking features two fighters with similar skillsets as the former title challenger Koscheck looks to return to the championship mix against the fast-rising phenomenon Hendricks. Koscheck, 34, a UFC staple since emerging as a finalist on the first season of "The Ultimate Fighter" in 2005, recently...
UFC president Dana White has long professed that mixed martial arts is a young man's game. However, former welterweight top contender Josh Koscheck (Pictured) believes he's just now hitting his prime at the tender age of 34. Between his bitter divorce from American Kickboxing Academy to opening up his own gym in Fresno, California to fighting an up-and-coming 28-year-old slugger...
The UFC continues its onward march into the busy summer schedule with a free offering on network television this weekend. The UFC on Fox 3 main event features a potential Number One Contender's bout for the UFC's Lightweight Championship as Nate Diaz battles Jim Miller. Related posts: UFC On Fox 2 Predictions & Analysis UFC On Fox 1 Prelim Fights – Predictions &amp...
The Ultimate Fighting Championship has a stacked four fight main card lined up for their third event on FOX television. Headlining UFC on FOX 3 will be a pivotal lightweight clash between Nate Diaz and Jim Miller. Diaz will earn a shot at the lightweight title with a win over the tough Miller. UFC on FOX 3 takes place from the IZOD Center in East Rutherford, New Jersey. The main...
An additonal $ 65,000 was awarded to each of the following fighters for their refusal to underachieve during tonight's fights inside of East Rutherford, New Jersey's IZOD Center. Fight of the night - Louis Gaudinot vs. John Lineker Knockout of the night - Lavar Johnson Submission of the night - Nate Diaz
A very special episode of Fight Day Live will be coming at you today at 4pm ET from the Izod Center in East Rutherford, NJ.  The UFC invades the Fox network with an action packed card highlighted by two contender fights of Josh Koscheck vs. Johny Hendricks and Nate Diaz vs. Jim Miller.  Fight Day Live will break down the full fight card as well as discuss the hot button topics...
MMA News

Delivered to your inbox

You'll also receive Yardbarker's daily Top 10, featuring the best sports stories from around the web. Customize your newsletter to get articles on your favorite sports and teams. And the best part? It's free!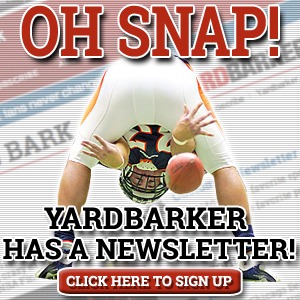 Latest Rumors
The Backyard

Today's Best Stuff

For Bloggers

Join the Yardbarker Network for more promotion, traffic, and money.

Company Info

Help

What is Yardbarker?

Yardbarker is the largest network of sports blogs and pro athlete blogs on the web. This site is the hub of the Yardbarker Network, where our editors and algorithms curate the best sports content from our network and beyond.