Found March 13, 2013 on 5thRound.com:
As we keep peeling back all the layers of this Georges St-Pierre (pictured) vs. Nick Diaz onion, it just comes up smelling better and better after every coat. On Wednesday's edition of "The Jim Rome Show," UFC president Dana White revealed an unknown wrinkle that helps explain how Diaz drove St-Pierre to this "dark place." After steamrolling BJ Penn at UFC 137, Diaz questioned the legitimacy behind the injury that forced St-Pierre out of their fight that night. GSP was sitting front and center listening to Diaz's in-Octagon call out. Minutes later at the post-fight press conference, White said the "St-Pierre flipped out" line that's been running in all the UFC 158 promos. Well, it appears that was only just the beginning of Diaz's verbal assault on the reigning welterweight champion.  "There's more to this story that hasn't been told," White stated on the radio show. "Nobody has talked about this, I haven't said anything about it, but at one of the fights, the one where he really starts calling Georges out, he was chasing Georges around the hotel and like yelling at him and stuff. And Georges thought that he was going to try to fight him at the hotel. He was just waiting for the elevator doors to open and see Nick Diaz. "The last fight when [Diaz] said all that stuff after he won his fight in the ring about Georges, he was really messing with Georges bad at the fight – like trying to fight him at the hotel. That really pissed Georges off." Ironically, it was Diaz who kept claiming St-Pierre was "out of line" during last week's instant classic conference call. When asked if he thought they were going to throw down in the hotel, White believes their beef would never have come to that kind of barbaric behavior. However, he does think that's the root behind St-Pierre's never-before-seen ire. "I don't think that would ever happen, but Georges St-Pierre felt like it was and that bothered him," White said of the bitter rivals fighting in the lobby. "Georges St-Pierre has said publicly many times that when he was younger, he used to get bullied and that's what got him into martial arts. "And he just has this crazy thing about bullies and he thinks that Nick Diaz is a bully." St-Pierre and Diaz get to settle their differences this Saturday at UFC 158.
Original Story:
http://www.5thRound.com/141582/nick-d...
THE BACKYARD
BEST OF MAXIM
RELATED ARTICLES
The cat's out of the proverbial bag. The not-so-secret to Georges St-Pierre's (pictured) success is his unparalleled ability to plant his opponents on their backs.   The reigning UFC welterweight king has followed the same recipe since getting TKO'd by Matt Serra in arguably the biggest upset in mixed martial arts history. Since the April 2007 upset special, St-Pierre has...
When UFC president Dana White revealed Wednesday that Nick Diaz had harassed welterweight king Georges St-Pierre (pictured) in the hotel lobby after UFC 137, some fans thought White simply had his promoter's cap on trying to douse more fuel onto the already white-hot fire. Well, it appears there was plenty of truth behind White's tale. "First of all, I don't think [St-Pierre...
(Eric Bolte-USA TODAY Sports)   In part 1 of this breakdown we are going to cover Georges St-Pierre's paths to victory.  When you break down a fight using my paths to victory approach you need to keep in mind that there are only three ways to win a fight; by submission, by knockout or technical knockout, and by decision.  Consider each path to victory for the fighter...
Nick Diaz is getting reckless with his accusations against Georges St-Pierre. The two will meet Saturday at UFC 158 in Montreal, and now there is something fresh on everyone's minds — accusations from Diaz (pictured) that his opponent is using "plenty of steroids." Diaz hinted during the pre-UFC 158 press conference Thursday that GSP is on steroids. That caused an angry...
The official weigh-ins for "UFC 158: St-Pierre vs. Diaz" take place today inside Bell Centre in Montreal, Canada. Stream Friday's weight contest live right here on 5thRound.com starting at 4PM ET/1PM PT. Please click HERE for the official weigh-in results. Welterweight king Georges St-Pierre (pictured) defends his throne against bitter rival Nick Diaz in Saturday's featured...
Wanna see the hour-long show that allegedly cost UFC president Dana White $50,000 more than what he was expecting to pay for it? You're in luck, because "Countdown to UFC 158: St-Pierre vs. Diaz" premieres tonight on FUEL TV at 11PM ET (8PM PT on satellite). The documentary follows welterweight king Georges St Pierre (pictured) and Nick Diaz as they prepare for Saturday's...
All the fighters slated to participate in tomorrow night's "UFC 158: St-Pierre vs. Diaz" event will be tipping the scale today inside Bell Centre in Montreal, Canada. The first athlete is scheduled to weigh-in at approximately 4PM ET/1PM PT. Please click HERE if you would like to stream today's weight competition. Nick Diaz (pictured) ends his year-long marijuana suspension...
If you missed Tuesday's debut of "Countdown to UFC 158: St-Pierre vs. Diaz" on FUEL TV, no worries because we've located the footage for your viewing pleasure.  The documentary followed welterweight king Georges St Pierre and Nick Diaz (pictured) as they prepared for Saturday's shootout in Montreal. Carlos Condit and Johny Hendricks, who meet in UFC 158′s co-main event...
Nick Diaz has said a lot of things about Georges St-Pierre but his newest attack may be the one that gets under GSP's skin most. Diaz is now accusing GSP of being on steroids and is openly questioning whether the champ is being tested or not.
"Actually, I listened to it after all. I couldn't understand at the moment what he was saying, referring some bad word. I thought he said like I was having sex with my own biological mother. That's what he says to me. I got frustrated because I don't like to be disrespected. I'm a nice guy man. You don't disrespect me. So, I'm going to be disrespectful too...
You didn't expect this one to go smoothly did you?
Hey, you guys want to know a secret? I don't think that Georges St-Pierre and Nick Diaz like each other very much. In fact, I can't remember the last time that I've been so excited for a UFC Pay-Per-View that features two guys who hate each other this much. I mean, Bigfoot Silva and Alistair Overeem didn't care for each other, but GSP and Diaz just f*cking hate each other...
MMA News

Delivered to your inbox

You'll also receive Yardbarker's daily Top 10, featuring the best sports stories from around the web. Customize your newsletter to get articles on your favorite sports and teams. And the best part? It's free!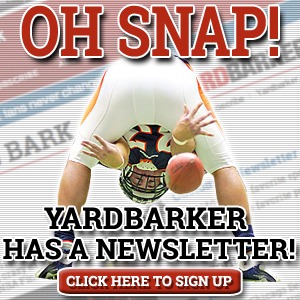 Latest Rumors
The Backyard

Today's Best Stuff

For Bloggers

Join the Yardbarker Network for more promotion, traffic, and money.

Company Info

Help

What is Yardbarker?

Yardbarker is the largest network of sports blogs and pro athlete blogs on the web. This site is the hub of the Yardbarker Network, where our editors and algorithms curate the best sports content from our network and beyond.