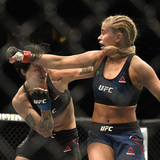 As UFC's Paige VanZant looks to potentially make a career move to the WWE, the flyweight MMA fighter is making some changes outside of the octagon.VanZant announced on social media Sunday that her boyfriend, Austin Vanderford, proposed to her. In no real surprise, the 23-year-old former Dancing with the Stars contestant said yes. A post shared by  Paige VanZant (@paigevanzantufc...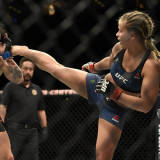 Paige VanZant's recent run in UFC may not be as good as she'd like, but it looks like her personal life is in a good place.On Sunday, VanZant announced on Twitter that she was engaged to her boyfriend, MMA fighter Austin Vanderford. The 23-year-old made the relationship public last August. VanZant recently took a shot at the UFC flyweight title, but was unsuccessful, and it's not...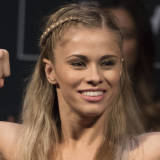 We would pay a lot of money to see MMA superstars Ronda Rousey and Paige VanZant go up against one another in the Octagon.But it looks like the two might very well square off as new members of pro wrestling's WWE. We already know the story about Rousey flirting with the idea of making the jump from the UFC to the WWE.Now, fellow legend Paige VanZant may be looking to do the same...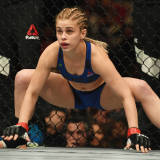 Is she or isn't she?Paige VanZant appeared to share some news on Twitter Saturday night when she said that her next fight would be the winner of the 125-pound Ultimate Fighter. The UFC previously had three women's divisions, but this year they added a 125-pound flyweight division. The winner of "The Ultimate Fighter 26" reality show will be the inaugural champion. VanZant is saying...
Mixed martial arts doesn't respect name or fame. Rousey, MacGregor know it, and now so does Paige VanZant. The UFC hype-machine surrounding VanZant had only got into second gear before stalling last night against the skilled grappling of the "Karate Hottie" Michelle Waterson. Back in 2015, VanZant was offered a Reebok sponsorship deal after only one fight Highlighting the UFC's belief...
There are certain sacrifices athletes have to make in order to give themselves the best chance to succeed. They might not always be the most conventional ones, either. For Paige VanZant, it was stripping down naked. VanZant is set to fight Michelle Waterson this weekend at UFC on FOX 22, but was not even close to making weight. She opted to do it in the nude, and was still a pound...
UFC bantamweight Paige VanZant has already shown that she is one of the most entertaining people in the sport of mixed martial arts after she competed on the most recent season of "Dancing with the Stars," finishing second. Now, it looks like she is doing her best impression of a journalist after she went undercover as a reporter. Last week, VanZant partnered up with Reebok and walked...
Paige VanZant ultimately fell short of her three-month quest to win "Dancing With the Stars," earning runner-up honors to season champion Nyle DiMarco, a deaf model who once won "America's Next Top Model." Now, that VanZant is done with the dancing competition, she is sure to be thankful for the incredible platform and exposure that put her in front of a different audience than the...
UFC women's strawweight competitor Paige VanZant is parlaying her success on ABC's "Dancing With The Stars" into an opportunity in Hollywood. On Monday, news surfaced that VanZant had landed a role in the upcoming film "Kickboxer: Retaliation," according to a report on Deadline.com. Per the report, the eighth-ranked strawweight will play Gamon, "a 26-year-old with high-level fighting...
UFC strawweight Paige VanZant is one of the best women in her weight class, but she has taken some time away from the Octagon for a stint on season 22 of the ABC hit show "Dancing With The Stars." During her time on the show, VanZant has been one of the top performers and she appears poised to appear in the finale. Initially, VanZant had hopes of competing on the UFC 200 card which...
MORE STORIES >>
MMA News

Delivered to your inbox

You'll also receive Yardbarker's daily Top 10, featuring the best sports stories from around the web. Customize your newsletter to get articles on your favorite sports and teams. And the best part? It's free!