Found August 20, 2012 on 5thRound.com:
Ronaldo "Jacare" Souza (Pictured) should be sporting a giant Kool-Aid smile. The former Strikeforce middleweight champ pocketed a cool $94,000 for just 41 seconds of work this past Saturday.
Despite serving as the event's biggest superstar, bantamweight queen Ronda Rousey earned only $40,000 for submitting Sarah Kaufman in the show's featured attraction. Half of Rousey's paycheck came courtesy of a win bonus.
Miesha Tate, who Rousey torched in March to take the 135-pound crown and fought in the card's prelims, pocketed $38,000 for beating Julie Kedzie.
Please keep in mind, the numbers that get reported to the athletic commissions are only of what's required. These figures do not include deductions for items such as licenses and taxes.
Additionally, they do not contain money paid by sponsors.
Valley View Casino Center in San Diego hosted this weekend's festivities.
Here are the official salaries for "Strikeforce: Rousey vs. Kaufman":
(Total disclosed payroll: $368,000)

Preliminary Card:

Bobby Green: $16,000 ($8,000 to show, $8,000 win bonus)
def. Matt Ricehouse: $5,000

Germaine de Randamie: $15,000 ($7,500 to show, $7,500 win bonus)
def. Hiroko Yamanaka: $31,000

Adian Amagov: $20,000 ($10,000 to show, $10,000 win bonus)
def. Keith Berry: $2,000

Miesha Tate: $38,000 ($19,000 to show, $19,000 win bonus)
def. Julie Kedzie: $5,000

Main Card:

Ovince St. Preux: $34,000 ($17,000 to show, $17,000 win bonus)
def. T.J. Cook: $3,000

Anthony Smith: $6,000 ($3,000 to show, $3,000 win bonus)
def. Lumumba Sayers: $7,000

Tarec Saffiedine: $35,000 ($17,500 to show, $17,500 win bonus)
def. Roger Bowling: $10,000

Ronaldo "Jacare" Souza: $94,000 ($72,000 to show, $22,000 win bonus)
def. Derek Brunson: $13,000

Ronda Rousey: $40,000 ($20,000 to show, $20,000 win bonus)
def. Sarah Kaufman: $17,000
Original Story:
http://www.5thRound.com/126140/ronda-...
THE BACKYARD
BEST OF MAXIM
RELATED ARTICLES
It was over in just 54 seconds. Under a minute is how long is took defending Strikeforce women't bantamweight champion -- and 2008 Olympian -- Ronda Rousey to take out her newest oppontent, Sarah Kaufman in the first defense of her title. Rousey submitted Kaufman with her signature armbar, following a series of jabs and a takedown to open the bout. Rosey moves her career record...
The best part of having a spectacular submission cap off a night of mixed martial arts action is knowing Ryron and Rener Gracie will soon be releasing a video explaining to us layman exactly how the tap out was executed. In the latest edition of "Gracie Breakdown," the grappling gurus walk fans through Ronda Rousey's (Pictured) armbar submission victory over Sarah Kaufman...
Strikeforce women's bantamweight champion Ronda Rousey impressively defended her title with an armbar submission win over Sarah Kaufman in the opening minute of the fight. After her win Rousey called out Cyborg Santos. Miesha Tate and Julie Kedzie put on a "Fight of the Night" worthy performance to cap off the preliminary card. The back-and-forth bout saw Tate pull off an armbar...
Another fight, another 1stRound armbar submission victory for Strikeforce bantamweight queen Ronda Rousey (Pictured). Everyone knew what the "Rowdy" one's bread and butter move was, yet just 54 ticks into Saturday's scrap against Sarah Kaufman, the division's former champion, Kaufman was crying uncle from the same maneuver that Rousey forced her other five victims to tap...
Ronaldo "Jacare" Souza picked up the biggest pay check this weekend, earning $94,000 at Saturday's "Strikeforce: Rousey vs. Kaufman". Headliner Ronda Rousey garnered the second biggest pay day at $40,000. "Jacare" scored a first-round knockout over Derek Brunson, while Rousey picked up her sixth straight first-round submission win to remain undefeated and retain her...
She is the face of women's MMA.  She's one of the most famous fighters - regardless of gender - in the world.  She's graced the cover of ESPN The Magazine.  She's an Olympic bronze medalist.  She's the reason 99% of the people who watched last Saturday's Strikeforce: Rousey vs Kaufman telecast tuned in.  So why is Jacare making more than double what Ronda...
Main card (Showtime) Women's Bantamweight Championship bout:  Ronda Rousey (c) vs.  Sarah Kaufman Rousey defeated Kaufman via submission (armbar) at 0:54 of round 1. Middleweight bout:  Ronaldo Souza vs.  Derek Brunson Souza defeated Brunson via KO (punches) at 0:41 of round 1. Welterweight bout:  Tarec Saffiedine vs.  Roger Bowling Saffiedine defeated Bowling via...
Ronda Rousey submitted Sarah Kaufman in 54 seconds to retain her Strikeforce women's bantamweight championship on Saturday, and she called Cyborg Santos after the win. "First of all I need to send out a challenge to miss Cyborg out there," said Rousey, who began ranting instead of answering a question about arm bars from Mauro Ranallo. "People want to see you have the first...
• Light Heavyweight Bout: Ovince St. Preux (12-5) knocks out T.J. Cook (12-5) with a left hook from the 20th row (Round 3, 0:20). Cook just couldn't take anymore. He may have been KO'ed in the first and ended the round throwing some haymakers putting OSP in some danger of his own. Cook came out in the 3rd looking like death. His team put him in danger by even letting...
Directly after her 54 second disposal of Sarah Kaufman last night (the second longest fight of her career), Strikeforce bantamweight kingpin Ronda Rousey decided to call out what could very well be her next opponent. The very dangerous Cristiane "Cyborg" Justino. While Lady Cyborg is currently taking a leave of absence from the game - she tested positive for an anabolic...
Horse semen injections and death threats. Welcome to your typical fight week with "Rowdy" Ronda Jean Rousey. Tonight the talks ends when Rousey and Kaufman enter the cage. But before we learn whether or not the Strikeforce Women's Bantamweight title will remain in California, or head back to British Columbia, let's relive the week in quoteables. Rousey wants...
MMA News

Delivered to your inbox

You'll also receive Yardbarker's daily Top 10, featuring the best sports stories from around the web. Customize your newsletter to get articles on your favorite sports and teams. And the best part? It's free!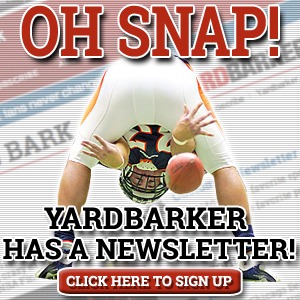 Latest Rumors
Best of Yardbarker

Today's Best Stuff

For Bloggers

Join the Yardbarker Network for more promotion, traffic, and money.

Company Info

Help

What is Yardbarker?

Yardbarker is the largest network of sports blogs and pro athlete blogs on the web. This site is the hub of the Yardbarker Network, where our editors and algorithms curate the best sports content from our network and beyond.