Found November 07, 2012 on Fox Sports:
It's amazing to think of all that has transpired in the UFC since the last time mixed martial arts legend Georges St-Pierre defended his welterweight belt on April 30, 2011 in Toronto, at the most-attended fight in the history of the UFC. In the 567 days between St-Pierre winning a unanimous decision over Jake Shields in front of 55,000 fans at UFC 129 and St-Pierre stepping into the Octagon to fight interim welterweight champ Carlos Condit next weekend, the UFC has held 23 numbered events. The organization had its first-ever card cancellation in its history, but its first four fights to be nationally televised on the FOX network television showed the sport's inroads into mainstream American culture. Light heavyweight champion Jon Jones has defended his belt four times and joined St-Pierre and Anderson Silva in the "best fighter alive" discussion. The UFC has seen a new heavyweight champion and added two new weight classes, and Silva has defended his middleweight belt a record ninth and 10th times, adding to his lead over St-Pierre's six consecutive title defenses. Yet despite the fact the 31-year-old St-Pierre's UFC 154 title fight next Saturday in his hometown of Montreal is against a 28-year-old fighter who has lost only once in the UFC (a controversial split-decision to Martin Kampmann 3-1/2 years ago), reporters on a Wednesday conference call were more than happy to overlook St-Pierre's fight against Condit for a dream card: "How about that rumored pound-for-pound superfight at Cowboys Stadium against Anderson Silva?" reporters asked St-Pierre, again and again. "It's fun to talk about this superfight," UFC president Dana White said, "but I'm sure it's pissing Carlos off every time it's asked. . . . He's gotta beat Carlos Condit first. People are overlooking Carlos Condit, and that's a bad idea." A bad idea because in his last fight, Condit outboxed one of the best boxers in the UFC, Nick Diaz, for the interim belt. And a bad idea because the last time St-Pierre overlooked a fighter many assumed was far lesser -- Matt Serra in UFC 69 -- GSP lost in one of the biggest upsets in UFC history. Upon being told of Anderson Silva's plans to be in the audience at the Bell Centre in Montreal next Saturday night, GSP answered politely and correctly: "I don't care about Anderson Silva. He can do whatever he wants. . . . I'm focusing on Carlos Condit. That's all that matters to me." It's no secret what GSP returning from a spate of injuries -- a pulled hamstring, which was followed by a torn ACL suffered in a wrestling drill -- means to the UFC. Especially after a 2012 during which about a quarter of the promotion's announced fights have been scrapped due to injury, according to a recent analysis by MMAFighting.com. GSP is the biggest pay-per-view draw in the UFC, the only fighter capable of attracting 55,000 to the Rogers Centre in Toronto in 2011 and -- don't tell Condit -- the only fighter capable of attracting an even bigger crowd to Cowboys Stadium in 2013. It's a combination of a well-rounded fighting style, a kind and polite manner, and, let's face it, his striking good looks that makes GSP as popular of a fighter as there is in the UFC. "I couldn't say enough good things about Georges St-Pierre," White said. "I say it all the time: He represents the belt well, he represents the sport well, he represents this company well, he represents Canada well. But the other thing is, the difference between GSP and every other guy who fights in the UFC is that he's got an entire country behind him. There's pay-per-view in Canada too." Yes, GSP's return ought to make what's been an up-and-down year in the UFC a whole lot better. The excitement is measureable: GSP is such a big draw that the best seats in Montreal have a face value of more than $600, and the gate has already surpassed $3 million, making it one of the UFC's best-selling cards of the year. But as powerful of an impact as his return will have on the UFC, St-Pierre's time off because of injury helped teach him a thing or two about the fleeting aspect of fame, and about how he needs to soak in every moment while he's at the top. "What I realize most is when you get hurt and you can't do that for a long time, you realize that's all you've been," St-Pierre said Wednesday. "It's like when you're in love with your girlfriend. . . . You're with her every day, and you don't realize (how much) you love that person. When you're away from her for a long time, you realize how much you love her because you miss her, miss her, miss her, miss her. I think it's the same thing (with being away from the UFC). "I want to get into that cage, (and) I want to live every second of it as best I can," he continued. "I lost a little bit of the fire, you know? If you don't have fun what you're doing, just don't do it. I'm good at what I do because I have fun. If you don't, you become not as good. I have fun at what I do, and I want to enjoy every second of it." Follow Reid Forgrave on Twitter @ReidForgrave or email him at ReidForgrave@gmail.com
Original Story:
http://msn.foxsports.com/ufc/story/ge...
THE BACKYARD
BEST OF MAXIM
RELATED ARTICLES
The Anderson Silva vs. Georges St-Pierre fight talk is about to take a really interesting twist. According to Silva's management, the often reclusive Silva will be in Montreal for GSP's next fight vs. Carlos Condit and could make his presence known if GSP can pull out the win.
Less than two weeks remain before MMA fans have themselves an undisputed welterweight champion, as the looming title fight set to pit interim holder Carlos Condit against the existing champion, injury-plagued Georges St-Pierre, unfolds on Nov. 17. Be sure to bet on the UFC clash — one of the best that 2012 has to offer — as soon as possible. Heading into the bout, it's St-Pierre...
All signs indicate that UFC interim welterweight champ Carlos Condit (Pictured) is the only thing standing between a blockbuster bout with 170-pound king Georges St-Pierre and middleweight champion Anderson Silva. Although Condit has been on a torrid run since 2006, having lost just one of his 14 scraps during that span, the lone thing anyone wants to talk about heading into his...
During this week's edition of FUEL TV's UFC Tonight, it was reported reigning middleweight king Anderson Silva (Pictured) will be sitting front and center watching the welterweight title unification bout between champion Georges St-Pierre and interim champ Carlos Condit at UFC 154. That normally wouldn't be news considering most MMA fans don't miss a GSP scrap, especially...
"I don't care about (Anderson Silva). He can do what he wants. I'm focusing on (Carlos Condit)." Georges St.Pierre
According to UFC president Dana White, reigning middleweight king Anderson Silva will be the biggest Georges St-Pierre (Pictured) fanboy when he's sitting front row watching UFC 154, despite the fact the event jumps off in GSP's backyard of Montreal. Guess who couldn't care less about "The Spider's" presence? "Well, there's no doubt Anderson Silva's showing up there...
There comes only a few times in a fighters career where a potential match up brings the opportunity to elevate them from great to legendary. "Sugar" Ray Leonard, Muhammad Ali, "Sugar" Ray Robinson are fighters who participated in match ups that not only defined them as legends but many times saw them as undersized or [...]
MMA News

Delivered to your inbox

You'll also receive Yardbarker's daily Top 10, featuring the best sports stories from around the web. Customize your newsletter to get articles on your favorite sports and teams. And the best part? It's free!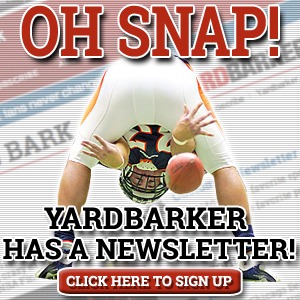 Latest Rumors
The Backyard

Today's Best Stuff

For Bloggers

Join the Yardbarker Network for more promotion, traffic, and money.

Company Info

Help

What is Yardbarker?

Yardbarker is the largest network of sports blogs and pro athlete blogs on the web. This site is the hub of the Yardbarker Network, where our editors and algorithms curate the best sports content from our network and beyond.