The news a few weeks ago was Kimbo Slice wins in 4-0. Kimbo is now doing better in boxing than he was doing in Mixed Martial Arts. Kimbo Slice has some pretty good matches under his belt with 4-0 and he now can make a run at higher level opposition however how far can he get it done in boxing? Kimbo eventually is going to lose and when he does how does he take it? Kimbo could end up being drummed out of Boxing, if this happens where does he go from there? Kimbo in Boxing is a damn good thing and some say that last match was a work? I will tell ya why if you think Kimbo's last match was a work, your a fool.
Kimbo and his past fights, as it stand right now, Kimbo Slice is 4-0 with 3 knockouts. Kimbo Slice began his career in boxing on 8/13/2011 with a win in Oklahoma vs a guy by the name of James Wade. The next big match up that Kimbo Slice had was against Tay Bledsoe in 10/15/2011 and guess what once again Kimbo blasted this guy out in round 1. Kimbo Slice is being protected and is going to be protected by his promoter Gary Shaw, Shaw as we all remember was the man who tried and failed to re-engineer a comeback for Mike Tyson.
Kimbo gets done with boxing where does he go from here. Kimbo has to keep things on track because if this does not work and he goes off the rails. Kimbo is screwed because he can not go back to Mixed Martial Arts. Kimbo is not going to be able to do much in the world of Boxing. He could always go back to fighting scum bags online. However he will prob. End up as a Pro wrestling star in Japan. Kimbo will want tons of cash that Vince and the American Pro wrestling company's would be not willing to pay. Kimbo could go over seas and compete in Pro wrestling and do well, the Japanese would eat this guy up, he could become the next Bob Sapp and could be placed in matches and built up to be a champion, I am not thinking he will win the New Japan Pro Wrestling champion but he could get close. Kimbo in boxing how far can he go is what people are asking. Kimbo Slice can go as far as Butter bean and others have. Kimbo is pretty old for boxing, because he is never going to go round round in 12-15 round matches. Kimbo could be built up in a weak heavyweight division and be a big deal. He will never get near one of the belts that the Kiltcho have. He would never gain that fame in the world of boxing. However Kimbo could come in and win a off shoot title and be a circus attraction but he will eventually get stomped by a big championship contender.
Kimbo last match was not a work because if anyone knows when you get in there. You have a puncher chance. Look back at Mike Tyson when he fought Buster Douglas in Japan, Tyson was getting stomped into the mat by Buster. However a last failed attempt Tyson pulled out a uppercut that nearly took Buster's head off his shoulders. However Buster weathered the storm and eventually ko'd Tyson. However Kimbo was about at the end of the road and for whatever reason he got put into a spot where he could lock down an opening and kicked out of the bowels of defeat of whacking his rival Brian Green into the win column.
Kimbo last match was a work is what I see online, Guess what kids..it was not but the folks online thought it was. I always thought before I got into boxing that when someone gets knocked out in boxing it always looks fake. If you watch the match from a non boxing look, it looks like Brian Green took a dive. It also looks crazy to think, dude was up on the cards. Kimbo was going to lose on the judges cards and he was about 4-6 seconds away from losing, the crowd and the corners knew what was going down. However out of no where here comes Kimbo Slice and he did indeed Slice out of the hopes of Brian winning.
Finally let's wrap this up by saying that Kimbo Slice is going to be a big deal in Boxing if he is built right. Kimbo is never going to be the next Tyson due to his age and the depth of the division is not there. However Kimbo can make a big deal and make money and be a big deal without ever having get in the ring with a decent challenger. Kimbo Slice is someone we will see more from in the future. Jiggy Jaguar http://www.jiggyjaguar.com
Original Story:
http://illegalelbows.com/?p=501
MORE FROM YARDBARKER
MMA News

Delivered to your inbox

You'll also receive Yardbarker's daily Top 10, featuring the best sports stories from around the web. Customize your newsletter to get articles on your favorite sports and teams. And the best part? It's free!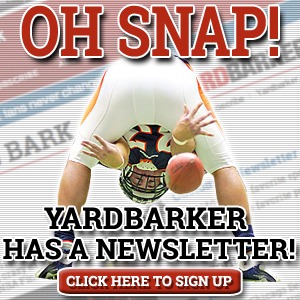 Latest Rumors
Best of Yardbarker

Today's Best Stuff

For Bloggers

Join the Yardbarker Network for more promotion, traffic, and money.

Company Info

Help

What is Yardbarker?

Yardbarker is the largest network of sports blogs and pro athlete blogs on the web. This site is the hub of the Yardbarker Network, where our editors and algorithms curate the best sports content from our network and beyond.