Found February 15, 2012 on Race Review Online:
I knew when I started this blog that it was going to have something to do with the welterweight title.
Once the most "stagnant" and firmly held of the UFC belts (GSP modern day hasn't had a "Silva vs. Sonnen" style close call) today it is the most tumultuous – and talked about – belt in the game.
Full disclosure: I was going to write about Carlos Condit, and the controversy that's is still swirling more than a week after his controversial win over Nick Diaz for the interim title. After all, it's what most folks are still talking about, fans and media alike. It would have been a shot across the bow, that's for sure.
Who's bow? I don't know. Maybe Nick's. Maybe Condit's. Maybe Greg Jackson's. Maybe his haters. Maybe I'm amazed at the way you love me all the…wait, sorry, lost track of where I was headed for a second there.
But no, as a responsible member of the MMA media, it's my responsibility to look forward, not back. Especially with a big event just around the corner. After it's over, we can spend the next week looking back. That'd be the responsible thing to do.
Still, we can't stray too far from Diaz/Condit – after all, I want MMA fans to actually read this, right? Good news: turns out tonight's main event has a lot to do with what happened over a week ago – or more accurately, what likely happened weeks ago and only showed up in a piss test last week.
Yes, I'm talking about Nick's most recent failed test for the sweet Maui Maui, and the consequences it has had for the welterweight division. Before the failed test, the road map was clear: Diaz rematches Condit. Diaz beats Condit like his legion of fans, the UFC (I'm guessing) and even GSP were hoping for. Diaz faces GSP in the fall in the most anticipated welterweight title fight since Penn vs. St. Pierre 2 – and likely with the same outcome. Everyone wins.
Now that Keith Kizer is likely sending Nick to his room for a year to think about what he's done (hopefully that's not where he stashes his bong…) the picture is not so clear. The obvious move would be to have Condit just wait until GSP is ready and face him as intended, but I just don't think that's the best plan. As I've written before, it doesn't make sense for a fighter in his prime to spend over a year sitting on his title, making zero dollars. It also won't help sell GSP vs. Condit any if Condit disappears for a whole year after barely squeaking by to get his belt.
More and more, it's looking like Condit's going to have to defend his faux-strap. And who better to defend it against than the winner of Jake Ellenberger vs. Diego Sanchez?
Ok, so Johny Hendricks also has a pretty good case for a title shot. He's got the three ingredients for MMA superstardom: a wicked amateur wrestling background, a knockout win over a P4P entrant, and a beard so manly it actually absorbs testosterone from air molecules.
But outside of the Fitch KO, Hendricks doesn't have a whole lot of elite level names on his resume. He also has the loss to Rick Story in his (somewhat) recent history, as well as some decidedly "not ready for title shot yet" squeaker wins over TJ Grant and Mike Pierce.
And finally, he's already got a fight scheduled with Josh Koscheck already, so it's probably better to let him get another big name on his resume, and wait to face the winner of GSP/Whoever next year.
What does that leave us? Tonight's main event, pitting possibly the hottest contender at welterweight against…Diego Sanchez. I'll get to that in a moment.
But first Ellenberger. In the words of Will Ferrell's character from "Zoolander" – he's so hot right now. 5 straight wins in the UFC, over some pretty serious competition. A stunning KO over another former P4P entrant in his last fight. 26-5 overall. And his only UFC loss being a very controversial decision loss to…wait for it…Carlos Condit.
He has the resume, the style, and history with the (interim) champ. He beats Diego Sanchez tonight, and he's got an easy pass to an (interim) welterweight title shot.
But what about Diego? Yeah, his case for a title shot is a lot murkier. With a victory, he'd only be riding a 3 fight win streak – but those 3 wins are over Paulo Thiago, Martin Kampmann, and Ellenberger. That's a damn good list of names if I do say so myself.
Still, any Diego title shot at welterweight will be marred slightly by the old "didn't this guy get stomped at lightweight?" argument.
And yeah, that hurts. But if Diego wins tonight, I have a sneaky suspicion the UFC will give him the shot for two reasons. One, he is a "name", a TUF winner, and a personality that can sell a fight. Two, his style practically guarantees an exciting fight, something I never thought I'd have to say in a Carlos Condit fight.
Assuming the UFC decides to have Condit defend his title pre-GSP fight, I suspect the person who will be challenging him is the winner of tonight's battle.
Call it a #2 contender's fight.
Original Story:
http://sports-at-work.com/20120215172...
THE BACKYARD
BEST OF MAXIM
RELATED ARTICLES
For fight fans that scoured the Internet for a live feed of the "UFC on FUEL TV: Sanchez vs. Ellenberger" post-fight press conference, there wasn't one. While the footage we located wasn't the entire Q&A session, the UFC did release highlights of the comments made by the show's two featured fighters. Jake Ellenberger (Pictured) discusses what it was like to fight...
Believe it or not, the Octagon is hosting a major show tomorrow night in Omaha. Because "UFC on FUEL TV: Sanchez vs. Ellenberger" hasn't garnered much hoopla, the organization has released a preview video hoping to generate some last-minute buzz. The event takes place inside CenturyLink Center in Nebraska. A pivotal welterweight contest between Jake Ellenberger (Pictured...
OMAHA, Neb. – If you were left begging for two more rounds after Jake Ellenberger's thrilling three-round victory over Diego Sanchez, you weren't alone. Following Wednesday's UFC on FUEL TV 1 event in Omaha, Neb., UFC president Dana White admitted he "blew it," and all future main events will feature five rounds. "Already thought and done," White told MMAjunkie.com...
If you happened to miss "UFC on FUEL TV: Sanchez vs. Ellenberger" on Wednesday, no worries because the good folks over at FOX have released video highlights from last night's action. A welterweight scrap between Jake Ellenberger and Diego Sanchez (Pictured) headlined the festivities. Their thrilling 15-minute affair earned each athlete an extra $50,000 for 'Fight of the...
Make your Wednesday night a little more interesting. Get a piece of the action! fight odds via bovada.lv Main Card (Fuel TV) Diego Sanchez (+250) vs. Jake Ellenberger(-325) • Stefan Struve (+110) vs. Dave Herman (-140) • Aaron Simpson (-115) vs. Ronny Markes (-115) • Philip De Fries (+350) vs. Stipe Miocic (-500) • T.J. Dillashaw (-255) vs. Walel Watson (+195) Preliminary...
UFC on Fuel TV featured several amazing fights, but only a selected few were able to earn fight of the night honors.  The following fighters earned an additional $50,000 for their performances tonight.  There was no suprise as to who won fight of the night; both main event participants,a  victorious Jake Ellenberger and Diego Sanchez put on [...]
The UFC continues to ride the wave of its fox deal with another free card on Fuel TV (US) and Sportsnet (Canada).  Diego Sanchez (3.75) vs. Jake Ellenburger (1.23) The main event features a solid welterweight bout which could have title implications.  Ellenburger seems to be on the way to a title shot and a victory over Sanchez could get him there.  Ellenburger is coming off...
Credit: MMAJunkie If you were left begging for two more rounds after Jake Ellenberger's thrilling three-round victory over Diego Sanchez, you weren't alone. Following Wednesday's UFC on FUEL TV 1 event in Omaha, Neb., UFC president Dana White admitted he "blew it," and all future main events will feature five rounds. "Already thought and done," White told MMAjunkie...
MMA News

Delivered to your inbox

You'll also receive Yardbarker's daily Top 10, featuring the best sports stories from around the web. Customize your newsletter to get articles on your favorite sports and teams. And the best part? It's free!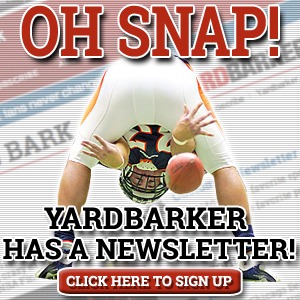 Latest Rumors
The Backyard

Today's Best Stuff

For Bloggers

Join the Yardbarker Network for more promotion, traffic, and money.

Company Info

Help

What is Yardbarker?

Yardbarker is the largest network of sports blogs and pro athlete blogs on the web. This site is the hub of the Yardbarker Network, where our editors and algorithms curate the best sports content from our network and beyond.