Found December 30, 2011 on Fox Sports:
Featherweight bout Diego Nunes (16-2) vs. Manny Gamburyan (11-6) Round 1 Nunes throws a spinning back kick to open. Nunes keeps the pace up with jabs. Leg kick for Nunes. He throws another but Gamburyan gets out of the way. Another leg kick for Nunes. Gamburyan goes for the take down but Nunes stands up to it and delivers a knee to the body. Leg kick to the thigh from Nunes. Gamburyan goes for a double-leg takedown but he simply can't get it. He drives Nunes into the cage and after a few seconds he gets Nunes to the mat. Nunes keeps his offense at bay and gets back to his feet. Gamburyan keeps a hold of him and lands a shot. Front kick from Nunes does no damage. Nunes charges with a combo that lands. Gamburyan tries for another double leg but he gets nowhere with it. Spinning back kick for Nunes lands. The round ends without much action in the final few seconds. 10-9 Nunes Round 2 Both fighters throw bombs in the opening seconds. Nunes fakes the knee and Gamburyan hits a huge right that stuns Nunes. Gamburyan presses him up against the cage. Nunes tries to break and Gamburyan grabs part of his back. Nunes shakes him off but cannot fully get Gamburyan away from him. Spinning back kick for Nunes lands to the mid-section. Another spinning back kick lands. Left hook for Nunes. UFC announcer Joe Rogan theorizes that Gamburyan may have injured his hand which would make this fight very difficult for him going forward. Gamburyan wrestles Nunes to the ground. Nunes works the half guard but Gamburyan starts to enact some ground and pound. Gamburyan grabs Nunes head looking for some sort of modified guillotine. Nunes stands up and has a small cut on his face. Gamburyan keeps him tied up. They break and Nunes hits a nice looking knee. He tries for the clinch and knee but it is defended well. Nunes tries for a head kick but it is blocked. The round ends. Gamburyan 10-9 to tie things up on our scorecard. Round 3 The fighters bounce around the cage early on. Gamburyan lands a solid right to the face. Nunes returns with a leg kick. Leg kick from Nunes and Gamburyan counters with a jab. Another leg kick from Nunes. Leg kick for Nunes. Another leg kick for Nunes, this one from the left. Gamburyan misses with a huge hook. Gamburyan goes for the double-leg but Nunes again blocks it. Knee for Nunes on the break. Leg kick for Nunes. They come together again but nothing really comes from it. Head kick blocked by Gamburyan. Gamburyan hits another right hook to the head. A few more leg kicks for Nunes. Head kick for Nunes is only partially blocked. Spinning back fist by Nunes, Gamburyan ducks under it and tries for a takedown. He gets it for a second or so but Nunes escapes. Leg kick from Nunes. That one hit below the belt and a time out is called. Gamburyan hits with two big fists, then ducks under a kick and gets a takedown but Nunes is able to stand up out of it. Gamburyan tries for a slam to end the fight but it is not to be. 10-9 Nunes giving him a 29-28 victory on our scorecard. Diego Nunes def. Manny Gamburyan via unanimous decision (29-28, 29-28, 29-28)
Original Story:
http://msn.foxsports.com/ufc/story/UF...
THE BACKYARD
BEST OF MAXIM
RELATED ARTICLES
UFC 141: Manvel Gamburyan Vs. Diego Nunes
Manny Gamburyan vs. Diego Nunes Fight Video UFC 141 Preliminary Bout.
LAS VEGAS - Diego Nunes lost to Kenny Florian back at UFC 131, but he sent a clear message he'd be a player in the UFC's 145-pound division. Using his kicks as a huge weapon, Nunes took on former title contender Manny Gamburyan and rolled past him for a unanimous decision victory, 29-28 on all three scorecards, in bout No. 1 of the night at UFC 141 at the MGM Grand Garden...
Video: The Diaz Brothers Working Judo With Ronda Rousey And Manny Gamburyan
While some folks have complained about the supporting cast of bouts for the UFC's final card of 2011, but there are a number of interesting bouts that are hunkering down the rest of the main card as well as the undercard.
Preliminary card (Facebook) Featherweight bout: Armenia Manvel Gamburyan vs. Brazil Diego Nunes Welterweight bout: United States Matt Riddle vs. Brazil Luis Ramos Lightweight bout: United States Jacob Volkmann vs. Mexico Efrain Escudero Welterweight bout: South Korea Dong Hyun Kim vs. Canada Sean Pierson Preliminary card (televised) Lightweight bout: Nigeria Anthony Njokuani vs....
Preliminary card (Facebook) Featherweight bout:  Manvel Gamburyan vs.  Diego Nunes[1] Welterweight bout:  Matt Riddle vs.  Luis Ramos[1] Lightweight bout:  Jacob Volkmann vs.  Efrain Escudero[1] Welterweight bout:  Dong Hyun Kim vs.  Sean Pierson[1] Preliminary card (televised) Lightweight bout:  Anthony Njokuani vs.  Danny Castillo[1] Featherweight bout...
Nick Diaz, Ronda Rousey, Nate Diaz And Manny Gamburyan Judo Training Together Video.
MMA News

Delivered to your inbox

You'll also receive Yardbarker's daily Top 10, featuring the best sports stories from around the web. Customize your newsletter to get articles on your favorite sports and teams. And the best part? It's free!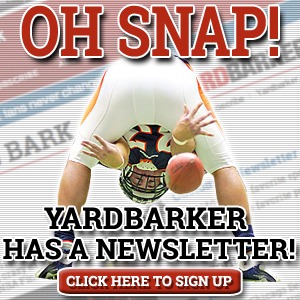 Latest Rumors
The Backyard

Today's Best Stuff

For Bloggers

Join the Yardbarker Network for more promotion, traffic, and money.

Company Info

Help

What is Yardbarker?

Yardbarker is the largest network of sports blogs and pro athlete blogs on the web. This site is the hub of the Yardbarker Network, where our editors and algorithms curate the best sports content from our network and beyond.