Found July 07, 2012 on hov-mma:
• While many will argue that Anderson Silva was not himself due to a rib injury the first time these two fought I believe that the true reason Sonnen dominated the fight should be disclosed. Put facial hair on Anderson Silva and he vaguely resembles Wayne Brady. Who wouldn't want to beat him up for 23 straight minutes?
• All (awful) jokes aside, everyone has it wrong, Anderson Silva is inside Chael Sonnen's head. In a big, big way.
• Tito Ortiz will retire tonight after his 27th fight in the UFC. Not that many people will ever say they got to fight that long against the best of the best. 12 of those fights came against five opponents (Shamrock, Griffin, Mezger, Evans, Liddell).
• Griffin should have no problem finishing Ortiz tonight if he uses his kicks early and often. The body of Ortiz has just taken too much "Punishment" over the years. Hit him in that big noggin all you want. A couple of those deadly Griffin kicks to the body and its curtains for Tito.
• If Chael Sonnen does defeat Anderson Silva expect a heartfelt speech mentioning his father.
• Sonnen has been submitted by three fighters on this card. Of course Silva in their first meeting, Griffin (whom Silva beat in impressive fashion), and Maia (who Silva beat in not so impressive fashion).
• If Cody McKenzie beats Chad Mendes then we could very well see an increase in dudes ranked outside of lower ranked guys getting a shot at fighters coming off unsuccessful title shots. I'm all for it.
• Expect Anderson Silva to pull out some capoiera/Michael Jackson stuff out of his arsenal for tonight. Make no mistake about it, he is in control at all times.
• Two words that will be thrown around aplenty for the next week - Steven and Segal.
• Mike Easton will be a "MMA" household name after tonight.
• If Maia can beat Kim in impressive fashion he will be closer to a title shot at 170 than you may think.
• Melvin Guillard is one bad loss away from being cut. This guy is the poster boy for wasting your talents.
• Cos Philippou is always a dark horse for KOTN honors.
• Shane Roller gets his walking papers if he loses to John Alessio tonight. Luckily for him he won't lose.
• Khabib Nurmagomedov may be the next big thing in the UFC Lightweight division.
• This card is now officially underway. Enjoy the fights everyone.
Original Story:
http://www.hov-mma.com/2012/07/ufc-14...
THE BACKYARD
BEST OF MAXIM
RELATED ARTICLES
GAME ON
I don't think there is anything more ridiculous than hyping a UFC weigh-in…unless it is Anderson Silva and Chael Sonnen weighing in. Chael is certainly in Anderson's head but it was Silva whose shoulder was in Sonnen's face Friday at the UFC 148 weigh-in and had to be restrained by UFC officials. Related posts: Anderson Silva Vs. Chael Sonnen 2 Moved To UFC 148 Anderson...
After two years of unprecedented hoopla, the rematch between middleweight king Anderson Silva and Chael Sonnen is officially a thing of the past. After manhandling Silva for nearly five complete rounds in their initial shootout, Sonnen was abruptly submitted with only 110 ticks remaining on the clock. Although tonight's fight wasn't nearly as dramatic, the result was the...
UFC 148: Live Blog
Not that many needed convincing, but Anderson Silva is the best fighter in the world. There was a little bit of doubt in the minds of some due to Silva's performance against Chael Sonnen at UFC 117, but on Saturday at UFC 148, Silva removed all doubt. Silva stopped Sonnen at 1:55 into the second round with a barrage of strikes that Sonnen couldn't respond to, as he defended his...
During the UFC 148 weigh-ins on Friday afternoon, UFC middleweight champion Anderson Silva got in the face of Chael Sonnen and hit him with a shoulder bump to the jaw.Their much anticipated rematch is Saturday night and can be seen live on pay per view. Fans can expect more fireworks when these two heated rivals get inside the cage. 
After manhandling middleweight king Anderson Silva for nearly five complete rounds at UFC 117, Chael Sonnen (Pictured) was abruptly submitted with only 110 ticks remaining on the clock. Since the August 2010 defeat, Uncle Chael has done everything within his power to land a rematch – including insulting every Brazilian fighter within earshot. While Silva turned a deaf ear to most...
Main Card on Pay-Per-View Weight Class vs. Method Round Time Notes Middleweight  Anderson Silva (c) vs  Chael Sonnen Note 1 Light Heavyweight  Forrest Griffin vs  Tito Ortiz Middleweight  Cung Le vs  Patrick Côté Welterweight  Dong Hyun Kim vs  Demian Maia Featherweight  Chad Mendes vs  Cody McKenzie Bantamweight  Ivan Menjivar vs  Mike Easton Preliminary Card on FX [...]
The UFC middleweight title clash between champion Anderson Silva and challenger Chael Sonnen is official as both fighters successfully made weight today. Silva weighed in at 184-pounds while Sonnen tipped the scales at 185-pounds. The tension between the fighters carried over during the staredown as Silva landed a shoulder-strike to the jaw of Sonnen. Face-off video of Silva and...
An additional $75,000 was awarded to each of the following fighters for their refusal to underachieve during tonight's fights inside of the MGM Grand Garden Arena. Fight of the Night: Forrest Griffin vs. Tito Ortiz Knockout of the Night: Anderson Silva Submission of the Night:  None
A bantamweight scrap between Mike Easton (Pictured) and Ivan Menjivar kicked off Saturday's "UFC 148: Silva vs. Sonnen II" pay-per-view broadcast. The three judges sitting Octagon-side are earning their paychecks tonight, as all six fights have gone to the cards. Please click HERE to catch our live results and play-by-play coverage of UFC 148. MGM Grand Garden Arena in Las...
It seems UFC president Dana White gets asked the same questions after every Anderson Silva (Pictured) or Jon Jones victory – 'You always claim to give fans the fights they want, will Jones face Silva now?' or 'Silva has already cleaned out the middleweight division, when will he challenge Jones for his light heavyweight title?' Following Silva's TKO victory over Chael...
This is your last weekend to get in on the fun and vote on this year's ESPY award winners, including for Best Fighter. Up for nomination for the Best Fighter ESPY this go round from boxing are Floyd Mayweather and Andre Ward. From MMA, there's Jon Jones and Anderson Silva in the running as well. So it's four world-class, top-tier guys. Who will win out, and which sport...
MMA News

Delivered to your inbox

You'll also receive Yardbarker's daily Top 10, featuring the best sports stories from around the web. Customize your newsletter to get articles on your favorite sports and teams. And the best part? It's free!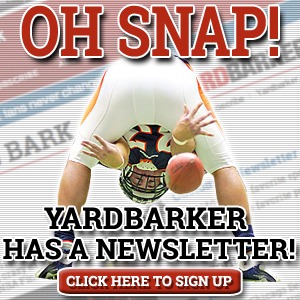 Latest Rumors
Best of Yardbarker

Today's Best Stuff

For Bloggers

Join the Yardbarker Network for more promotion, traffic, and money.

Company Info

Help

What is Yardbarker?

Yardbarker is the largest network of sports blogs and pro athlete blogs on the web. This site is the hub of the Yardbarker Network, where our editors and algorithms curate the best sports content from our network and beyond.