Found November 15, 2012 on Fox Sports:
Georges St-Pierre will return to the octagon, where he will face interim welterweight champion Carlos Condit at UFC 154 on Saturday in Montreal. GSP has been out of action for 11 months after undergoing surgery to reconstruct a ruptured ACL. From a medical perspective, GSP's knee may end up being the first flicker in the aura of one of the greatest champions of all time. Not only is his knee not the same as before the injury, but the surgery itself may limit his strength and agility against one of the UFC's best strikers. First, it's important to know what the ACL actually does. The ACL, or anterior cruciate ligament, is one of two ligaments that crisscross in the middle of your knee. The ACL acts to prevent the knee from becoming unstable and buckling during sudden changes in direction such as cutting or twisting. GSP underwent ACL reconstruction with a patellar tendon autograft (autograft means using your own tissue). The patellar tendon is where your quadriceps muscle runs over the top of your patella (kneecap) and attaches to your tibia (shin bone). The tendon is taken along with some bone from the patella and tibia on either end. This graft is thought to have the easiest chance of it healing since it has bone on the ends. In very simple terms, an ACL surgery is like stringing a rope between two cans and then tightening the rope so the cans stay close to each other. Unfortunately, a common side effect of patellar tendon harvesting is pain over the kneecap, especially when you kneel down, which is something grapplers do all the time. The other issue with patellar tendon grafts is that there may be some resultant weakness of the quadriceps, which are the muscles that straighten your leg, so theoretically this could weaken the "snap" of GSP's kick. Furthermore, even without taking part of the patellar tendon for the graft, the quadriceps muscles begin to weaken after ACL ruptures - so getting them back to 100 percent strength is vitally important for GSP. They act as important stabilizers of the knee, because when they contract, they help keep the knee aligned, especially with sudden changes of direction or level changes. Prior to his injury, GSP was training with Jon Chaimberg, a well-respected strength and conditioning coach. This certainly put him in a good position for rehab, as he had a good base to begin with. After his surgery, GSP underwent formal physical therapy with certified physical therapists. Beyond that, GSP has surrounded himself with nutritionists and massage therapists, as well as well-known manager/coach Firas Zahabi. He has a good team behind him. GSP has done everything right by the book to recover from his surgery. However, an injured knee is never the same as an uninjured knee. Surgeons do their best to bring people back, but sometimes it takes up to one year to get back to playing sports and two years before an athlete feels normal, even for elite professionals. Many people will look at Adrian Peterson's rapid recovery and think all professional athletes will return to their prior level of play after only nine months. What Peterson is doing for the Minnesota Vikings is actually considered impressive, even by NFL team doctors who do the surgeries on these guys. Up until Petersen, the list of NFL running backs that came back and performed poorly was ever growing: Jamal Lewis, Edgerrin James, Deuce McAllister and Ronnie Brown to name just a few; not to mention that one study showed that a third of NFL players that rupture their ACL don't even come back. What does help predict how well someone comes back is their baseline skill level (higher NFL draft picks come back better) and age at the time of surgery. GSP tore his at age 30, and Petersen tore his at 26. Sometimes those few years matter in professional sports. Other studies have shown that even NFL players only get up to 80 percent of their original quadriceps strength back one year after ACL surgery. So the question remains if GSP is returning too soon. His graft is likely strong, but the real question is if his mobility will be the same. He may not be able to move suddenly from side-to-side as quickly as he did 1 year ago. In addition, his quadriceps strength may be just a fraction less, which is all it takes for someone to lose at an elite level. Furthermore, GSP is one year older and hasn't been in the groove of competition as he was during his dominant reign. Carlos Condit might be able to exploit this by keeping the fight standing. Condit has won a majority of his fights by knockout, and striking is certainly one of his strengths. During stand-up, GSP may not to be able to move laterally as efficiently, which will directly be related to his knee stability. In addition, if he does want to take the fight to the ground, shooting in will also stress his surgically repaired knee. High kicks or superman punches may not be in GSP's repertoire as they once were. On the other hand, GSP has shown he can certainly neutralize opponents on the ground. So should he find a way to get Condit, down, it may be all he needs to see a win by submission or decision. There is no question that GSP will enter the Octagon in great physical shape and with a great team behind him. But with many of these factors against him, he may never be able to return to his pre-injury level. However, GSP didn't become one of the most successful UFC champions of all time without finding a way to win. Even a slightly less-than-perfect GSP is still championship material.
Original Story:
http://msn.foxsports.com/ufc/story/uf...
THE BACKYARD
BEST OF MAXIM
RELATED ARTICLES
Georges St-Pierre won't be in the Octagon by himself on Saturday night. No, really. This won't be a one-man show. There's going to be another guy in the cage with him, I promise you. One can't tell from all the pre-UFC 154 buzz -- which has focused on what's being called the most anticipated comeback in UFC history, as well as on GSP's legacy, not to mention...
The fighter walked out on stage, absorbed the applause, bowed slightly and then sat down, looking every bit like the politician's son that he is: Sharp black suit, black shirt with the top button undone, black leather shoes and a bearded gaze that could slay many a lady. For Carlos Condit, the interim UFC welterweight titleholder who on Saturday night at UFC 154 will try to...
Here is every Canadian fighter on the UFC 154 card posing behind their leader George St-Pierre. Montreal will be rocking come Saturday. The Countdown To UFC 154 E:60 – Georges St-Pierre
Given that the welterweight title unification bout between champ Georges St-Pierre (Pictured) and interim champion Carlos Condit has hoarded most of the UFC 154 spotlight, and understandably so, there is another critical 170-pound shootout showcased in Saturday's show. While the three-part "UFC 154 Primetime" series on FX has focused solely on GSP vs. Condit, FUEL TV's debut...
Carlos Condit said he's ready to run Implement his game plan against George St-Pierre on Saturday night in Montreal. Is he trying to tell us something? I just hope he fights come fight night. Is Anderson Silva Just Pulling Our Leg? Is Anderson Silva Just Pulling Our Leg?
Georges St-Pierre says if he ever dated Mandy Moore, critiques Rory MacDonald's attire and discusses time machines with MMA Fighting's Ariel Helwani. Tom Lawlor Has Epic Sumo Match GSP Leads The Canadians At UFC 154
Either people are too swift to forget, or the UFC Primetime series is once again doing its job, but for whatever reason, there are a lot of folks who think GSP is going to lose this Saturday night.  I understand, I too once bought into the pre fight hype shows, I believed based on a television "Primetime" event that a fighter had a chance and would shock the world.  Well, after...
MMA News

Delivered to your inbox

You'll also receive Yardbarker's daily Top 10, featuring the best sports stories from around the web. Customize your newsletter to get articles on your favorite sports and teams. And the best part? It's free!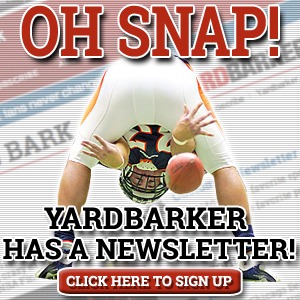 Latest Rumors
The Backyard

Today's Best Stuff

For Bloggers

Join the Yardbarker Network for more promotion, traffic, and money.

Company Info

Help

What is Yardbarker?

Yardbarker is the largest network of sports blogs and pro athlete blogs on the web. This site is the hub of the Yardbarker Network, where our editors and algorithms curate the best sports content from our network and beyond.